Train-loving children get a coding primer as they play.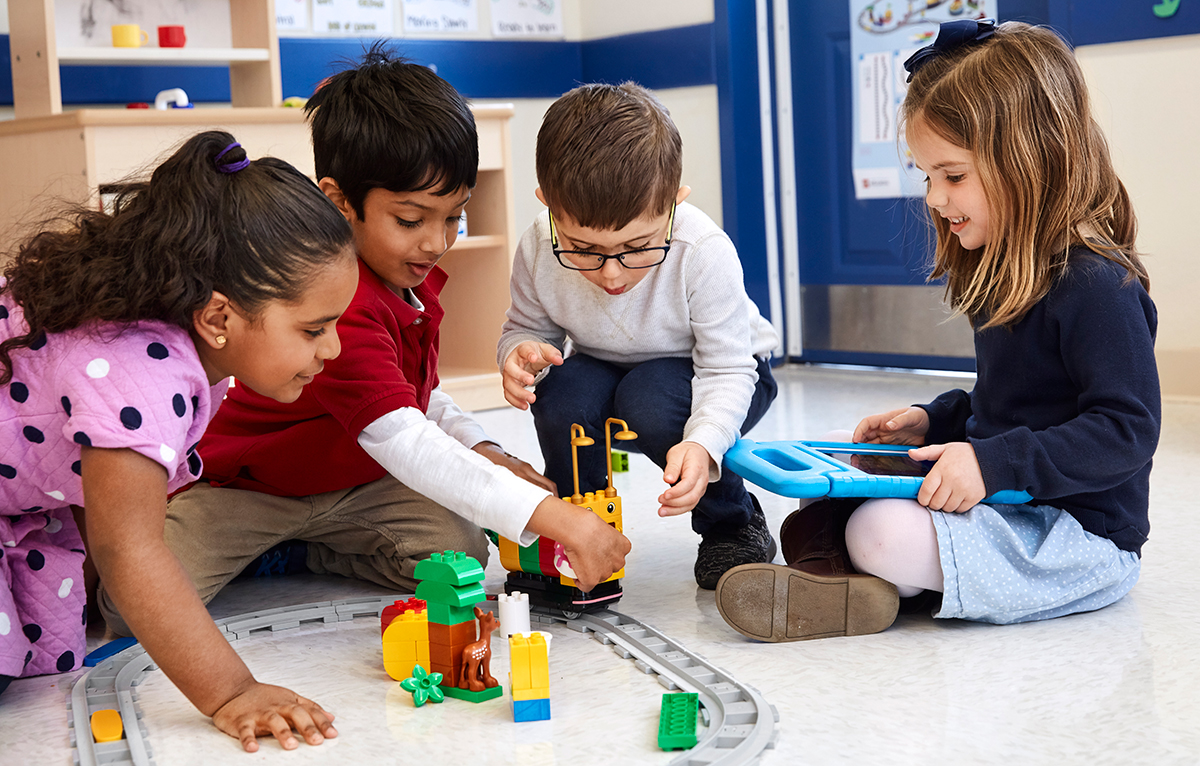 A critical 21st-century skill, coding concepts are infused more and more into games, apps, toys, and curricula for young children. Now, with the launch of LEGO's Coding Express, children ages two and up can use contemporary coding concepts to program a classic childhood toy: the train set.
LEGO Education released Coding Express in August as part of their hands-on LEGO Learning portfolio for young children. Based on a Duplo train set, Coding Express includes train tracks, an assortment of 234 bricks for building structures and scenes, and five "action bricks" that can be used to direct the train to do specific things. Children can build different scenarios around these actions, like using the "stop" brick (red) when there is a downed tree on the track, or building a gas station for refueling (blue). Other actions include a train whistle (yellow), train lights (white), and changing directions (green). Bricks can easily be added and moved to create new scenarios or to increase the complexity of the train route.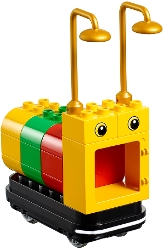 The launch of Coding Express coincides with the 20th anniversary of LEGO MINDSTORMS, LEGO's programmable robot platform that has been used in primary and secondary education to teach coding concepts. Coding Express is LEGO's first coding product for these youngest users. LEGO developed an accompanying teacher curriculum based on the National Association for the Education of Young Children (NAEYC) standards. Through play, engagement with an accompanying child-directed app, and use of the curriculum, children can learn foundational concepts such as sequencing, looping, and conditional coding.
Now in kindergarten, my son has been enthusiastically exploring coding in school using kid-friendly, screen-based programs. Familiar with some foundational coding language, he caught on quickly with Coding Express.
After I briefly explained what each brick does, he began experimenting, testing the different bricks, and eventually constructing objects and buildings to create a story around his train's journey. He used a green brick to create a deer crossing, prompting the train to reverse; a yellow for a construction site requiring headlights; and my favorite, a red for a mommy who was late to work screaming for the train to stop. Throughout the activity, I supported his learning and language by asking "what would happen if" questions. We both enjoyed the opportunity to play together offline.
Each Coding Express set is designed for use with up to six children, making it the right fit for a smaller library program or as part of a program with multiple activity centers. We tested it at a Little Scientists program at the Clarendon Library branch of the Brooklyn Public Library with children's librarian and early coding enthusiast Cameron Myers. He used it as part of a coding/robotics-themed program during which he read Raybot by Adam F. Watkins and a non-fiction book about trains.
"The coding concepts definitely came across with adult guidance," says Myers, who added that it works best for kids age three to eight.
VERDICT: Coding Express by LEGO retails for $189.95 , making it one of the more affordable screen-free coding explorations for young children. The familiarity of DUPLO with parents, librarians, and young children makes Coding Express less intimidating than some of the other options on the market. The focus on learning through play is developmentally appropriate and will appeal to adults. Coding Express is an affordable, accessible, and enjoyable way to explore foundational coding concepts with young children.