Promote the freedom to read with banned books bingo, trading cards, fiery displays, and more.
Banned Books Week (September 23–29) offers a great opportunity to highlight titles that are often challenged, as well as a chance to have some fun presenting them. Promote the freedom to read with banned books bingo, trading cards, and book charms, along with these fiery display ideas.

Banned book trading cards This year marks the seventh annual Banned Books Trading Card contest at the Lawrence (KS) Public Library (LPL). "We ask local artists to create interpretations of their favorite banned books" (above left), says events coordinator Kristin Soper. A panel of librarians and artists picks seven artworks to turn into trading cards. Each card provides information about the art and why the book was challenged. School districts participate too: "We have a class or two of middle school and high school students who turn in some amazing work," says Soper. Patrons can pick up a different card each day of BBW.
Banned books Bingo (above right) rules at the Kent State University Library. The Kent State Student Friends of the Library group used a bingo card generator website to make cards with themes including "Banned Books That Shaped America," "Banned Books That Shaped the 90's," and "Most Notorious Banned Books." They hosted bingo events during class changes and played for prizes during lunch, The dean of university libraries was among the winners.

Mini book charms (above left) Jane Gov, youth services librarian at the Pasadena (CA) Public Library, shared this adorable mini book charm tutorial on the Pasadena Library's Teen Blog. With a little bit of paper and book glue, you can make your own charms (above left) for keyrings, bracelets, or necklaces. Personalize the project by choosing favorite banned book covers. Just remember not to sell the creations; the covers are protected under copyright.
Book page magnets (above right) DIY craft maven Adrianne Surian suggests a clever book page magnet tutorial on her website, Happy Hour Projects. Made from glass tiles, book pages, Mod Podge, and magnets, this fun project is an easy way to involve patrons of all ages. If you don't want to cut up a book, scan pages from some your favorite banned ones.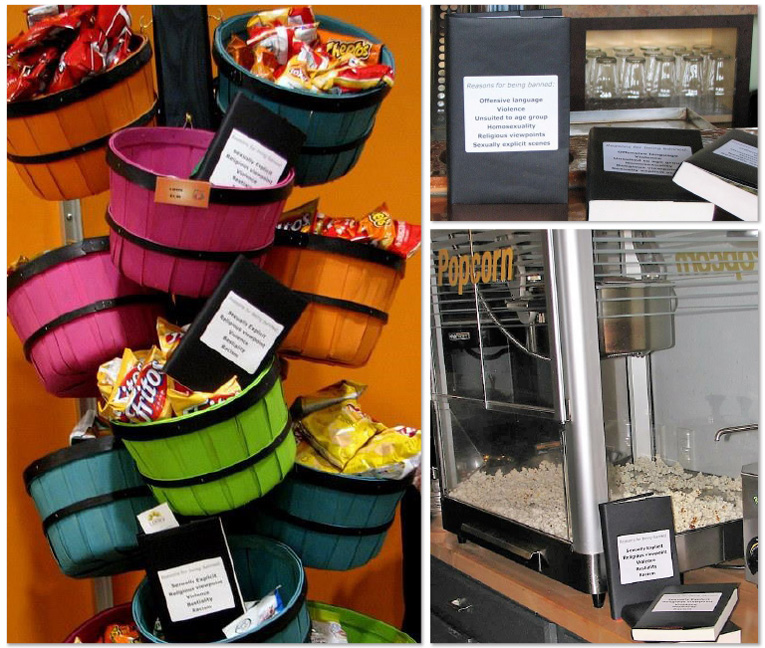 The Billings (MT) Library Foundation hosted a Banned Books Scavenger Hunt inspired by the DC Public Library Foundation. Library staff hid challenged books at various locations around town (above) and provided daily clues to their locations on the library Facebook page, website, and local radio. Community members who found all the books were eligible for a drawing to win a prize—two VIP tickets to see the Foo Fighters.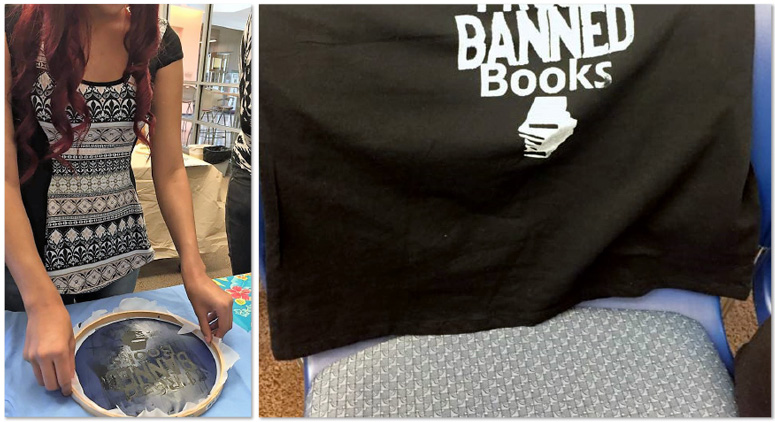 Screen-printed T-shirts The Artesia (NM) Public Library makes screen-printed banned books T-shirts (above) using an embroidery hoop, sheet fabric, Mod Podge, and fabric paint using this online DY screen printing tutorial.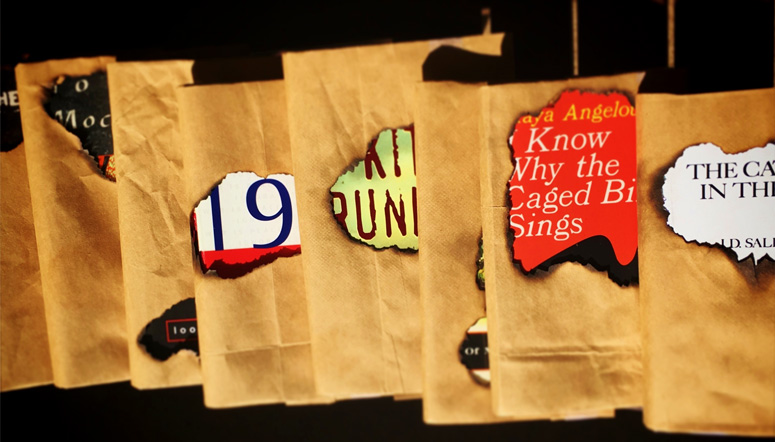 Burned paper banned book displays Angie Jameson (@Mrs_Jameson_CF), library media specialist at the Chagrin Falls (OH) High School Library, created a clever display of banned book titles peeking out of burned brown paper. To make them, first, she wrapped the books in paper and traced the outline of the titles. Then she removed the wrapping and used a grill lighter to burn the traced areas, blowing on the fire to control the direction of the burns, and rewrapped the books after the paper cooled. When recreating this display, make sure you burn the paper in a safe, controlled environment. Don't do it in a public or school setting.

Smokin' banned books banners Artist and "Flourescent Beige" blogger Nicki Helfrich created these impressive banned books banners for her library. Helfrich made the reusable banners by piecing together book pages (above left), stenciling the letters, and spray-painting the ends to give it that burned look. Here's the complete tutorial.

Shredded book challenge Staff at the Severn School Library in Severna Park, MD, took a popular book that has been banned or challenged, shredded some of its pages (there were more copies), and let students guess the title (above left). The shreds contained recognizable clues such as character names and key scenes. The student who guessed correctly won two free movie tickets. Students were also asked to reflect on how looking at a shredded book made them feel.

Flaming book Karla Kittler, program coordinator for the Ohrstrom Library at St. Paul's School in Concord, NH, used a discarded library book to make this this flaming banned book display (above right). Kittler selected a large book from a recently weeded pile and steeped it in a dozen tea bags to age the pages. After it dried for several days, she burned the edges slightly to give it a distressed look. Kittler singed more pages to create fragments that she suspended above the book with clear craft wire. Lastly, Kittler crinkled orange and yellow tissue paper and placed a tea light inside to give the appearance of a book on fire. The sign, "This book donated itself to library science," provides a talking point for discussions about weeding and book challenges.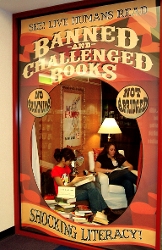 Banned books reading room The Twin Hickory Area Library in Glen Allen, VA, created a live window display of a banned books reading room. Inside, patrons relax with challenged titles while viewers were invited to "see live humans read banned and challenged books." The tableau vivant sparked lots of conversation about censorship and freedom to read.
Katie Darty is a librarian at North Buncombe High School in Weaverville, NC.