Nosy Crow's last app in its "Flip-Flap" series spotlights those perennial favorite creatures: dinosaurs.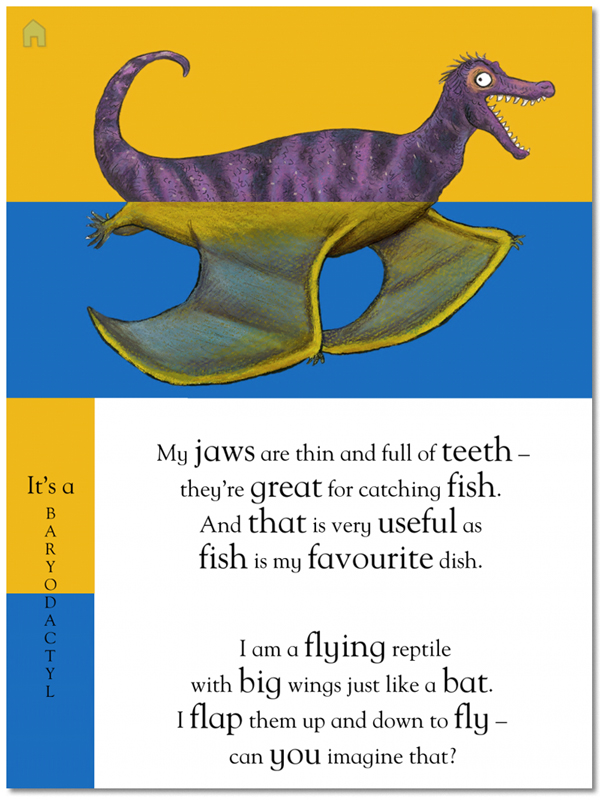 Nosy Crow's latest app in its "Flip-Flap" series is also its last. The publisher has closed down its app production. Elisabeth LeBris reviews Dinosaurs below.
Author and illustrator Axel Scheffler of Gruffalo book fame, creates a cast of prehistoric creatures sure to entertain young viewers. Like the six "Flip Flap" apps that precede it, Dinosaurs (Nosy Crow; iOS, $.99; PreS-Gr 1) allows children to mix and match parts of the animals to become multiple others. Here, 11 of them can be combined to become 121 potential creatures. Accompanying each two-part dinosaur is a rhyming poem that describes the animal's key characteristics. (The Velociraptor: "I'm good at seeing in the dark,/and mostly hunt at night./I am a speedy scavenger—/I'd give you quite a fright!") When viewers switch upper and lower animal sections, the attributes—and names—follow suit adding a playful poetic and language element; a Tyrannosaurus rex combined with Triceratops becomes a "Tyrannotops," while a Diplodocus and an Iguanodon become a "Diplodon."
A clean graphic interface, featuring vibrant panels and colorful creatures makes this app ideal for young users. Preschoolers will have no trouble swiping and creating new dinosaurs. Users are likely to enjoy lining up the correct combinations as well.
There are two reading modes: "Read and Play" includes excellent sound quality narration by a talented, expressive reader accompanied by lively original music. "Read By Myself" retains the background music. A "Grown-Ups" button offers tips, links to the Nosy Crow, and other app books. This is a straightforward re-working of the actual split-page books most children will be familiar with. A trailer is available. VERDICT A digital update to a tried-and-true hardcover favorite.—Elisabeth LeBris, Sears School, Kenilworth, IL
For additional app reviews, visit School Library Journal's dedicated app webpage.