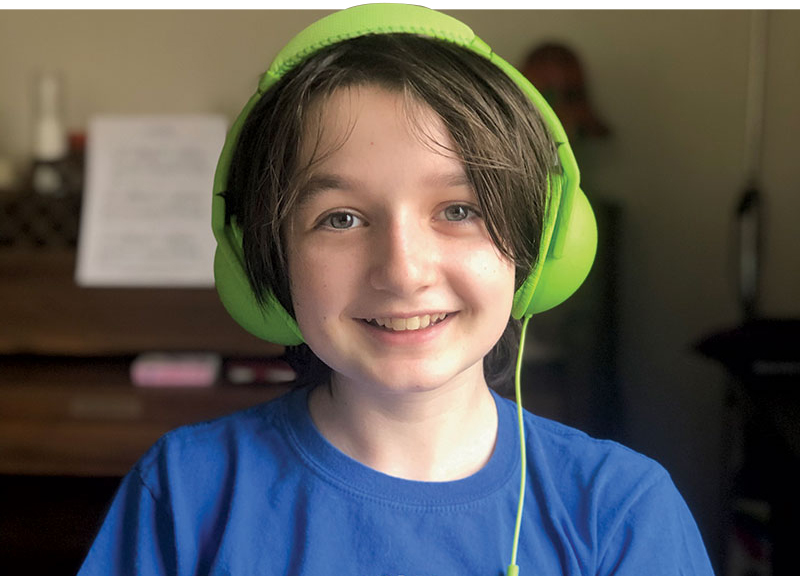 A participant in the New-York Historical Society's Reading into History Family Book Club,
which went ­virtual at the start of the health crisis.
Courtesy-of-Paulina-Perera-Riveroll
Not long after schools, museums, libraries, and much of the United States shut down to control the spread of the coronavirus, Mary English checked in with her contacts at the New-York Historical Society (NYHS) about one activity she was hoping would continue in a virtual format.
For about a year, she and her son Theo, 10, have been faithfully participating in the Reading into History Family Book Club—a chance for parents and children to learn about a historical period they might be unfamiliar with and interact with genuine artifacts in the museum's collection. "It's cool to see what a newspaper used to be like," Theo says.
The books, both fiction and nonfiction, English says, are "ambitious reads" for the nine- to 12-year-olds in the program, but they aren't selections students are likely to be assigned in school.
"One of the things that I like about the book club is that you do go as a parent and a child," says English, highlighting the club's recent reading of Tonya Bolden's Facing Frederick: The Life of Frederick Douglass, a Monumental American Man (Abrams, 2018). "I was discovering a part of history with Theo."
While intergenerational reading has always involved a valuable shared experience on many levels, the pandemic has drawn more people to all-ages book clubs and programs, many organized virtually by nonprofits and libraries. Virtual programming can involve a wider crowd, and the crushing events of 2020 have prompted meaningful explorations of books focusing on equity, racism, and family, historical or contemporary.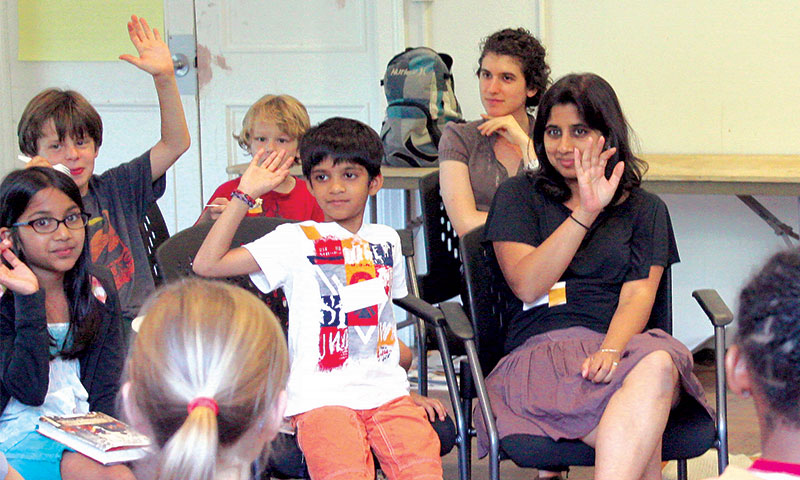 A Reading into History Family Book Club meeting, pre-pandemic.
Photo courtesy of NYHS
The Reading into History program at NYHS gives "kids and their parents equal footing to be interested in something," says Alice Stevenson, vice president and director of the DiMenna Children's History Museum at NYHS. When the museum closed, Stevenson was already moving in the direction of holding Zoom book club gatherings, but knew she'd have to make some adjustments to the format.
First, she says, interacting on Zoom can be "oddly tiring," so she reduced the length of the club meeting by about 30 minutes. But she has increased the frequency of the sessions to meet every two weeks instead of monthly. Stevenson also now gives the families more ways to prepare for the meetings, such as watching a movie adaptation of the book.
There are also some advantages to the remote format. The author of the featured book is always invited to talk to the families, so now they can attend from wherever they live. Participation has shot up considerably, too. In person, between 10 and 30 families participate, but the virtual book club has reached about 500 families—from as far as Michigan, Texas, and California. People can't touch the original documents as they would in the museum, but they still get to view digital versions.
Whether as part of a book club or on their own time, parents and children who continue to read together—even once children are independent readers—derive multiple benefits, says Mary Ann Cappiello, a professor of language and literacy at Lesley University in Cambridge, MA, and blogger at "The Classroom Bookshelf."
"When families read the same books together, parents model enthusiasm for the act of reading, but more importantly, they demonstrate that reading is a valued communal activity," she says. "Reading aloud together as a family allows for younger family members to hear content that they can understand, but from books that may be too complex for them to read independently. This gives them the opportunity to learn more about the world and build an oral knowledge of vocabulary."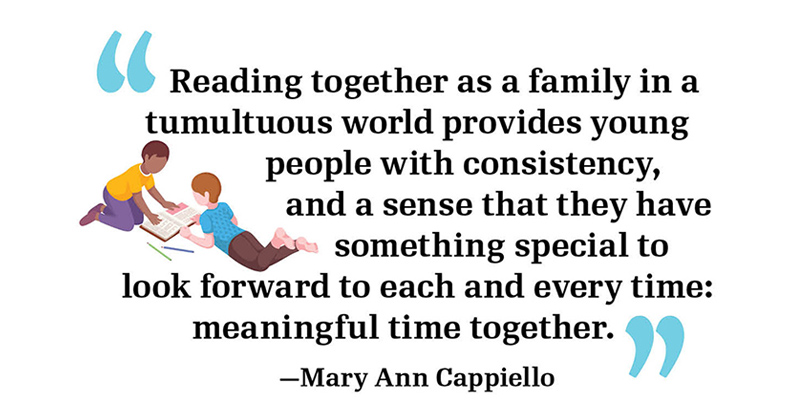 At the Skaneateles (NY) Library, not far from Syracuse, the Family Book Club is an effort to continue the positive feelings that come when parents read to their children when they're young. Once kids are reading on their own, both adults and children tend to miss that time, says Mary Beth Schwartzwalder, the children and teens librarian.
"The best way to instill a love for reading in a child is to have good memories around reading," she says. "It helps connect everybody. You suddenly have this thing in common that you do."
While the book club is targeted to families of first and second graders, younger and older siblings often participate. Children get to suggest the books, but Schwartzwalder also likes to feature a mixture of picture and chapter books—and sometimes poetry.
When the parents of a child who was about to age out of the program inquired about continuing the book club over Zoom, Schwartzwalder says that was "kind of the signal I was waiting for." Because no in-person programming is being offered this summer, she plans to continue organizing virtual gatherings for the families.
Mirroring authentic families
Humanities Texas (humanitiestexas.org), a cultural and educational nonprofit that hosts public programs, is also planning a virtual version of its Texas Storytime for emerging readers and their families. Prior to the pandemic, the six-week, in-person version was delivered in collaboration with school districts and libraries in four cities throughout the state—Austin, San Antonio, Midland, and Lufkin.
The program targets low-income, bilingual families with children in Title I schools and focuses on creating enthusiasm for books by Texas authors. In addition to reading the books, families participate in activities related to the stories.
"Our collection of books is very specific to the communities we are serving," says Denise Davila, an assistant professor at University of Texas at Austin who is working with Humanities Texas to modify the program for the summer. "We take great efforts to make sure that the children see images of themselves."

Left: Author/illustrator Don Tate participates in a Texas Storytime event featuring PAR-TAY!: Dance of the Veggies (And Their Friends). Right: All Around Us author Xelena González and illustrator Adriana Garcia lead a Texas Storytime at Las Palmas Branch Library in San Antonio.
Photos courtesy of Humanities Texas
For example, that means the books chosen generally feature families, rather than animal characters. The virtual model will also focus on books related to preparing meals. The program will be part of a research project in collaboration with a central Texas school district. Families with children entering kindergarten this fall are participating, and in addition to weekly virtual gatherings, they'll receive books along with food to prepare.
The titles will highlight home life "so kids and parents are having conversations around meal preparation," Davila says. "There's a lot of research around the importance of developing conversation and oral language skills as a marker for school readiness."
Even if schools hold in-person classes this fall and libraries reopen, Davila says it might be a while before after-school programs return. That's why Elizabeth Frye, a senior program officer at Humanities Texas, adds that a virtual option may continue to be part of the model.
"We're such a big state. It's always a challenge to figure out how we can expand and provide an in-depth, hands-on service that this is," she says, adding that a virtual model may be a way to "expand our reach and set the program up in more communities."
Connection amid stress
Family reading experiences are especially helpful during the pandemic, a stressful and troubling time for both adults and children, Cappiello says. Fiction and nonfiction can help young people learn about past pandemics and "the history of racism in America," she says.
"Reading together allows families to learn…in a safe environment, to enjoy meaningful conversations with one another, and for each member to consider their place in the world," she says. "But perhaps most important of all, reading together as a family in a tumultuous world provides young people with consistency, and a sense that they have something special to look forward to each and every time: meaningful time together."
Theo is particularly drawn to books about "what happened in New York before I was born—even before my mom was born," he says. "I like learning about people who came from different places to New York."
The author visits are a key part of the book club meetings, Stevenson explains. They discuss why they picked that time period to write about, how they conducted their research, and sometimes, how the events of today connect to the topics in the featured book.
The families recently read Erica Armstrong Dunbar's Never Caught: The Washingtons' ­Relentless Pursuit of Their Runaway Slave, Ona Judge ­(37 Ink, 2017). "It was heavily ­focused on what was happening in the world and the legacy of slavery," Stevenson says. "It's always great when we can provide a space for kids and adults to come together to talk about things in context."
At the same time, some of the selections have provided an opportunity to focus on something that's "not about ­COVID," Stevenson says.
In the virtual format, Stevenson has been working to keep the events interactive, by using Zoom's poll feature, for example. "We have to be more mindful of trying to create a community," she says. When the group read Rosanne Parry's Last of the Name (Carolrhoda, 2019), an Irish singer joined the session to complement the theme of Irish immigrants in New York City during the 1800s.
Both in Zoom and in person, the sessions start off with an ice-breaker activity, often a history question—but without any pressure, English says, to write an essay or get a good grade.
The questions are about "aspects of history that are hidden," she says. "I don't think any of the parents know the answers to the questions, either."
In Theo's opinion, the expanded range of participants in the Zoom format is one of the best upsides of virtual programming. "We just get to see a lot of new people," he says. "I like hearing opinions, what people like about the book. The more opinions, the ­better, right?"
---
Linda Jacobson is an education writer and editor based near Los Angeles.