Spotlighting individuals including Amanda Gorman, Rosa Parks, and entrepreneur Madam C.J. Walker, these podcasts have riveting stories to tell.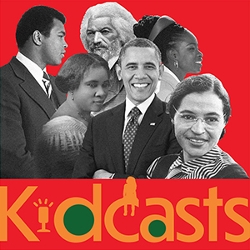 Whose shoulders do I stand on? What do I stand for? So asks 22-year-old Inaugural poet Amanda Gorman in "Using Your Voice Is a Political Choice," an electrifying TED Talk featured on the podcast TED Talks Daily. For Black History Month, we spotlight Gorman's talk and other podcasts spotlighting Black changemakers: Those who have inspired, mentored, collaborated, led, invented, or innovated to bring about greater equality and justice in their own creative ways. The playlist reflects a variety of audio storytelling techniques, including short biographies, direct interviews, engaging activities, creative kid conversations, and profound voices of inspiration from poets and dreamers.
Listening to Gorman and other voices, you will be inspired to answer her questions for yourself, perhaps awakening the changemaker within.
Children's Hour. "Get Inspired with the Alphabet Rockers"
Alphabet Rockers, musicians
Ages 6-12–If you haven't discovered the empowering hip-hop message of the Alphabet Rockers, this episode provides a solid introduction for how this intergenerational group "make music that makes change." Their work is centered on social justice, with music and materials, such as their anti-racist mini-course for families. In this episode Alphabet Rocker founders Tommy Soulati Shepherd, a Black award-winning composer and creator of the hip-hop collective Felonious; and Kaitlin McGaw, an award-winning songwriter, graduate in Afro-American Studies from Harvard University, and writer for Electronic Musician are interviewed. To learn more about the kids and grownups involved with Alphabet Rockers, check out their podcast, "So Get Me: Alphabet Rockers' podcast for families making change." Their musical albums won American Library Association's Top Album in 2017, 2018, and 2019.
Encyclopedia Womannica. "Warriors: Rosa Parks"
Rosa Parks, civil rights leader
Ages 9-14–For 10 minutes each weekday, Encyclopedia Womannica shares a biography about a woman changemaker. The women have diverse backgrounds and professions and are categorized in groupings such as Warriors, Journalists, Storytellers, Local Legends, and STEM Scientists. Some figures be familiar to students, including Rosa Parks, who is the focus of this episode, but lesser-known women are spotlighted, too. This episode reinforces much of what kids may have already learned about how Parks's actions helped ignite the civil rights movement, but they will also learn how she strategically planned her refusal to give up her bus seat to a white man as an extension of her activism. Provided lesson plans help engage students with biographies, audio storytelling, and Black history month. The engaging audio production makes listening and learning about women in history a fun experience and the perfect size for the classroom or library.
Hey, Black Child. "The Color of Medicine"
Black doctors, pioneers in the medicine
Ages 7-12–Have you ever touched a real heart? Kid hosts Avery and Jackson, ages 11 and eight, interview their guest, Dr. Hasrien Ibrahim, transplant cardiologist at Boston's Mass General Hospital and assistant professor at Harvard Medical School. Kid-centered questions, along with information about Black culture and history, make Hey, Black Child (HBC) fun, informative, and engaging. Listeners to this episode will learn the names of Black trailblazing doctors such as Dr. Myra Logan, who in 1943 became the first woman to perform open-heart surgery, paving the way for other women to enter the field of cardiac surgery. Listeners find out what a transplant cardiologist does and the names of other Black trailblazing doctors and their scientific discoveries. The show's new Black History Month episode, "Black History Year," reminds listeners that by subscribing to HBC you can get "a dose of Black history every week!"
This I Believe. "Muhammad Ali: I Am Still the Greatest"
Muhammad Ali, boxer
All Ages–Many of your students may know what it means to be a GOAT, especially kids who love sports, but do they know where this phrase originated? This I Believe, a short audio segment from NPR now produced in podcast form, shares moving essays about the personal philosophies of remarkable men and women. In this three-minute episode from 2009, listeners hear an essay written by Ali, the original Greatest Of All Time. The essay is read by his wife, Lonnie Ali. Ali's incredibly inspiring words will surely spark a lot of questions, whether about Ali, marbles, boxing, or Parkinsons, offering librarians the opportunity to connect kids with books and other resources in the collection. With Cassius Clay back in the news with the release of the movie One Night in Miami, grownup podcasts are also reexamining and talking about Ali's life. For young listeners, be sure to have some GOAT books on hand like Becoming Muhammed Ali by Kwame Alexander and James Patterson, illustrated by Dawud Anyabwile, ready for check out.
Story Seeds. "A Worm's Worth with Jason Reynolds"
Jason Reynolds, author
Ages 8-12–Jason Reynolds, best-selling author and the current National Ambassador for Young People's Literature, he seems to pop up everywhere talking about the power of stories, including on an episode of Story Seeds. Story Seeds pairs a children's author with a child who has a great idea for a story and together they talk about the story idea. Then the author completes the story and records it for an episode. It's a unique mentorship model that keeps evolving and one that honors the ideas of children. In this episode, Reynolds takes 12-year-old Irthan's fantastical idea about an earthworm who becomes human during the full moon and he turns it into a poignant story about Martin Luther King's's vision for justice, connection, and music. Really, he does. Be sure to listen, and recommend to all of your students who love to write stories.
Good Night Stories for Rebel Girls. "Madam C.J. Walker"
Madam C.J. Walker, entrepreneur
Ages 8-12–This show excels at telling the stories of empowering women in the podcast form; the stories come from the eponymous popular book compilations of biographies, often found in bookstores and libraries. The readers, all women, are often activists as well. In this episode, actor and advocate Poorna Jagannatha, from shows including Netflix's Never Have I Ever and Gypsy, reads a biography of entrepreneur Madam C.J. Walker, who created a hair regimen for African American women to prevent hair loss. The audio shares Walker's rise from a laundress to the first woman of any race to become a self-made millionaire, according to the Guinness Book of World Records.
More notable stories featuring Black women in podcast form include Simone Biles (Olympic gymnast), Kamala Harris (Vice President), Mae Jemison (astronaut), Wangari Maathai (environmental activist), Hazel Scott (pianist), Anne Wafula Strike (wheelchair racer), Sojourner Truth (suffragist), Harriet Tubman (abolitionist), and Edmonia Wildfire (sculptor).
Ted Talks Daily. "Using Your Voice Is a Political Choice"
Amanda Gorman, poet
Ages 10 Up–From the moment Amanda Gorman's finished reading her inaugural poem, you discovered, or were instantly reminded, that poetry is powerful. On this Ted Talks Daily episode, Gorman reminds us poetry is for everyone: it is the core of connection and collaboration, but it is also inherently political. Gorman, the youngest Inaugural Poet and the first National Youth Poet Laureate, shares her thoughts about poetry's impact on her life. She explains how poetry builds bridges and why it is political. Listeners learn a lot about who Amanda Gorman is as she interweaves anecdotes about her life into her story. Of course, she does this with powerful words and a mesmerizing rhythm, enchanting and inspiring all to join her.
The Daily Show with Trevor Noah: Ears Edition. "ICYMI - Barack Obama on 'A Promised Land,' Nurturing Future Leaders and Black Lives Matter"
Barack Obama, President
Ages 14 Up–Barack Obama discusses his memoir A Promised Land, which shares an account of his youth to his time in the White House as the first African American president, with host Trevor Noah. The Obamas are prolific podcast guests and podcasters. Michelle Obama started her own podcast on Spotify just in 2020. IN addition to his TV fame as host of The Daily Show, Trevor Noah is well known in the audio sphere and for his award-winning audiobook version of his best-selling Born a Crime. Noah is a skilled interviewer and Barack Obama is an expert interviewee, so this makes a delightful conversation. [looks like it's 35 minutes—shorter than the reyonolds episode?. Obama's stated aim for the book and his interview is to encourage young Black people to believe that they can become president and learn what it is all about.
Audio storytelling brings changemakers to life, in mind and heart. If your students are studying inspiring leaders, search for their names in Listen Notes and filter for "Kids & Families" or "Education for Kids."
Consultant Anne Bensfield teaches librarians how to be the gatekeepers and mentors for managing new media in their schools and communities. Librarian and Buttons & Figs podcast creator Pamela Rogers inspires creative expression from elementary school kids by reading, writing, and playing with words.