Thoughtful, accurate visual portrayals of disabilities characterize these 2023 releases.
Disability representation in picture books lags far behind reality. According to the CDC, 27 percent of adults have a disability, while one in six children have developmental disabilities. Meanwhile, as of 2019, only 3.4 percent of children's books contain disabled representation, according to the Cooperative Children's Book Center's survey. I have quoted these statistics before in an essay I wrote for Book Riot in 2021 and again in an article for SLJ about disabled joy in picture books in 2022. While I've noticed a slight increase in disability representation in picture books since 2019, it's nowhere near the reality. As a disabled parent and book reviewer, I am keenly aware of this lack of representation.
This gap has inspired many new books that picture disabilities, including those featured here. These new books portray children with a variety of disabilities: hearing loss, wheelchair use, arthritis, and more. They also display more intersectionality than previous works featuring disability. In the past, the vast majority of picture books with disability representation portrayed white children. Of course children of all races, backgrounds, and cultures can become disabled, and it's about time we're seeing those experiences represented, though far more is needed.

Dancing Hands: A Story of Friendship in Filipino Sign Language by Joanna Que & Charina Marquez, illus. by Fran Alvarez, trans. by Karen Llagas. Chronicle. July 2023.
PreS-K–This beautiful, quiet book about two girls centers Filipino sign language and, to my knowledge, is the only picture book published in the U.S. to do so. Originally released by Adarna House in the Philippines, it describes the emergent friendship between two neighbors. Sam notices her new neighbors speaking with their hands and expressions, and she wonders what they're saying to one another, especially the young girl, Mai. When Mai falls into step beside Sam one day, the two immediately become pals. While at first their play is riddled with miscommunication, when Mai teaches Sam how to speak with her hands, the two are able to share their hopes and dreams. Back matter includes a description of Filipino sign language as well as a discussion of sign languages and dialects from around the world. End pages show the girls demonstrating signs, with the English and Filipino translations beneath. The simple, charming textured black-and-white illustrations with pops of color portray the joy between the two friends. Proceeds from this book benefit Room to Read's Global Literacy Program.

Also read: "16 Middle Grade and YA Books Featuring Non-Apparent Disabilities for Disability Pride Month"
Pedro Loves Saving the Planet by Jess French, illus. by Duncan Beedie. Happy Yak. Apr 2023.
PreS-Gr 2–This eco-friendly nonfiction title about taking care of the environment contains incidental hearing loss representation in the form of Pedro, a tan child with dark brown hair who wears hearing aids. While sometimes incidental representation is labeled as token, it can be quite refreshing, if done well, to read picture books that depict disabled main characters without the disability forming a major part of the story. Pedro is excited to tell the reader fascinating facts about the environment and how children can help take care of the Earth, from gardening and reusing materials to avoiding single-use plastics and the importance of trees. Four other children join him as he explores the outdoors. Back matter includes more information about how children can help the environment and become "Planet Heroes."
What Happened to You? by James Catchpole, illus. by Karen George. Little, Brown. Apr 2023.
PreS-Gr 3–This essential picture book about the disability experience was first released in 2021 in the UK and happily came out in the U.S. this year. The book stars a young white boy named Joe who joyfully plays pirate on a playground until a young girl interrupts his play with an intrusive question: "What happened to you?" What follows is a barrage of questions and commentary from other children about Joe's single leg. In the end, the children join Joe in his game of pirates. Back matter includes an author's note to adults about how to respond to your child's intrusive questions.
When I interviewed Catchpole for last year's SLJ piece, he described how both his childhood and adulthood have been filled with people interrogating him about why he has one leg. As a child, he would attempt to explain. But as an adult, he knows he doesn't need to answer. "I wrote my book to help disabled children (and their parents) set their boundaries," he said, "and so that non-disabled children—and their parents—could have an eye into how it might feel to be faced with the same barrage of deeply personal questions every time they set foot in the playground." Catchpole, his wife, Lucy Catchpole, and illustrator Karen George have another UK picture book release this year, You're SO Amazing!, publishing stateside in April 2024.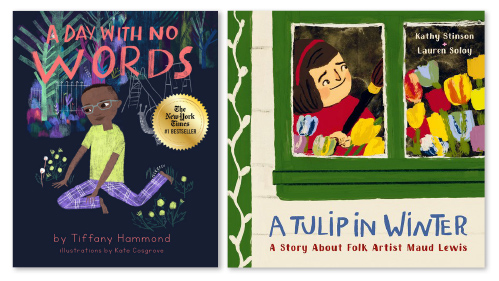 A Day with No Words by Tiffany Hammond, illus. by Kate Cosgrove. Wheat Penny Press. May 2023.
PreS-Gr 3–This picture book by a Black autistic author and mother of two autistic sons portrays a day in the life of a Black autistic boy and mom as they use a tablet to communicate. The son wakes up in the morning and thinks about all the voices he hears, and how some are calming while others are stressful. His mother takes him to the park, where he enjoys the feel of the wet grass on his feet. Their pleasant day is almost ruined when another mother sneers at him dancing. But with a deep, calming breath, the boy's mother addresses the group with the tablet, and the son continues to twirl in the park until it's time for lunch. In an author's note, Hammonds describes why she chose this title when the family in the story communicates with words. It's a gentle, story with vibrant illustrations. I would love to see more picture books normalize nonverbal communication.
While Hammond is autistic, it was her children's experiences with autism that inspired her to write A Day with No Words. "[T]he moment my children knew they were different was in first grade," she wrote via email. "That was when it went from, 'he's just really quiet and doesn't talk' to 'he's really weird, scary, and doesn't say anything.' That was when it went from children wanting to play with them regardless of any differences they had to not wanting to be near them because of those differences."
"A lot of authors say, 'I wrote the book I wish I had as a child,'" Hammond added, "and that is also true for me. But it's more true for me that I wrote the book I wish other children and their parents had when I was a child. I wrote the book I wish those children who were less than kind to my boys had when they were younger."
A Tulip in Winter: A Story about Folk Artist Maud Lewis by Kathy Stinson, illus. by Lauren Soloy. Greystone Kids. Mar 2023.
PreS-Gr 3–The white Canadian folk artist Maud Lewis created vibrant, nature-themed paintings. She transformed the cottage she shared with fish peddler Everett Lewis into a colorful menagerie of painted flowers and birds, and the small house now sits in the Art Gallery of Nova Scotia. Lewis had rheumatoid arthritis, which developed when she was a child. In this biography, illustrator Lauren Soloy perfectly captures Lewis's joyful, colorful artistic style, while Stinson's spare, evocative prose balances Lewis's joy and hardships with grace. Lewis, born in 1903, experienced childhood bullying because of her disability, but she also discovered art as a child when her mother handed her a paintbrush and encouraged her creativity. Back matter includes more about the artist as well as a note from the author and illustrator about how she impacted their lives. This is a wonderful picture book to promote further discussion about Lewis as well as folk art.

The Good Hair Day by Christian Trimmer, illus. by J Yang. Abrams. May 2023.
PreS-Gr 3–Noah, a tan boy with curly brown hair, can't wait for his birthday party. He drops not-so-subtle gift idea hints to his parents and sister, though he keeps what he truly wants—long hair—to himself. Each year, his father takes him to get a birthday haircut. This year, when Noah sees his newly shorn hair, he bursts into tears. On his birthday, Noah's family gifts him a big surprise—a purple wig! When it comes time for his next birthday, Noah's own hair has grown longer, and he opts for a trim rather than a cut. Back matter includes questions about gender identity for further consideration. While Noah is non-disabled, his mother, appearing in well over half the page spreads, is a wheelchair user. While more picture books are including side characters with disabilities, frequently, these individuals, especially wheelchair users, are drawn inaccurately and/or in inaccessible situations, like rolling uphill in the grass. I really appreciated how the mother was depicted here. Abrams has another fantastic picture book out this year with a disabled secondary character—Grandma's Tipi, in which the uncle uses an artificial leg.
Tenacious: Fifteen Adventures Alongside Disabled Athletes by Patty Cisneros Prevo, illus. by Dion MBD. Lee & Low. June 2023.
PreS-Gr 5–This picture book biography collection tells two stories in one, giving readers multiple ways to engage with it. The first is a rhyming poem celebrating 15 disabled athletes and their sports. The second is a detailed, paragraph-long biography of each athlete followed by a daily challenge and joy they experience. These challenges and joys provide insights into what life is like for these individuals. For wheelchair racer Jessica Galli Cloy, her daily challenge is maintaining balance in a busy life of parenting, working, and personal goals, while her daily joy is putting her children to bed. For Hope Lewellen, a Paralympic medalist in wheelchair tennis, a daily challenge is finding patience in an inaccessible world, while a daily joy is spending time with her dogs. This inclusion of challenges and joys was suggested by editor Cheryl Klein. Prevo, a Paralympic gold medalist, explains, "As I was learning more about ableism and my own internalized ableism, I wanted to be sure to avoid the 'super crip' trope. It was Cheryl's idea to include these challenges and joys to round out these disabled individuals." The collection also includes a colorful, full-page spread illustration of each athlete.
"Because of my experiences with the disabled community and my Paralympic experiences," says Prevo. "I knew so many incredible disabled individuals who could be highlighted and be these main characters I was searching for. And since no one I knew was writing about these people, I decided to write that book."
Warrior: A Patient's Courageous Quest by Shannon Stocker, illus. by Sarah K. Turner. Sleeping Bear. July 2023.
Gr 1-3–This moving picture book uses a fantasy-quest narrative to depict one child's experience with childhood cancer. Maria—a pale-skinned girl with long brown hair and later, a shaved head in the hospital—is on a quest to rid her kingdom of monsters. To do so, she needs to ring the bell at the top of a giant mountain. Many trials stand in her way: she must cross Serpent Sea, travel through Fear Forest, and battle the creatures of Monster Mountain. Thankfully, Maria has a friendly dog companion to help her. While most of the story takes place in a fantastical world, on the last few spreads, Maria is transported back to reality. She's in a hospital receiving chemotherapy, though her trusty canine companion remains with her. Back matter includes an author's note about her daughter's experience with cancer, as well as tips on how to treat a service dog.
"I feel [writing about disability] is my calling, for lack of a better word," says Stocker, who won a 2023 Schneider Family Book Award for Listen: How Evelyn Glennie, a Deaf Girl, Changed Percussion. After a nearly decade-long attempt to receive a correct diagnosis and being told by physicians she had only two years to live, Stocker underwent experimental treatments and got "a second chance at life." Considering her own experiences with disability and having a daughter with cancer and a neurodivergent son, she couldn't help but notice the lack of picture books describing the disabled experience.
"I think if there was more dialogue—if there were more books [to help] people with disabilities feel seen and understood, then there would be more open conversation and more acceptance," she says. "That's what I want." Stocker writes about her daughter's experiences receiving cancer treatments in Warrior: A Patient's Courageous Quest.
Stocker says it was vital for her that the story center hope. While Maria cries, and childhood cancer is incredibly sad, the story itself is about becoming a warrior. Stocker hopes this book helps show children with chronic illnesses and their caregivers that they are not alone. "Cancer is not rare in children," she says. "It's not rare to have any disability. Such a huge portion of the population has some kind of disability, yet it's a small percentage of representation on the shelves that's not token. And it's so important, so important."
Margaret Kingsbury is a freelance writer, editor, website assistant, and all-around book nerd. She's a contributing editor and children's book reviewer for Book Riot, where she writes their newsletter The Kids Are All Right and monthly new children's book release roundups.