Initiatives like Gale's Bias Review Project and World Book's Sensitive Language Project aim to identify poorly represented content areas and correct outdated language.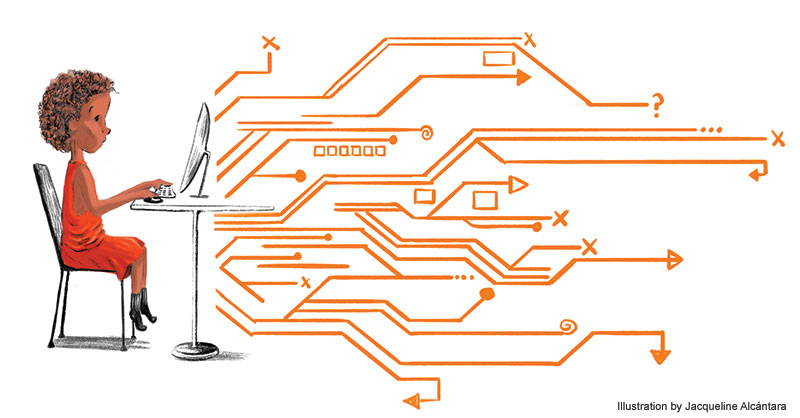 My son, who is in third grade, recently read What Was Stonewall? and wanted to learn more about the activists in the book. We logged into World Book Kids through our public library. Ten minutes later, he showed me a list of the people he wanted to research, but 90 percent of them were crossed out. There was no information on them. I helped him with alternate keywords, to no avail. We tried bumping up to World Book Student—and found one more person. We searched PebbleGo and Britannica School as well—and hit the same dead end.
It has happened to all of us. Teachers who decide, for example, to shift from biographies of "founding fathers" to influential women or people of color during the Revolutionary period can't find any sources. Librarians who work with K–12 students, and the students themselves, are angry and frustrated by the narrow scope of resources.
It's a pipeline problem. Teachers and students want to research topics that simply aren't represented in nonfiction sources. We can't give information to patrons if we can't collect it, and we can't collect information that isn't being created. We want nonfiction information that represents the world around us. Our patrons want the same thing. Where is it?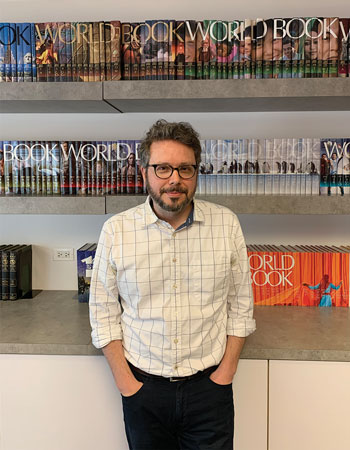 Tom Evans, editorial department
director at World Book
Courtesy of Tom Evans

Holes in information
The information gaps follow a pattern. Librarians I spoke to reported finding fewer biographical articles for notable figures of color and/or notable LGBTQIA+ figures; less robust information for historical periods and events outside of Europe or North America; and less in-depth information about health concerns that impact women and people of color. This problem intensifies for younger students, because the number of sources dwindles. And publishers make decisions based on perceived research needs and guidelines for age-appropriate content.
Every year, I have an uncomfortable meeting with sixth grade history teachers. I report that the grade-level information on ancient cities such as Mohenjo Daro and Caral still pales in comparison to what is available on Athens and Rome. So we need to make a choice: Do we have students research an ongoing parade of Eurocentric projects with strong sources, or hand them texts that are too complex for their academic stages?
Algorithm shortfalls
Sometimes, the issue isn't the content—it's finding the content and identifying keywords embedded in the site as metadata. If a student is looking for information on U.S. Indigenous nations and types "Indigenous" into World Book Student, the first 12 articles will be about Australia or Canada. The 13th, a robust "First Nations" overview that discusses North American communities and links to relevant information, initially appears to be about Canada. But further down it also includes nations in the present-day United States. The only way to get to the article without scrolling is to use the search term "American Indian"—which students today don't generally use.
The issues continue when researching specific nations in World Book Student. Each article is labeled by the colonizer nation name, not the name each nation uses. For example, students must search for "Iroquois" instead of "Haudenosaunee."
An inquiry into the process of creating content for encyclopedias and databases to find out what work is being done to correct these issues shows that things are progressing—slowly, though, because of the nature of the work and the massive scope of information. Representatives from Gale, World Book, and JSTOR say their companies are engaged in initiatives to examine and revamp their content.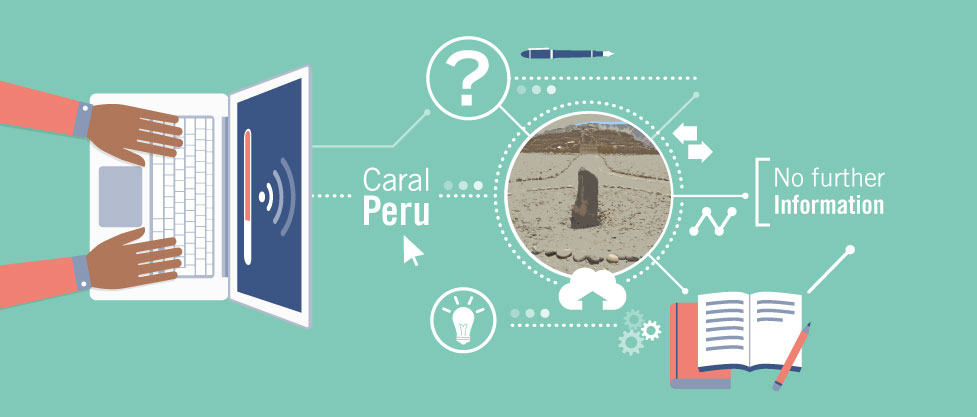 SLJ montage. Source: Getty Images/elenabs; marktucan
Reviewing bias
Gale's Bias Review Project is about a year old, and Traci Cothran, director of K–12 content, says that areas of history are of specific concern. Her editors have reexamined and rewritten articles on the Tulsa Race Massacre across various portals and products. In addition to Gale's current content advisers, K–12 educators and academics are offering suggestions about what needs to be added or rewritten, and whose voices are missing. Recommendations range from line edits to new articles.
World Book's corollary is the Sensitive Language Project, which is updating language in its articles, based on the guidance of organizations such as the National Association of Black Journalists. Tom Evans, editorial department director, wants to make the process transparent to students and explain why language is changing and how the articles are evolving.
"When we make these changes, it's important to explain [them] to students," he says. "We directly address it in the article."
For example, in the "African Americans" article, the introductory section contains a paragraph outlining the history of self-identification.
In addition to updating language in articles, companies are considering content in a more layered way than before. Andrea Henderson, content strategist for Gale Encyclopedias, says that editors are thinking critically about how race impacts every subject, far beyond topics like politics and history. For example, the revisions to the Gale Encyclopedia of Health will include an article dispelling myths about genetics and race, and another examining the intersection of HIV/AIDS and marginalized populations. The next Gale Encyclopedia of Religion will include sidebars about important religious leaders of color, such as Cardinal Wilton Gregory, the first Black American cardinal, and Fred J. Luter Jr., the first Black American president of the Southern Baptist Convention.
It's standard practice for databases and encyclopedias to rely on advisory boards, which consist of academics and educators who raise questions, review articles, and contribute research. JSTOR has about 50 content areas, with an academic advisory group of six to twelve experts per content area. Beyond those advisory boards (which are always adding new experts to add more points of view), some companies are partnering with larger research bodies to create a better flow of information. JSTOR recently partnered with the Schomburg Center for Research in Black Culture to create an open library of companion academic articles that supplements the texts on the Black Liberation Reading List, created by the Schomburg Center. World Book is also bringing in partner groups to advise on content. For example, the director of the Stonewall Center at the University of Massachusetts Amherst recently edited and revised World Book's "sexuality" article. The editorial team is also in the midst of a several year process to update articles about U.S. Indigenous nations, Evans says.
Databases differ from encyclopedias because they do more work around curation than creation, so this process looks different for JSTOR. Barbara Chin, JSTOR director of journals, uses existing metrics (like Journal Impact Factor, a metric from Web of Science; that are based on citations and more subjective analysis; she often seeks strong work that needs more visibility. Chin is following this process for global peer-reviewed journals that might not be widely known. With her teams of academic advisers, she is also working on incorporating open access journals in a sustainable way, especially in race or ethnic studies.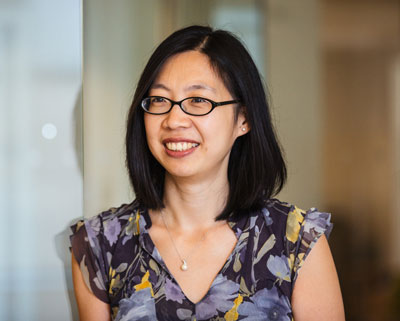 Barbara Chin, JSTOR director of journals,
is working to incorporate open access
journals related to race and ethnic studies.
Courtesy of Barbara Chin
Top challenges
The main hurdle is time. Online reference publishers and databases are doing good work, but the speed of the editorial process hasn't entirely caught up to our teaching needs. While editors at JSTOR, World Book, and Gale have been focusing on expanding representation and updating resources for a few years, they say their work ramped up significantly after the summer of 2020.
Searching and keyword tagging are areas of concern. Until companies invest more in their software and in people to focus on the user search experience, students will need support developing alternate keywords and searching strategies. Findability is crucial to research, says Evans, noting that World Book has committed to improving its search engine this year.
One issue constantly discussed within each resource's team: When are topics "appropriate" for certain age groups? More information is always available for older students. There are about 8,000 articles in World Book Kids, and that number rises to 40,000 articles in World Book Student, and hundreds of thousands for World Book. How do you decide which 8,000 to distill for the youngest learners?
Evans says that he gets more requests to step on the brakes than to step on the gas. More educators want young students to receive less information about topics they consider too mature. The majority of comments Evans receives are about the human body and sex education, and he has even received objections to an article about Renaissance art featuring an image of a nude baby Jesus. Not all feedback is implemented; the editorial team will override feedback to remove content if they believe that it is necessary and age-appropriate, but user feedback is still a factor when determining which topics will be covered for young researchers.
The supply problem seems endless. If databases aren't providing a wide range of diverse materials, they can point to the academic publishing market, which moves slowly and has a history of racial and gender bias. If the encyclopedias aren't providing a wide range of images, they can point to the stock photo suppliers. All the editors interviewed use their purchasing power to put pressure on their vendors and publishers to provide a greater depth of materials. JSTOR is beginning to incorporate open access articles, which will broaden its pipeline of academic articles. This will bring new scholars to the database while broadening the range of research, especially in topics related to race, ethnicity, gender, and sexuality. And it will greatly help librarians who, at the end of the day, just want to get the best content to their patrons and students.
---
Susannah Goldstein is a K–12 school librarian at the Brearley School in New York City.