The subscription-based software specifically designed for education gives students more augmented and virtual reality options.
Augmented reality (AR) and virtual reality (VR) devices and technology get more interesting and easier to use every day—and educators are naturally seeking effective, authentic ways to integrate them into curriculums. CoSpaces Edu has a developed a subscription-based software to do just that: harness AR/VR capabilities specifically for K–12 instructional purposes.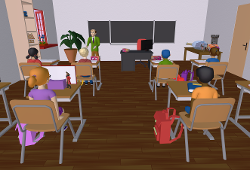 CoSpaces Edu is an online space in which students create virtual worlds and experiences. Students can create games they play with the help of Google Cardboard or VR goggles such as the MERGE Goggles . They can build a museum room and have classmates walk through and learn about the artwork or artifacts on the wall, or create their vision of a fictional world based on a description in a book.
Designed for education, CoSpaces Edu allows teachers to create a class, and assign, view, and give feedback on work for that class. A limited free version of the software is available, as well as a more expansive Pro version for $3.50 per account, or "seat," (with a required 30-seat minimum).
The platform does have a learning curve, but it is an easy transition for students already accustomed to building in a 3-D digital environment, such as Minecraft or Unity. Each new student account has a "Welcome to CoSpaces Edu" training space preloaded. This welcome space walks the student through each tool in the platform—with instruction on adding characters, items, and text, building structures, and different viewing settings. This is cleverly done within the creation platform, which simultaneously acclimates students to navigation within the space. Training videos are also available both within the platform and on the CoSpaces Edu YouTube channel.
There are dozens of characters and items available from CoSpaces Edu to populate a student's virtual world, and they can be animated to walk and move. The Grinch character hilariously can tap his fingers while hatching an "evil plan" or cross his arms grouchily while "grumping." One of platform's the best features is the ability to search and upload 3D models directly with the help of Google Poly.
Creating the virtual space is powerful, but the ability to code it to be interactive is even more so. CoSpaces Edu comes equipped with a block language called CoBlocks. Similar to Blockly and Scratch, CoBlocks are easy for beginners to pick up. While the free version of CoSpaces Edu has very limited coding capabilities—mostly allowing the student to program characters to react to each other—the versatile Pro version offers the option to code more complex programs using JavaScript.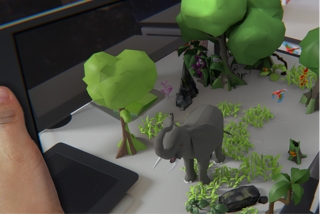 The differences between the free and Pro options are substantial. A Pro subscription allows students to create an unlimited number of spaces, use the full range of characters, 3-D objects for building, the physics machine, an unlimited number of external file uploads, write programs in TypeScript, and remix spaces found in the CoSpaces Edu Gallery. It also allows the teacher an unlimited number of classes and assignments for those classes, plus the ability to archive spaces and classes for later use.
The free version, however, might be perfect for K-5 teachers who have one classroom and students who may benefit from limited choices. For secondary teachers who truly wish to put CoSpaces Edu to effective use, the free version is really best only for testing.
One strength of CoSpaces Edu: because it's housed in the browser, it works on any desktop or laptop used by the school. It also has Android and iOS apps, so students can create on mobile devices, too. Student-created spaces can also be viewed and experienced with the CoSpaces Edu mobile app on 2017 or newer smartphones and tablets. They can view spaces with just the device, or with of AR/VR goggles for smartphones.
A recent update is the ability to create AR/VR spaces for the multi-sided MERGE Cube. The MERGE Cube add-on costs an extra $1 per account annually, and allows classes with Pro subscriptions to create scenes and games for all six surfaces of the cube. Empowering students to create their own content greatly expands the learning potential for the MERGE Cube. It's the beginning of a beautiful partnership.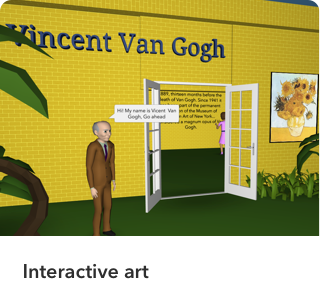 VERDICT: There's a reason CoSpaces Edu was on American Association of School Librarians' 2018 Best Apps and Websites for Teaching and Learning list . The platform is easy to learn, easy to access, and full of potential. This is a tool that students and teachers can shape to meet their needs and allows students to demonstrate their learning with a wide array of creations. Young children can use it to create a simple room filled with text and pictures. Older students can create an interactive AR game, using complex code and 3-D objects they've designed. The cost of a Pro subscription is reasonable for the value, while the free subscription is perfect for those looking to dip in their toes. If there's one area for improvement, it is in creating a community for teachers. There is a forum for educators to ask and answer questions, and the Gallery is a great place to get ideas. But less tech-savvy teachers need a place for more lesson plan ideas, guidance, and support. Right now, CoSpaces Edu is better suited to the adventurous souls ready to engage their students in the wave of AR and VR technology.