The author of Thanks a Lot, Universe discusses why he wrote the book and how his protagonist came to a point where he could say, "It's OK to talk about this."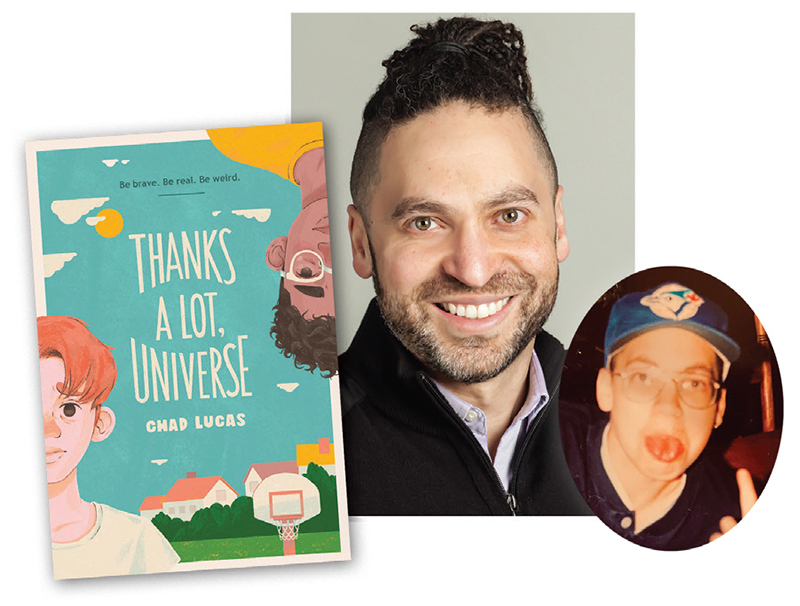 Chad Lucas's middle grade novel Thanks a Lot, Universe is about a boy who starts having panic attacks when he and his brother are placed in foster care. Lucas, profiled in SLJ's feature "Not OK? That's OK," talks here about COVID, mental health, and trusting the intelligence of young readers.
What drew you to writing about mental health? Why does this subject matter?
It matters because mental health issues are more prevalent than ever. After everything we've been through collectively in the past few years, I think you'd have a hard time finding a middle grade reader who hasn't seen someone wrestle with their mental health—whether it's a friend, classmate, family member, or themselves. Books can be one way to help kids process what they're seeing or experiencing.
What kinds of interventions, treatments, supports, and therapies take place in your book?
The main character, Brian, first has to get to a place where he accepts, "It's OK to talk about this. I don't need to hide it or carry it alone." Without giving too much away, he gradually builds trust with friends who nudge him toward understanding that getting help is OK.
Tell me about the effects mental health has on Brian, his family, and those around him.
One thing I explored in Thanks a Lot, Universe is the intergenerational impact of mental health issues. Brian and his brother spend time in foster care when their mother has a crisis. As he's dealing with this sudden upheaval in his life, Brian's own anxiety becomes more acute.
What is the most challenging part of writing about these topics for middle grade readers?
You have to trust the intelligence of young readers. I believe in the importance of hope in middle grade, but you can't sell kids a falsely optimistic, "There there, everything will work out fine" narrative, either. They're too smart for that. In the current atmosphere around kidlit, especially in the United States, another big challenge is the self-appointed adult gatekeepers who are trying to ban books that make them uncomfortable.
What do you hope readers take away from your book(s)?
In Thanks a Lot, Universe, Brian and Ezra are carrying personal things that they're afraid to talk about at first, but opening up ultimately helps them. My next book, Let the Monsters Out (May 2022), has a very different plot, but that's also a common thread for the main character, Bones Malone. First and foremost, I hope kids simply enjoy my books, but I hope they also take away that some burdens are less heavy when you don't carry them alone.
What do you hope to see explored more in middle grade books that deal with mental health?
I think it's helpful to show kids experiencing therapy and other treatments. I also think it's great when a character lives with their illness or mental health challenges without it being the main focus of the story. That's not to say we don't need more books focused on mental health, but I think it helps normalize and destigmatize mental health when we also see anxious characters go on adventures, solve mysteries, and do all the things that other kids in books get to do.
Did you draw from any personal experiences or have connections to any of the issues explored?
Mental health issues run through multiple generations of my family, but no one really talked about it when I was younger. I think I internalized some ideas and stigmas that I had to unlearn for my own well-being. I'm glad we talk about mental health more openly now, but we can still get better at it.
Any recommendations for books with good mental health representation?
I love how naturally Bea's "big emotions" and her conversations with her therapist are woven into Rebecca Stead's The List of Things That Will Not Change. And Nicole Melleby's How to Become a Planet is one of the best middle grade books about a character with depression that I've read yet.