Share the love of curls, kinks, and coils with these seven books for preschoolers through teenagers.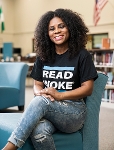 Growing up, I had my hair pressed by a local beautician, Ms. Sykes, and I got my first relaxer when I was eight. I'll never forget the scabs from the burns, and the dreaded new growth. I thought I had bad hair until I suffered hair loss during my second pregnancy and stopped getting relaxers. I found a natural stylist, and when my natural hair grew back without chemicals, I was in love. My 4C hair was beautiful, soft, coily, and healthy. I never looked back.
I share the beauty of Black hair with my eight-year-old daughter. I want her to love her hair, no matter what society says. Whether it's curly, straight, braided, flat-ironed, twisted, or with extensions or beads, Black hair is beautiful.

Hair Twins by Raakhee Mirchandani. illus. by Holly ­Hatam. Little, Brown. May 2021.
PreS-Gr 2–Hair cheers for hair twins! This story follows the morning hair routine of a Sikh father and daughter. As the girl compares combing her waves to a river and playing the harp, this work provides a window into the lives of Sikhs and their traditions.
My Rainbow by DeShanna Neal & Trinity Neal. illus. by Art Twink. Penguin/Kokila. 2020.
PreS-Gr 2–Trinity, a young transgender girl, wants long hair, and her mom finds a way to make sure her daughter is happy. Mom's ingenuity, combined with a trip to the beauty store, an online tutorial, and a needle and thread, yield a beautiful rainbow wig for Trinity. This celebration of being a girl is also a testament to the power of hair and the strength of family.
Wanda by Sihle Nontshokweni & Mathabo Tlali. illus. by Chantelle & Burgen Thorne. Crocodile. Apr. 2021.
PreS-Gr 1–"I am a queen, and this is my crown," ­Wanda's mother says to her every morning in this book set in South Africa. But Wanda is teased by her classmates and frowned upon by her teacher because of her hair. With the help of her Grandma Makhulu, she grows to love the versatility and beauty of her locks.
Bedtime Bonnet by Nancy Redd. illus. by Nneka Myers. Random. 2020.
PreS-Gr 3–"In my family, when the sun goes down, our hair goes up!" From that opener, this book shows various ways Black people protect our hair—showcasing the wave cap, bonnet, kerchief, wrap, and do-rag. The protagonist here is getting ready for bed, but oh no! She can't find her bonnet. Will she? Read to discover what happens.
Crown: An Ode to the Fresh Cut by Derrick Barnes. illus. by Gordon C. James. Agate Bolden. 2017.
K-Gr 3–This award-winning title embraces Black boy joy and shows the power of a flawless line, the faux-hawk, skin fade, locs, tapered sides, or the ripples of waves. It oozes swag while celebrating what Barnes calls, "the only place in the black community where a black boy is 'tended to' " and "treated like royalty"—the barber shop.
Hair Story by NoNieqa Ramos. illus. by Keisha Morris. ­Carolrhoda. Sept. 2021.
K-Gr 3–A Black girl and a white girl from Puerto Rico—a "dope Nubian Queen" and a "fly Taíno Queen"—play hair salon in this vivid picture book. Ramos shows how their hair connects with rich cultural histories. There's a glossary, and "Fro-Ments" in time recognize manes of figures including Colin Kaepernick and Tracee Ellis Ross.
Hot Comb by Ebony Flowers. Drawn and Quarterly. 2019.
Gr 9-12–These coming-of-age tales about the Black hair journey are told in a graphic novel format. The collection opens with a story of a young girl who is being teased at school about her hair after moving into an all-Black neighborhood. She begs her mom for a perm/relaxer, but the results aren't what she expects. With black-and-white illustrations, this groundbreaking work isn't just about hair; it also tackles class, gender, race, and family issues.
---
Cicely Lewis (Twitter: @cicelythegreat) welcomes suggestions.