Betsy Bird considers reading during a pandemic and how children's books are meeting the crisis.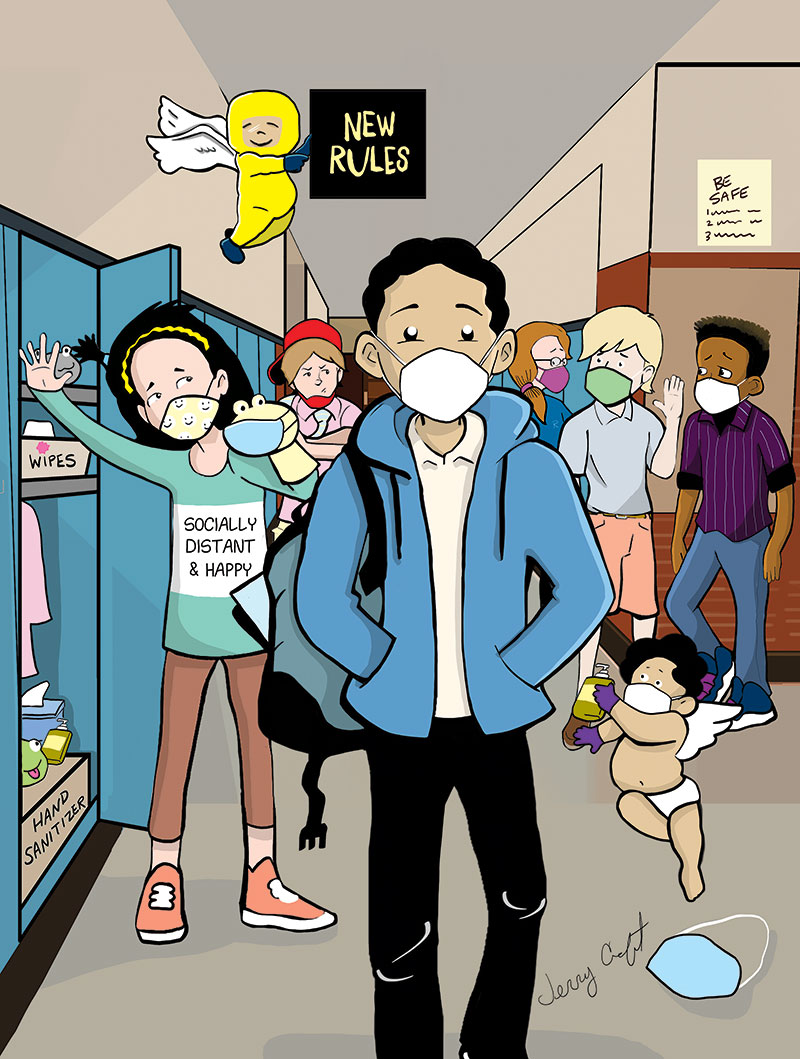 Illustration © Jerry Craft
Allow me to ask you a question, and I would like you to be honest. Has the pandemic of 2020 affected your reading habits significantly? I don't mean to ask if you're reading more or reading less or can only stomach books set in places free of news (like, say, Mars). I'm talking about the reading experience itself. Who among you can honestly say that you haven't picked up a children's book in the last few months and shuddered when you saw the characters going to parties, hanging out in large groups, or even hugging? Oh, how quickly the human animal adapts to its pandemic-infused circumstances.
There are any number of people you should want to extend your pity to in these times, but consider for a moment the publishing industry. For the first time in the history of America, almost every book being published fails, on some level, to speak to the times in which we live. As a result, back-to-school books are pretty much a bust. All those middle grade novels that culminate in a talent show? Archaic. Though there may be children in some states who are getting back onto buses, those vehicles hopefully don't look anything like the ones packed with kids, ear to ear and cheek by jowl, on the pages of illustrated books.
And yet, books are infinitely adaptable objects. Great literature speaks beyond the present moment. And some books, whether purposefully or accidentally, are reaching out to readers in unexpected ways. If audiences connect with them, they may find them to be incredibly useful.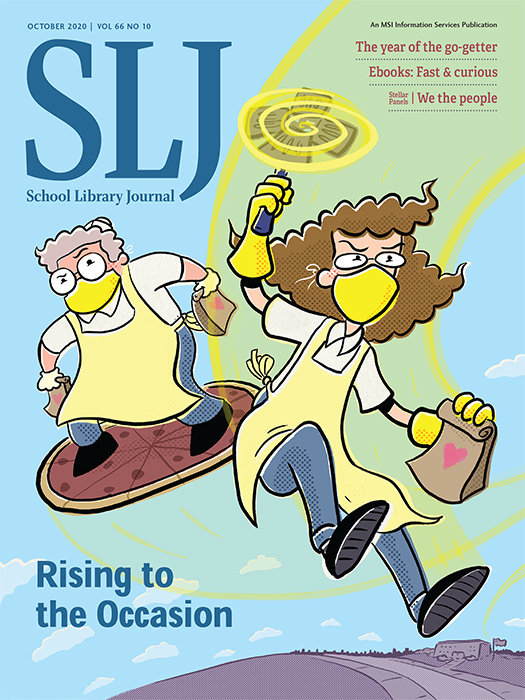 October 2020 cover story.
Publishing in a pandemic
I liken a publisher's ability to change its publishing schedule to the Titanic's ability to avoid scraping up against an iceberg. Nothing large can pivot on a dime. As such, smaller changes went into immediate effect. In March 2020, reviewers' physical advanced reader copies of books were swapped out for digital editions. Bookstore and conference tours for authors and illustrators were canceled across the board. And conferences themselves, from Bologna to BookExpo to the American Library Association annual conference, happened entirely online.
Then came the ads that showed how effectively publishers could adapt when called upon to do so. A recent mailing from Albert Whitman, for example, urged readers to "Inspire Children to Get Outdoors," in one of the more seamless marketing strategies. Even smaller independent publishers have had difficulties to overcome. "Thanks to our sales from mass market chains and grocery stores, we have seen a steady, and in some cases, growing business for our C&A [coloring and activity books] and licensed titles," says Shimul Tolia, CEO of Little Bee Books. "We made the decision not to move pub dates for the majority of our titles, and while we are happy with our decision, we do feel the dearth in sales for some formats, such as middle grade fiction, that would have benefited from discoverability in libraries and handselling in independent bookstores."
Indeed, it's no secret that debut authors and illustrators are the ones who will suffer from sales in 2020. Plenty have done online events and virtual tours, but there are few things that can replace real, face-to-face presentations.
Timely sourdough starters
"Unprecedented," "unprecedented," "unprecedented." It's the word of the year, and I think I speak for everyone when I say I'm mighty sick of living through "unprecedented" times. It can be scary to exist during a moment in history when you don't have a reliable roadmap on hand to deal with it. And if you think it's difficult for adults, imagine that you're a child. Kids rely on stability, a concept whose stock decreased at an alarming rate in 2020. Where to turn then but to literature? If the bulk of the books written this year weren't penned with a pandemic in mind, that doesn't mean they haven't anything to say to us.
Take, for example, the latest chapter in the "Deckawoo Drive" series of early chapter books by Kate DiCamillo. Stella Endicott and the Anything-Is-Possible Poem doesn't contain even a sniff of distance learning or temperature checks at the schoolhouse door, but it can still help us through trying times. "DiCamillo gives us this endearing tale of learning through coping with a (hilariously) bad day," says Martha Meyer, a library assistant at Evanston Public Library. "Through this slight story, she's actually showing us how to have quiet strength, emotional flexibility, growth and friendship while being open to the needs of other human beings—all the things you need internally to make it through the pandemic."
For Meyer, books like DiCamillo's offer resilience in the face of trying times, a longstanding staple of children's literature. In contrast, other books speak to the current momentwin more specific ways. The Bread Pet: A Sourdough Story (August 2020) by Kate DePalma and Nelleke Verhoeff may sound like a title made in response to that most popular of pandemic activities, but DePalma notes that it was in the works long before COVID-19 became a household name. "The Bread Pet was born during the solar eclipse in 2017, when a friend stopping through Nashville to see the eclipse left some sourdough starter with my family to care for," she says. "I thought baking sourdough bread might be an emerging trend, but we of course had no idea what would be happening in the world by the time the book finally hit store shelves." Meanwhile, in another part of the world, From My Window by Otávio Júnior and Vanina Starkoff (released in March 2020) may be set in a favela in Rio de Janeiro, but the way the main character stares out of his window at the passing world will feel familiar to any child kept indoors during lockdown. "Sometimes I can't go to school or play ball outside," it reads. We relate.
Books address this moment
After the events of September 11, the publishing industry scampered to provide children's books that could speak to the present moment. Eventually there came Fireboat by Maira Kalman in 2002, The Man Who Walked Between the Towers by Mordicai Gerstein in 2003, and September Roses by Jeanette Winter in 2004. Almost 20 years after 9/11, we find ourselves in another outstanding moment in history. The difference? Publishers in 2020 are able to move far faster and with more alacrity than they were in the earlier part of the 21st century. Maybe that's why we've seen such an increase in books that speak specifically to our current crisis.
There are few better examples of this than author Rex Ogle's weekly webcast serial, Aiden Tyler, Quaran-teen. Released between March 24 and June 2, the series aired live with Ogle personally reading each chapter. Subsequently, all the episodes and downloadable chapters have been made available online. Hosted by Junior Library Guild, the series provided that rare experience of living in a historical moment while also watching it filtered through the medium of fiction.
Aiden Tyler is indicative of a larger trend as well. One of the more notable aspects of COVID has been the fact that much of the creative content it's inspired has remained free and online. Take the online book Coronavirus: A Book for Children by Elizabeth Jenner, Kate Wilson, and Nia Roberts and illustrated by Axel Scheffler of The Gruffalo fame. Published by Nosy Crow, this free, informational book was created to give parents and children updated information in a friendly format. An audio version narrated by Hugh Bonneville was released at the same time.
Then there are the books that began as free thoughts online only to be officially published later. Not long before Nosy Crow's release, Kitty O'Meara wrote a prose poem about the pace of the world. She wrote the poem in mid-March and posted it to Facebook for her 85 friends where it subsequently went viral. Now, Tra Publishing will release the poem, And the People Stayed Home, as a picture book in November 2020 with art by Stefan Di Cristofaro and Paul Pereda. Mind you, O'Meara's is not the first poem to be picked up by a publisher during the pandemic. In September, HarperCollins Children's Books will publish The Great Realization by Tomos Roberts and Nomoco. Written for Roberts's seven-year-old twin brother and sister, the book is set in the near future. It notes the environmental devastation humans have wreaked upon the world and calls the moment when the disease descended a time of "great realization" when people started to pivot toward what is truly important.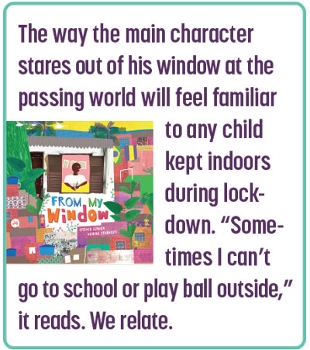 The flip side of poetry is parody, and has any picture book been subjected to more parodies than Margaret Wise Brown's Goodnight Moon? This month will usher in the latest in a long line of adaptations, this time by Lindsay Rechler and June Park, called Good Morning Zoom. Beginning its life as a self-published edition, this new version of an old classic wastes no time in rhyming "Zoom" with its inevitable pairing, "gloom."
Finally, published in the traditional manner, is Caldecott Honor–winning illustrator LeUyen Pham's Outside, Inside. Publishing in January 2021 by Roaring Brook Press, Pham's picture book will spark a jolt of familiarity among readers as it makes the smart choice to show the sheer range of experiences people have endured during the pandemic.
Whether it's taking up hobbies or losing jobs and security, the book acknowledges difficulties as well as the great good that people exemplify in the face of uncertainty. Goodness, like the fact that Pham is using a portion of her advance to support the food bank fund she established. You don't need a crystal ball to know more picture books in a similar vein will appear once 2021 arrives.
The pandemic pivot
When the people of the future look back at 2020, what will they examine? Our news articles? Our blog posts? Our politicians, television shows, and music? They will, but I hope they will also think to look at how our children's books met the current crisis. Whether the books of 2020 came out in spite of the pandemic or because of it, they offer our children stability, wisdom, purpose, and care. They are there for us in the midst of distance learning, rising virus outbreaks, and vaccine trials. And when all this is over, they'll be there for us when 2020 is long gone. Gone, but never forgotten.