The latest app in Tinybop, Inc.'s "Explorer's Library" allows students to experiment with heating and cooling solids, liquids, and gases—without setting off a smoke alarm.
When it comes to creating apps, Tinybop, Inc., believes in the power of play, and key to the company's philosophy are "sparking curiosity, diving into big ideas, and making connections to the world." Andrea Lipinski reviews the 11th entry in the "Explorer's Library" below.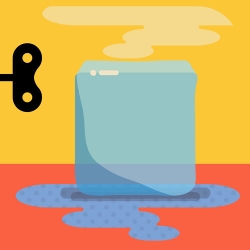 Tinybop's "Explorer's Library" is a series of interactive apps that cover a range of topics from the human body and weather to simple machines and coral reefs. With States of Matter (iOS, $2.99; Gr 1-8), students conduct basic experiments heating and cooling solids, liquids, and gases. They begin by choosing one of several containers (teapot, jar, or colander, etc.); add a solid (ice cubes, corn kernels, gold, etc.); a liquid (soda, oil); or a gas (helium, bromine), and adjust the temperature. By sliding the temperature gauge up and down, students can watch the effects of condensation, evaporation, and may even view objects smoking or catching fire if heated for too long or at too high a temperature. Some aspects of the app are fairly intuitive, but turning on the text feature is essential to help players understand the types of substances they're experimenting with.
The overall gameplay is both educational and kid-friendly, with amusing Easter eggs sprinkled throughout. While viewers can see the results of heating or cooling the different substances, nowhere are they told why various substances have different melting and freezing points. Players might also wonder what the difference is between helium and bromine. Or, for that matter, what is bromine? While they won't find those answers in the app itself, Tinybop offers a free, downloadable guide that tackle those quesions. It also provides tips on using the app, a glossary, and discussion questions. VERDICT This introduction to the topic will please armchair scientists who would like to conduct scientific experiments without buying lab equipment or setting off a smoke alarm.—Andrea Lipinski, New York Public Library
For additional app reviews, visit School Library Journal 's dedicated app webpage.