SLJ spoke with the accomplished author about her musical background, the power of pop music, and the connective possibilities of fandom.
In Akemi Dawn Bowman's delightful middle grade debut Generation Misfits, 11-year-old Japanese American Millie Nakakura finds a sense of identity and belonging through her love of J-pop, and the friends who share it. SLJ spoke with the author about her musical background, the power of pop music, and the connective possibilities of fandom.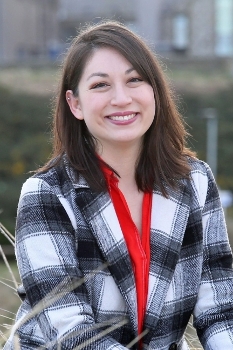 Photo by Peter Lolly
Generation Misfits is such a warm story of loving music and blossoming friendship. Where did you draw the inspiration for this and other stories?
Thank you very much! I'm a big lover of character stories and the theme of found family, and it's something that inspires a lot of my ideas. Not everyone grows up in a supportive or understanding environment, and it's nice to think people can still find family within the friendships they make. For this book specifically, I was also really inspired by the idea of kids meeting through a shared passion. Fandom can be such a huge part of people's lives, particularly when we're young and making connections in the weird and sometimes complicated world of middle school!
Millie's transition from homeschooling to attending public school is so well developed for readers. Did this story line come from personal experience?
It was loosely inspired by it, yes. I was homeschooled from fourth grade up until eighth grade, and going back to public school was not easy for me. I have always been generally socially awkward, but that first year back at school was painfully challenging. I felt like all the other kids had these unwritten rules they were following, and I just felt really lost. I also know other homeschooled kids have a totally different experience, so this isn't to say Millie's story (or mine) is universal! But growing up, if I'd known that other people out in the world were struggling with similar experiences, it would've made me feel less alone. I hope Millie can offer that for the readers who are still hoping to feel understood.
The characterization in your novel is top notch. Were any of the characters inspired by real people? What steps do you take in your writing process to shape authentic, relatable characters?
None of the characters were inspired by anyone real, but I'm really happy to hear they read that way! I treat my characters like they're genuine, layered, complex people. I think everyone can be a little messy, because none of us are perfect. No one is all good or all bad, so I try to create characters who are, at times, a bit of both. We all make mistakes, even when we're trying our best. I think people relate to what feels most like the truth. And in my experience, honesty is usually the best way to connect with people.
Music is at the heart of this book. Do you play an instrument or have a personal connection to music?
I do! I started taking flute lessons when I was six and piano lessons when I was seven, and I eventually attended a performing arts high school as a band major when I was 14. And, similar to Millie, I was not happy about it. My parents were quite strict when I was younger—I think at one point I had to practice for two hours every day—so by the time I got to high school, I was really over it. But despite not wanting to be a concert flutist, music was always a big part of my life. I was constantly listening to instrumental pieces, and I'm almost positive it played a big part in my love of storytelling. A lot of my story ideas are thought up while listening to film and TV soundtracks! Music can make you feel so many different things, and I'm grateful for that connection.
J-pop, both the music itself and the culture surrounding it, is a key part of Generation Misfits. What sort of research did you do to bring this vibrant musical genre to life for middle graders?
There's a special place in my heart for pop groups. I was a child of the NSYNC era, so choreographed dancing and colorful music videos were everything. I also grew up watching anime, which was probably a gateway that led me to J-pop. With Generation Misfits, I loved the idea of creating a fictional J-pop group that had the same global impact groups as Blackpink, SNSD, and Little Mix have had with their fans. I think in some ways, more of the research was based around fandoms than the actual genre, because the J-pop aspect felt really natural to the story.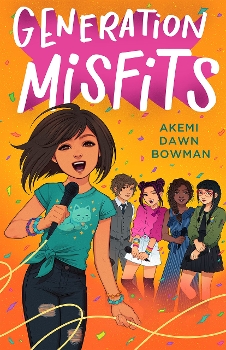 How do you craft such fantastic dialogue? Is reading your work aloud a part of your revision process?
I absolutely read the book aloud (well, it's probably more of a hurried whisper), which usually makes my family look at me funny. But it really helps me hear how the dialogue is flowing. I like everything to sound realistic—not just for the age range, because I don't necessarily believe there are rules for how kids are supposed to sound (I say this as a kid who had a big, melodramatic vocabulary), but also for the setting. I love dry sarcasm, but I know it doesn't necessarily work in every scene. I'm constantly balancing the moments where characters get to really showcase their personalities, with the bigger threads of the story. And of course, I write and rewrite dialogue a hundred times before it "sounds right!"
Millie's connection to her crew is inspiring and emotional; the nuances of being a friend are well portrayed, including how to give and receive friendship. Was this an important message that you wanted to share with middle graders?
Definitely. All relationships take effort and work. There's a line in the book that talks about how friends fight, but it doesn't mean they have to stop being friends. This might ring true to a lot of people who've ever experienced a "friendship breakup" because they didn't know how to apologize or forgive. It's a hard thing for even adults to navigate, but in middle school, those early friendships feel like the whole world. So it's especially devastating when things aren't always perfect. I hope Millie and her friends are a good example of how nobody has a perfect day every day, and it's absolutely okay to argue—but when you care about someone, you put the effort in, and remember that the friendship is often more important than the disagreement.
Did you make a playlist of songs to write to in order to immerse yourself in Millie's world? Any band or song recommendations for readers new to the J-pop genre?
I did have a J-pop playlist very early on, but I need silence when I'm drafting, so I only really listened to it to get the setting right. But I adore the band Faky and their song "Antidote!" It's so catchy, and Millie and company would be obsessed.
Do you have any forthcoming projects in the works? Any teasers you can share with your readers?
I have a YA sci-fi that released earlier this year called The Infinity Courts, which is about an AI that takes over the afterlife. It has a twist on some of my favorite tropes, including enemies-to-lovers, and it's a combination of ballroom/court drama and classic dystopian rebellions. Basically a mash-up of some of my favorite things! I just wrapped up edits on the sequel and am getting ready to draft the final book in the trilogy. I'm also gearing up to start edits on my next middle-grade, which is about ghosts and a haunted house. I'm really excited to flesh the world out in this next stage of rewrites, and hopefully share more with readers soon!
---
Akemi Dawn Bowman is a critically acclaimed author who writes across genres. Her novels have received multiple accolades and award nominations, and her debut novel, Starfish, was a William C. Morris Award Finalist. She has a BA in social sciences from the University of Nevada, Las Vegas, and currently lives in Scotland with her husband and two children. She overthinks everything, including this bio. Visit Akemi online at her website or on Instagram.