The In the Margins Book Awards honor the best books published over the preceding 18 months that appeal to the reading needs and wants of teens from marginalized backgrounds. The committee selected three top titles in the categories of Fiction, Nonfiction, and Advocacy. They also released their full Top 10 list.
Now in its seventh year, the In the Margins Book Awards committee revealed its top picks in three categories: Fiction, Nonfiction, and Advocacy. The books, published over the last 18 months, appeal to the reading needs and wants of marginalized young adults.
This year, the committee selected Where the Dead Sit Talking by Brandon Hobson (for Fiction), Voces Sin Fronteras: Our Stories, Our Truth by Latin American Youth Center Writers and Santiago Casares (for Nonfiction), and The War on Kids: How American Juvenile Justice Lost its Way by Cara H. Drinan (for Advocacy).
Committee chair Sabrina Carnesi commented that the deliberation process this year was one of their "most challenging yet successful." In addition to the three top titles, members selected a variety of titles for their Top 10 list, including self-published works and those produced by major publishing houses. "We are very proud of our selected award titles for 2019. The priority charge for our committee has stayed the same...we are providing a platform for the voices of youth from our most vulnerable populations to be heard and it is in accordance with the climate of issues surrounding immigration, Indigenous rights, and youth incarceration."
For the list of Top 10 titles and more about the committee and its selections, see the press release below.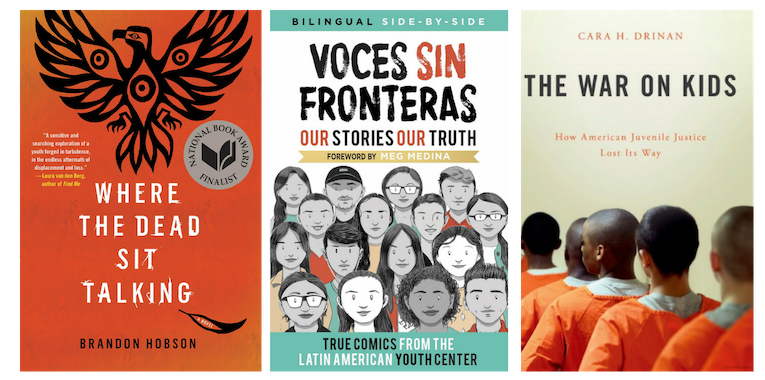 ---
2019 In The Margins Book Awards
FOR IMMEDIATE RELEASE
02/06/2019
Contact: Sabrina Carnesi, In the Margins Book Awards Committee Chair
NEWPORT NEWS, VA.—The In the Margins Book Awards (ITM) committee is pleased to announce the top titles and overall Top Ten List for 2019. Recipients are selected based on the titles that represent youth who are marginalized, on the streets, incarcerated, drug-addicted or struggle with combinations of these issues. Not only does the committee read and discuss a multitude of book titles published within the previous 18 months of the award year, we have the unique experience of having young adults assisting us in selecting the books by reading and sharing their opinions with us, directly. Incorporating the enthusiastic response from youth who live the experiences of our charge, we create an annual reading list which was originally intended as a selection tool for librarians who service youth in juvenile detention facilities throughout the North American continent and has since spread to community outreach programs and schools throughout North America.
This seven-year-old award selects winners for youth between the ages of 9 and 21, in the three categories of fiction, nonfiction, and advocacy. Many books considered for this award are self-published and from smaller, independent publishers.
Where the Dead Sit Talking written by Brandon Hobson, published by Soho Press (2018), won Top Title for Fiction.
In this First Nation-voiced adult title for older teens and new adults, readers learn that it's hard to trust anyone when you've been in foster care as long as Sequoyah has. He's been on the edge for so long that he almost seems to know death, until he meets Rosemary, a fellow Native youth, who may be able to draw him back from the grave. "The committee was emotionally struck by the raw vulnerability of Sequoyah's journey out of the downward spiral he experienced and his will to move forward, after losing all those around him from which he gathered his strength," said Sabrina Carnesi, ITM book award chair.
Voces Sin Fronteras: Our Stories, Our Truth written by Latin American Youth Center Writers and Santiago Casares, published by Shout Mouse Press (2018), won Top Title for Nonfiction.
Youth recount their experiences of immigration in this collection of comics created by and for teens. Their stories carry the weight of immigration, the thrills of new places, and the tolls immigration had on their families. Listen as they speak without borders, with text in English and Spanish. Carnesi asserts Voces Sin Fronteras as "a groundbreaking bilingual graphic biography that lends voice to 16 immigrant youths who are both the narrator and illustrator of their immigration stories."
The War on Kids: How American Juvenile Justice Lost its Way written by Cara H. Drinan, published by Oxford University Press (2017), won the Top Title for Advocacy and Social Justice.
An in-depth guide for understanding the present state of juvenile policing and incarceration, this book combines hard data and research with statements from youth about their own experiences with the system. "The committee was unanimous in its support of the voice of advocacy Drinan's work brings to the mistreatment and mishandling of juvenile offenders who are caught up in the for-profit penal systems fed by courts where authorities turn blind eyes to the harshness and recidivism it produces," says Carnesi.
This year's Top Ten List highlights 56 titles that comprise the two recommendation and advocacy lists which are posted on the book award's website.
The In the Margins 2019 Official Top 10 are as follows:
1. 2E G. Queenpin. Feb. 2018. CreateSpace. pap. $14.95. 138p. ISBN 9781983519185. Young Adult.
2. Brown, Kevin. Hard Knocks High: Darkskins and Redbones. Sept. 2017. Jank Publishing. pap. $9.95. 186p. ISBN 9780984557219. Young Adult.
3. Colfer, Eoin; Andrew Donkin; and Giovanni Rigano (Illustrator). Illegal. Aug. 2018. Sourcebooks Jabberwocky. Tr. $19.99. 144p. ISBN 9781492662143. Young Adult.
4. Goozh, Judi and Sue Jeweler. Tell Me About When Moms and Dads Go to Jail. $14.99. 48p. ISBN 9781785928079.
Tell Me About When Moms and Dads Come Home From Jail. $14.95. 40p. ISBN 9781785928066.
ea. vol: Jessica Kingsley. May 2018. pap. Juvenile.
5. Griffin-Wallace, Valencia. Motherless Child: A Journey of Growing Up and Forgiving . Valencia G. Wallace Publisher. Jan. 2018. pap. $9.99. 170p. ISBN 9780692064405. Older Teens.
6. Hawkins, Lamont U-God. Raw: My Journey Into the Wu-Tang. Mar. 2018. Picador. Tr. $27. 304p. ISBN 9781250191168; pap. $18. 304p. ISBN 9781250191175. Older Teens.
7. Hobson, Brandon. Where the Dead Sit Talking. Feb. 2018. Soho Press. Tr. $25. 288p. ISBN 9781616958879. Young Adult and Older.
8. Krosoczka, Jarrett. Hey, Kiddo. Oct. 2018. Graphix. Tr. $24.99. 320p. ISBN 9780545902472. Young Adult.
9. Latin American Youth Center Writers and Santiago Casares. Voces Sin Fronteras: Our Stories, Our Truth. May 2018. Shout Mouse Press. pap. $14.99. 316p. ISBN 9781945434686. Young Adult.
10. Ramos, Nonieqa. The Disturbed Girl's Dictionary. Feb. 2018. Carolrhoda Lab. Tr. $17.99. 344p. ISBN 9781512439762. Young Adult.
---
The 2019 committee is comprised of librarians and library academics who currently work with the youth who experience the challenging circumstances of marginalized issues represented in the selected titles. Members of the 2019 Jury were: Chair, Sabrina Carnesi, Old Dominion University, Norfolk, VA; Dr. Jeanie Austin, San Francisco Public Library, San Francisco, CA; Marvin DeBose, Philadelphia Free Libraries, Philadelphia, PA; Lauren Gilpin, Nashville Public Library, Nashville, TN; Dr. Rae Anne Montague, Chicago State University, Chicago, Illinois; Dr. Kerry Sutherland, Akron Summit County Public Library, Akron, OH; and Raemona Little Taylor, Marin County Free Libraries, San Anselmo, CA.
Award-winning authors will be featured in a blog tour hosted on the book award website during the months of March, June, and September of 2019. The complete set of 3 lists is located on the Award Page for the book award website. Click here for new book submissions and Committee Membership inquiry.
For additional information please contact the committee at inthemarginsbookaward@gmail.com
---