Can YA fantasy speak truth to power? Author Sayantani DasGupta addresses that question and more with Elana K. Arnold, Betsy Cornwell, Kiersten White, Anna-Marie McLemore, and Mimi Yu.
"I must confess, I am tired of one true kings. I am tired of stories centered around a young white man learning how to wield power, as if the real world doesn't already do enough to prepare them." — New York Times bestselling fantasy author V.E. Schwab.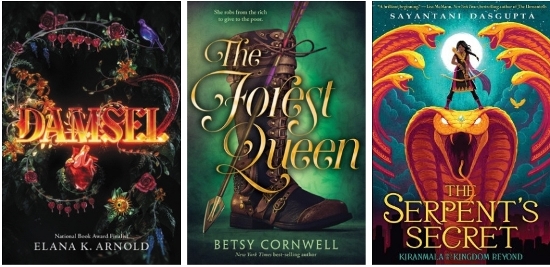 Can YA fantasy speak truth to power? Can a genre defined by boy wizards and one true kings be reframed and reclaimed to feature marginalized groups and their experiences?
These were the questions that were explored on the "Stories Retold and Worlds Reimagined: Fantastical YA" panel during the SLJTeen Live! virtual conference, which took place on August 15, with the theme of Speaking Truth to Power. As moderator, I had the pleasure of discussing these questions with the five panelists—Elana K. Arnold (Damsel, HarperCollins); Betsy Cornwell (The Forest Queen, Clarion); Kiersten White ( The Dark Descent of Elizabeth Frankenstein, Delacorte); Anna-Marie McLemore (Blanca & Roja, Feiwel and Friends); and Mimi Yu (The Girl King, Bloomsbury). Our discussion was centered on the notion of " visionary fiction," a term coined by writer, editor, and activist Walidah Imarisha and identified as "fantastical literature that helps us to understand existing power dynamics, and helps us imagine paths to creating more just futures."
The Importance of Representation
Fantasy, fairy tales, and all stories, for that matter, are traditionally written by those who hold power. It is their lives and experiences that are represented, their concerns which guide canonical themes. While traditional fantasy stories might cheerfully speculate about space travel, magic, or immortality, they seem to have a far harder time extending their imaginations to encompass gender justice, racial equality, or anti-colonial liberation.
Traditional fantasy effectively shuts the door on the imaginations of readers and new writers of fantasy alike, but the authors on this panel spoke to their efforts to counteract these limitations in their books. Yu, author of The Girl King, said "It was crucial for me to build a fantasy world that could help expand the milieu of the overall science fiction and fantasy imagination—for diasporic Asian readers, for readers of color, basically for the reader I'd been as a child, devouring hundreds of books containing elves and shape-shifters and aliens, but rarely if ever featuring a single character that looked like me."
Reclamation Not Substitution
Some of the authors on the panel emphasized that by drawing on their marginalized backgrounds to reimagine traditional stories, they weren't simply "swapping out" identities but changing the entire framework of the story. As Cornwell asserted, "[My novel] The Forest Queen is a female-centered reimagining of the Robin Hood legends. I like the term 'female-centered' rather than 'gender-flipped' because I think the latter term can reinforce a gender binary, implying that maleness is the flipside of femaleness. I wanted to focus on women without catering to a binary ideology of gender."
Arnold further emphasizes the importance of reclamation as opposed to faithful retellings of familiar stories. "Fairy-tales… have been sanitized, again and again, to be more consumable, more salable. Reclaiming fairy tales and other stories and re-making them in our own image is one way we can take power for ourselves."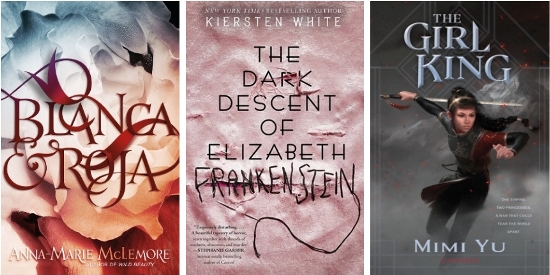 Retellings and Revolution
"Visionary" fantasy holds the ability to examine historical and present day oppressions more indirectly, and therefore more incisively, than realistic fiction. During our panel, we discussed the importance of writing fantasy in the post-2016 election era—how fantasy can tackle issues like sexual violence, immigration justice, white supremacy, and the systems that both allow and profit from these oppressions.
As White said, "Fantasy is a lens through which we can examine real, contemporary problems in an accessible format. In my retelling [of Mary Shelly's Frankenstein], I wanted to focus on who makes a monster—who allows it to happen, who looks the other way, who supports abusive and predatory systems because those systems also protect them."
McLemore had a similar view in talking about Blanca & Roja: "Writing about Latinx fairy tales, writing a queer Latinx 'Snow-White & Rose-Red' meets Swan Lake, let me talk about things we're often reluctant to talk about. What women, especially women of color, are expected to be. The false duality of women presented in stories like Swan Lake—the innocent, virtuous princess and the deceptive seductress. Disability, colorism within marginalized communities, queerphobia, transphobia. Aspects of our bodies we're reluctant to talk about. Fairy tales let us talk about that which we might not talk about—makes characters confront that which they're afraid to face."
In the end, "visionary" fantasy stories allow room to examine present day injustice, model new paths of activism, and imagine more just futures in which characters from marginalized identities do not just survive, but thrive. As Arnold said, "Books give language to experience, which empowers readers to draw parallels to their own lives, to put words to feelings or experiences they might not know how to express. If we put names to these experiences, we can take action towards change. Once we have language, we can make change."
---
Sayantani DasGupta is the author of the immigrant-daughter centered, Bengali folktale and string theory-inspired middle grade fantasy series, "Kiranmala and the Kingdom Beyond"— The Serpent's Secret (2018); Game of Stars (2019); and The Chaos Curse (2020, all Scholastic).