For the first time ever, SLJ is offering reviews of video games. Here, we review Pokémon Scarlet, Pokémon Violet, Pokémon TCG Live, and Marvel Snap.
For the first time ever, SLJ is offering reviews of video games. You can look forward to regular coverage of titles for your collections and programming.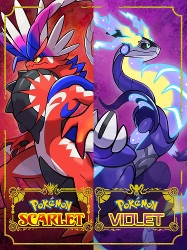 Pokémon Scarlet
Pokémon Violet
ea: Nov. 2022. Nintendo Switch. ­GameFreak. Price $59.99. Rating E10.
The latest installments in the Pokémon franchise have in-depth quests that can last upwards of 100 hours, as well as dozens of new pocket monsters to collect. Highlights of the new roster include new starters—Sprigatito, Quaxly, and Fuecoco—and alternative versions of mainstays Tentacool and Diglett. This game's fictional region, Paldea, is based on the Iberian Peninsula (Spain and Portugal). Nemona, the player's rival, frequently punctuates her dialogue with Spanish phrases. The game also includes other non-English phrases. Character customization includes a variety of skin tones and hairstyles, but only one slim body shape. Non-player characters also have a variety of skin tones and body shapes; however, most prominent characters are thin. A handful of characters dress in gender nonconforming clothing, which adds to diverse representation. Players can wear whatever they want: tights, skirts, pants, etc. Each version has a handful of exclusive characters. Although the game is combat focused, all battles are in the spirit of friendly competition; a strong theme of friendship runs throughout. The game features graphical glitches that can impact enjoyment. Internet connection is not required, although there is an online component accessible with a paid Nintendo Switch account. With no voice acting and lots of text, strong reading ability is required for full enjoyment. If loaded onto a shared console, each profile can have its own save file and adventure record. VERDICT Add both to a well-circulating video game collection. For smaller collections, one title will suffice.

Pokémon TCG Live. Nov. 2022. Android, iOS, Windows, Mac. Pokémon International. Price Free. Rating E.
Players can collect and play this game at no cost. The app is free, and there are no microtransactions or real-world currency. All digital card packs are "purchased" with in-game currency. Digital card packs are available for sets from February 2020 and beyond. Cards have cute artwork, and the game is an intriguing mix of luck and skill. The game requires an internet connection. All matches are against other live players. The interface is mostly intuitive, although experienced players will have an easier time maneuvering cards around the board. A tutorial is available for newbies. The game nicely replicates a tabletop Pokémon match, as players slide cards and damage counters and other tokens across the screen. The digital display is enhanced with graphical flourishes for powerful moves, as well as animated avatars. Player characters can be customized at any time and seem to be teens. The gender choice is explicitly binary, and players can select a variety of hair styles and skin tones but only one slim body type. There is no chat feature—players can only communicate with preset phrases. The app can be installed on a shared device. Without a trading element, a collection can be built among multiple players, or each player can sign in with their own free account, available from the Pokémon official website. As of December 2022, the game is in open beta phase. There are frequent glitches and bugs that can impact enjoyment. VERDICT This app is the perfect way for enthusiasts of all levels to get into the game at no cost.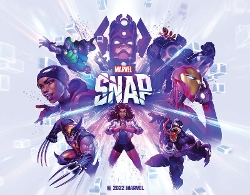 Marvel Snap. Nov. 2022. Android, iOS, ­Windows. Nuverse. Price Free. Rating T.
A digital-only collectible card game with no real-world equivalent cards to buy. In this free-to-play game, players build a deck of 12 cards and compete to win control of locations at the center of the digital table. Each character and location has its own rules and powers. Players must consider the placement of cards, timing of play, and myriad other variables when facing off against opponents. All matches take place against live players, so an internet-connected device is required. Matches are three to four minutes on average. Players need their own account to play; however, guest accounts are available, and they provide an experience very close to regular accounts. Cards are earned by winning matches and completing missions, and they can also be unlocked with real-world currency. Gameplay is deeply strategic and mathematical. Marvel's diverse roster is highlighted with heroes of color on the title screen and the addition of Black female heroes to player decks early on. Artwork is predominantly comic book style; popular MCU actors do not appear. When cards are played, the characters deliver zippy quips, and the cards animate and play sound effects. These flourishes add to the engaging gameplay. Some characters fire guns or brandish weapons, so although no physical conflict is depicted, the game is rated T for violent content. Player customization is limited. Players may choose a Marvel avatar to represent themselves along with a username. Preset phrases may be used to communicate with opponents. VERDICT A satisfying feedback loop makes for an addictive experience. Players who like fast-paced strategic games will enjoy this game.
---
Chance L. Joyner, Tyngsborough P.L, MA.