School librarian Laura Gardner offers best practices to stay connected with students and keep the fun factor high.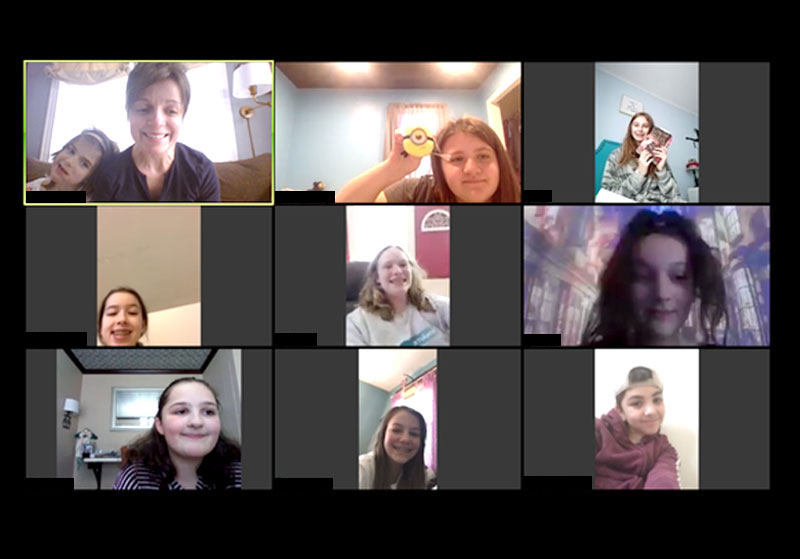 I never wanted to be an online librarian, and I bet you didn't, either. I don't even like ebooks.
I miss my library. I miss the books. Most importantly, I miss my students.
Now that COVID-19 has forced us all to become online school librarians, we need to find ways to deliver virtual content, stay connected with our students, and help them continue reading. One way that I'm doing that is through online book clubs via Zoom. Our two daily meetups are now an established part of my day.
Getting online book clubs off the ground wasn't too difficult for me. It helps that we already had established book clubs at my school library, but that isn't a prerequisite. I've been running three "Lunch Bunch" book clubs (one per grade) almost every day for over three years. We read aloud books from the Global Read Aloud or Project Lit book lists, and every Friday, I do First Chapter Friday to get more books in kids' hands. We cap our in-person Lunch Bunch at 30 students per group. We max out, and we have a wait list! But the online lunch bunch can include far more students, and there's no cleanup necessary at the end of the session.
Tips and Tricks for an Online Book Club
Everyone is invited
I got the word out about our new virtual Lunch Bunch via email, social media, and Google Classroom. I first sent all our regular Lunch Bunch kiddos invitations to our new Google Classroom and encouraged them to get chatting with a welcome/introduce yourself post. Then I sent an email to every student in the school, as well as all the parent contacts, via our student management platform (Aspen) and posted the event on the PTO Facebook page.
Most of one day was spent helping parents and students troubleshoot the Google Classroom codes and Zoom meeting code over email and Facebook. Parents and students also helped one another out and invited one another to join. A lot of our "regulars" sign up for our virtual meetings, as well as new students who never came to our in-person events. So far, we're averaging between 10 and 15 students per session, but I'm hopeful for more in the coming weeks.
Live meetings are a fun way to connect
We're using Zoom for our daily meetups, one for sixth graders at noon and one for seventh/eighth graders at 1 p.m. Zoom has been very easy to use: It works on any phone, tablet, or computer, and students have been helping each other troubleshoot. I love the functionality it offers the host. I can mute everyone and unmute one by one, and I can also record the meeting if I want to.
The first 10 minutes of our sessions are designated hang out time. We chat about the daily challenge (more on that later), as well as how everyone's feeling and what they're up to. I'm loving the social interaction, as well as seeing everyone's house, siblings, and pets. Our connection may be virtual, but it's still meaningful. My primary goal is to give students a sense of normalcy and routine in a time of uncertainty.

Read: 5 Podcasts on Kids & Tech Use Your Patrons Could Use Right Now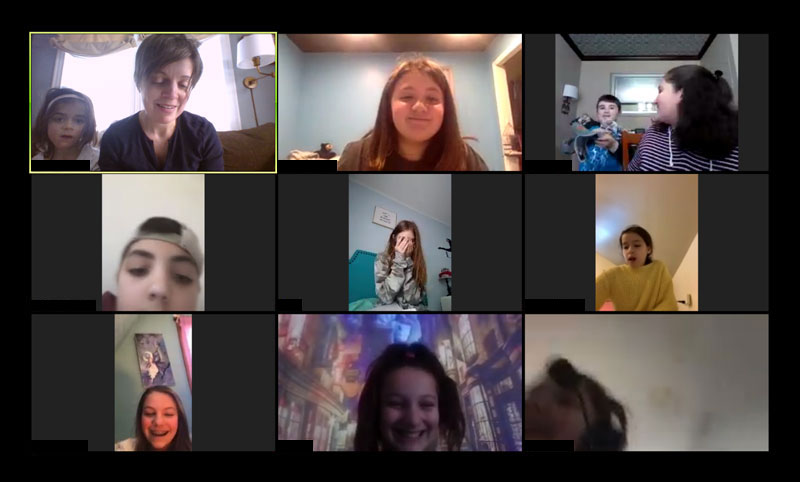 Asynchronous participation is important, too!
Not everyone will be able to make the live meetups. To keep kids engaged between our Zoom sessions, I'm posting a daily challenge in our Google Classroom. Examples include posting a picture of a student reading to a sibling, pet or plant; signing up for Sora, our ebook/audiobook platform; and finding a previously abandoned book in the house and reading 10 pages to give it one more chance. Google Classroom is also the best place for me to answer any questions about how to access library resources.
Give students choice
I've always read aloud to my middle schoolers. English language arts teachers in our school sometimes run book clubs where kids have physical copies of their own books, but that's not my preferred format. Given resource limitations, this may be a good time for you to try out a read aloud format, too. That said, I'm also a big proponent of student choice. We always have one set read aloud for the year, the Global Read Aloud pick. But for the rest of the year, students get to pick our read aloud from a list of choices that I booktalk. For our sixth grade virtual read aloud, we first finished up our previous book, Locomotion by Jacqueline Woodson, and then voted on Google Classroom to see what students wanted to read next from the selections I snagged from the library. We've settled onThe Worst Class Trip Ever by Dave Barry for sixth grade and Small Spaces by Katherine Arden for seventh and eighth grade. So far both are going great!
Follow publisher rules
SLJ posted a great article about how to do this. Almost any book you will pick will be covered by one of the publishers listed. One quick email about each book and my read alouds are all set. I'm finding it easiest to read live and not record. We recap what has happened in the book at the start of each session by taking turns sharing what we remember, which helps increase participation, too.
I'm excited to see how our virtual book clubs evolve over time. I certainly miss seeing students in person, but given the situation, this is a nice consolation.
Laura Gardner is a teacher librarian at Dartmouth (MA) Middle School and a 2016 SLJ School Librarian of the Year finalist.

Read: Professional Development Opportunities from Home