Horror fiction provides kids with an outlet and a method to cope with an overwhelming world.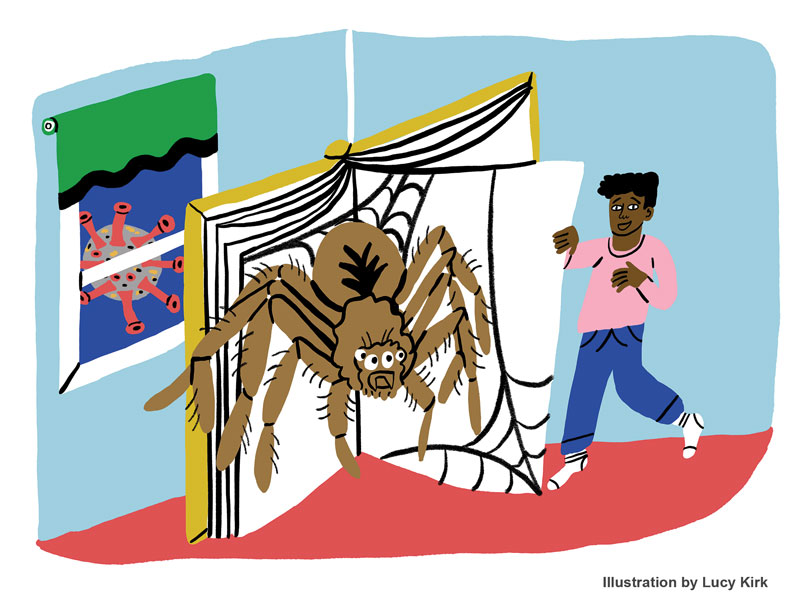 One of my fifth graders, Mahi, was in my school library looking for something that would scare her socks off. "I know this sounds kind of weird," Mahi said. "But even though all this COVID stuff is really bad, there's something about reading this really dark and creepy horror that makes it not seem SO bad."
Mahi's comment was pretty astute, and it made me curious. Is there something to be said for the appeal of horror fiction for tweens during stressful times?
I took a look at my school library's circulation data and noted an uptick in checkouts for some of the more popular tween horror titles by Alvin Schwartz, R.L. Stine, and Mary Downing Hahn.
Across my district, there were other high checkouts for Hahn titles. One school circulated its 11 copies of her books a whopping 93 times. My own library's nine copies of Schwartz's creepy "Scary Stories to Tell in the Dark" trilogy saw 53 circulations.
"The quality of horror literature for tweens and teens has drastically [improved] over the past few years," says Tyler Hixson, young adult librarian with Brooklyn Public Library and a horror lit fan. Tween horror has made "major strides in crafting quality horror stories that are legitimately scary," he adds.
Fair enough, but why do tweens seek horror in difficult times?
"Fear creates distraction," write Arash Javanbakht and Linda Saab, authors of "The Science of Fright: Why We Love to Be Scared." "When something scary happens, in that moment, we are on high alert and not preoccupied with other things that might be on our mind."
Thanks to zillions of social media outlets, tweens are overwhelmed with a barrage of pandemic-related gloom and doom. Why not temporarily escape all that scary reality through a horror read?
In an article for the St. Louis Post-Dispatch, writer and teacher Ellen Blum Barish examined why psychologists believe people find horror appealing. "Horror novel fans report that they can always close the book if the story gets too frightening," she writes.
That resonates with tweens, hovering somewhere between the controlled supervision of elementary age and the expanded freedom of teens. Tweens are just starting to establish their own freedoms and choices; it would make sense they would flock to this easy method of "controlling" the horror they experience by simply closing the cover of the novel they are reading.
It's good for tweens to find a safe method to temporarily escape uncertainty. These days, many young people are simply trying to make sense of a chaotic world. Their social structures have entirely collapsed, and even the most stable of environments, like school, have been radically altered.
Barish also points out that "Fear, according to some, is about the search for new sensations." Compare that to other "safe" fear outlets, such as a roller coaster ride: There's no getting off until the ride ends! For some, a book is a more logical option.
Mahi's comment about dark and creepy books hit the nail on the head. But is a tween craving for horror healthy?
"A major factor in how we experience fear is the context," write Javanbakht and Saab. "When our 'thinking' brain gives feedback to our 'emotional' brain and we perceive ourselves as being in a safe place, we can then quickly shift the way we experience that high arousal state, going from one of fear to one of enjoyment or excitement."
They offer the example of expecting something to jump out at you during a Halloween experience. Even though you know it's going to be scary, you ultimately realize it is not a "legitimate threat." Instead, your "thinking" brain tells your "emotional" brain it is simply a contrived, safe event—hence, you enjoy that sense of scariness.
Horror fiction works as a "safety valve" for people blessed (or cursed) with overactive imaginations, according to John Semley, author of the article "The Horror! The Horror!: A Sociologist Investigates Why We Like To Be Afraid" published in the Globe and Mail in 2015. In the case of some of my students, I couldn't agree more. For those with brains that just "don't turn off," escaping to horror fiction could be especially vital in confronting the deep-down fear of the tween unknown.

READ: 15 Frightful Favorites: A Fifth Grader's Horror Booklist
Couple the angst of tweendom with the pandemic and you have cooked up a huge recipe for anxiety. Fortunately, horror literature can "rejig our tolerance for stress and unpleasantness," writes sociologist Margee Kerr in Scream: Chilling Adventures in the Science of Fear (PublicAffairs, 2015). It's just simple human nature that "When we push ourselves to the extreme, the everyday things that used to bother us don't seem like that big of a deal anymore." It makes sense for tweens to seek a way to temporarily escape these uncertainties in a method they can control.
Pandemic or no pandemic, Hixson would "still always advocate for reading horror, because it allows the reader to view their fears and obstacles through the lens of fiction. If tweens and teens can become comfortable with facing their fears through reading, then it can also help them grow more emotionally mature."
This is a hard concept for many parents to grasp. In fact, horror is often dismissed as merely entertainment or cheap thrills. It's imperative that we advocate for our tweens' freedom to read and encourage parents to see that horror represents a "safe way for kids to explore their own feelings and worldview," says Hixson.
The fear factor, however, should be age appropriate. "Abnormal levels of fear and anxiety can lead to significant distress and dysfunction and limit a person's ability for success and joy of life," Javanbakht and Saab write.
In many regards, the effects of the pandemic will resonate for years to come. If the outlet of horror literature can offer a method to cope, then bring it on.
---
Julie Shatterly is a K–5 school librarian at W.A. Bess Elementary in Gastonia, NC.