Brian Covey continues to educate the public about the negative impact of the Florida law that is not just about "pornography" but race and anything that might make kids uncomfortable.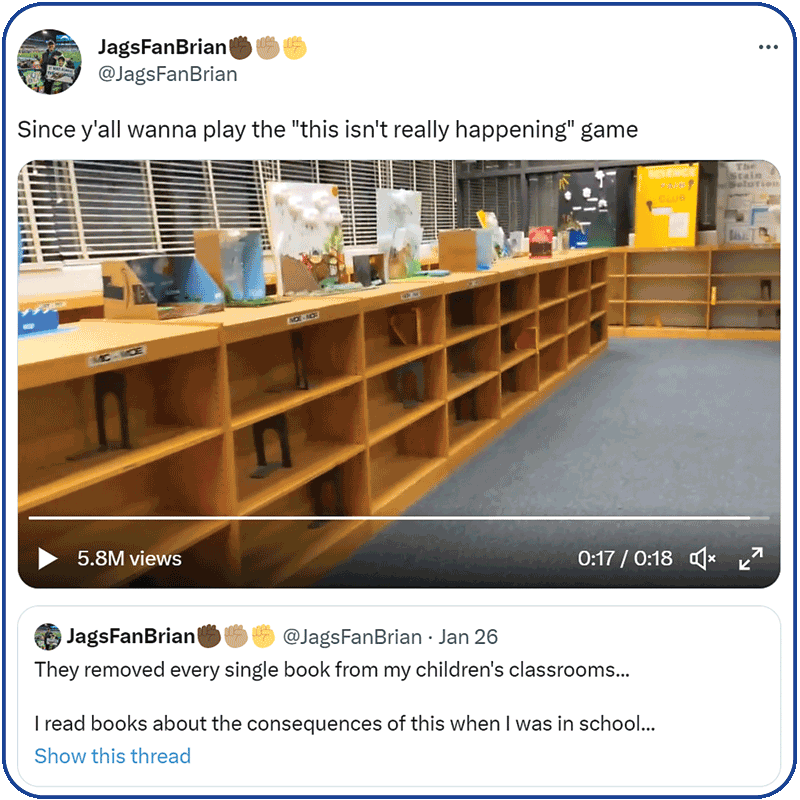 The consequences are real for Florida educators speaking out against the book removals. Just ask Brian Covey, a substitute teacher who became a national news story when he tweeted about books covered and taken away at his kids' elementary school and the middle school where he taught.
It was "­literacy week" in Florida when the Duval County Public Schools substitute picked up his kids from school one day at the end of January and his daughter asked him if he had heard what happened at school.
"They took away all of the books," she told him.
Covey went into the school and saw construction paper taped over bookshelves. That night, he sent a tweet from his personal Twitter account describing what he saw.
The next day, he arrived at his full-time substitute teaching job at Mandarin Middle School—where he had taken over a vacant position and taught the curriculum to the same class every day, essentially filling the role of a full-time teacher who was no longer there—and heard the same thing was happening in its media center. He recorded a video showing the empty shelves and tweeted it. Both tweets went viral.
Less than a month later, Florida Gov. Ron DeSantis was in Jacksonville, and a reporter asked him to respond to Covey's video. DeSantis dismissed it as a "fake narrative." Two days later, Covey received notice—in a 45-second call—that he was fired from his substitute ­teaching job for ­violating the district's social media policy.
Covey was surprised, but as DeSantis has doubled down on his position, so has Covey. He is fielding interview requests from all over the world to make sure people know what's ­happening.
"I have both the district and the governor trying to discredit my kids' reality when it comes to books in their classroom," he says. "This has gotten a lot bigger than it needed to be."
Covey, a former financial analyst, was considering a career change to teaching and began as a substitute in September 2022. He loved it but plans to return to finance, fearing he has a stigma attached to him now if he pursued teaching. He sees the loss as far larger for his children.
"One of the things about the law—it's not just about pornography," he says. "It's about race and making people feel ­uncomfortable."
Covey, who is white, remembers becoming uncomfortable about his race while reading Narrative of the Life of Frederick Douglass—a book that includes an enslaver named Mr. Covey—in seventh grade.
"That was a developmental process for me," he says. "It was a good thing, and it's one of the reasons why I loved books growing up."

---
Colleen Connolly is a Minneapolis-based journalist who writes about ­children and education, and more.