In an exclusive SLJ interview, New York Times bestselling author, Laini Taylor, and her partner, mixed media illustrator and cartoonist Jim Di Bartolo, discuss the inspiration for their vibrant, laugh-out-loud team-up, and their return to crafting graphic novels together—but this time, for a younger audience.
The sky is the limit with graphic novels, and New York Times bestselling author, Laini Taylor, and her partner, mixed media illustrator and cartoonist Jim Di Bartolo, have teamed up again on their latest book to prove just that.
In Billie Blaster and the Robot Army from Outer Space, their imaginative titular character is a 10-year-old genius inventor whose rivalrous spirit sends her on a space mission to prevent an intergalactic war that she may have accidentally started (oops).
SLJ spoke with Taylor and Di Bartolo about the inspiration for their vibrant, laugh-out-loud team-up, and their return to crafting graphic novels together—but this time, for a younger audience.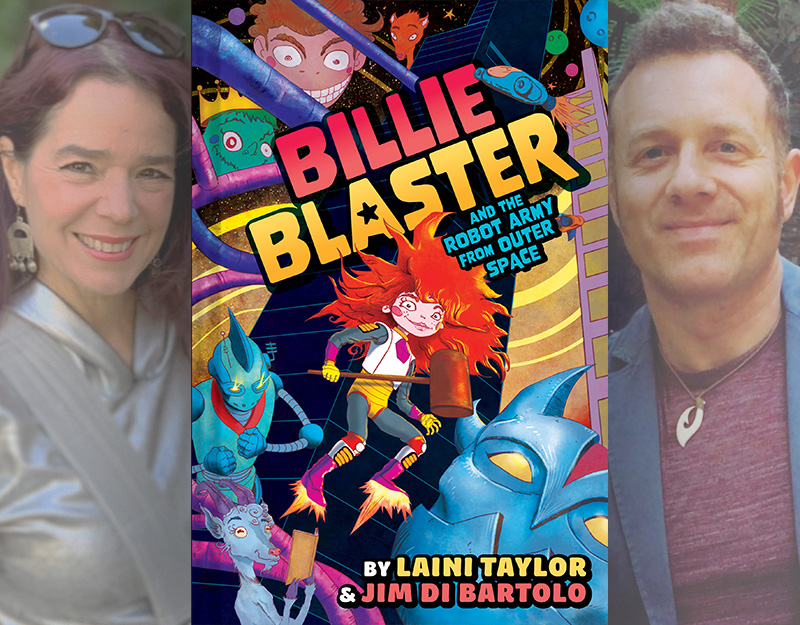 Laini Taylor & Jim Di Bartolo
---
Jasmine Amiri: It's been 19 years since the release of your previous collaborative graphic novel. What inspired the decision to choose comics as the format to bring Billie to life?
Laini Taylor & Jim Di Bartolo: Oh my, how time flies! For context, in the early years of our marriage, Laini's main art interest was picture books and Jim's was comics, which led us to San Diego Comic Con and SCBWI (Society of Children's Book Writers & Illustrators) to try to locate the mysterious and shifting pathways into those industries. One early result was our first book: a horror graphic novel called The Drowned that Image Comics published 19 years ago. And though we've collaborated on various projects over the years, we haven't done another comic or graphic novel together until now.
In the meantime, we were lucky to raise our reader—our daughter, Clementine, now 14—during the golden age of kids graphic literature. Watching her devour comics and graphic novels, our love and appreciation for the medium has only grown. In addition, we've experienced the worldwide explosion of manga and discovered the glorious world of bandes dessinées (French comics, which are hardcover, oversize, full-color albums in all genres for all ages), and feel that even with the success of graphic novels for younger kids in America, there's room for growth and greater mainstream acceptance of graphic literature.
Specific to Billie Blaster and the Robot Army from Outer Space though, this book tells an epic story with so many funny characters, crazy settings, nonsense gizmos, and mega action sequences that the visual element was crucial for it to achieve its full potential! Comic books allow creators to explore situations and worlds on the page that would take multimillion-dollar Hollywood budgets to realize. (Plus, there's nowhere else that Jim could have used the sound effect "Scatterr-Mo-Whammmin'POW" than in comics. #LifeGoals realized!)
JA: Could you talk about the origins of Billie Blaster? How did the concept for this book first emerge?
LT & JDB: It's funny, but because this project was born so long ago, the details from its inception are a little fuzzy! But yes, we did write the script, develop the visual style, and start the illustrations some 14 or 15 years ago. Wanting to create something that crossed over our two loves, we pitched ideas back and forth, talked through plots, character, genre, world. Then Laini fleshed our rough outline into a script, and Jim began with concept drawings to come up with a look that would fit, since his main art style is quite different. We gave each other feedback until we'd captured what we wanted on the page, and our agent, Jane Putch, took it and tested the waters. But the children's publishing industry just wasn't there yet. I think that interest in comics had taken root, but there was still a lot of hesitation. Anyway, the time wasn't right and we put it away.
Then, in the early days of the pandemic, Jane suggested we take another look at it. Not only did we still love it, but Abrams Books made a pre-emptive offer, and we haven't stopped celebrating Abrams OR Billie to this day!
That said, we still had to, you know, make the book. The script stayed pretty much as it was, with a few tweaks, but all the art still had to be drawn! Jim had, by far, the lion's share of work to do—while Laini pretty much napped and ate grapes, occasionally poking her head into Jim's studio to make appreciative noises. (Sort of kidding, but not really. It can be a very disproportionate work load!) Big props to artists for doing the heavy lifting.
At the end of the day though, it really and truly is such a collaborative book between us as a couple and was such a joy for us to work on together!
JA: Billie is such a fun and captivating character to read! She's a genius, but we get to see her human side as she grapples with topics like the privilege of having scientist parents, consequences of past science experiments, and friendship breakups. Could you share the influences or inspirations behind Billie's character?
LT & JDB: First off, thank you for those kind words! I think Laini manages to add heart, depth, and nuance to any character she breathes life into, and Billie Blaster is no different. Both of us (and Clementine, too) have a strong bias toward heroes over villains—which sounds like an obvious thing to say, except that so many readers, authors, and fans revel in the wickedness of brooding baddies, root for (and "simp" for) the villains, identify as Slytherin, etc. And that's fine; to each their own. But we're team "good guy" all the way, and while "good" characters are often dismissed as boring, we don't think that's true at all,. We will never tire of loyal characters standing up for what they believe in. So when we made this book, it was a given that Billie would be "good."
But this was also a place we all felt the original script could use some depth after we pulled it out of the drawer. What does it mean to be "good" when you've never faced adversity, and no one ever criticizes you? This was an interesting question, and we saw opportunities for Billie to grow by, for example, being forced to recognize the role her advantages have played in her successes, as well as the rather huge implications of her genius, which has been somewhat carelessly applied. Though silly fun is this book's driving force, there are lighthearted moments to examine bigger issues—which also allow a "good" character to become better.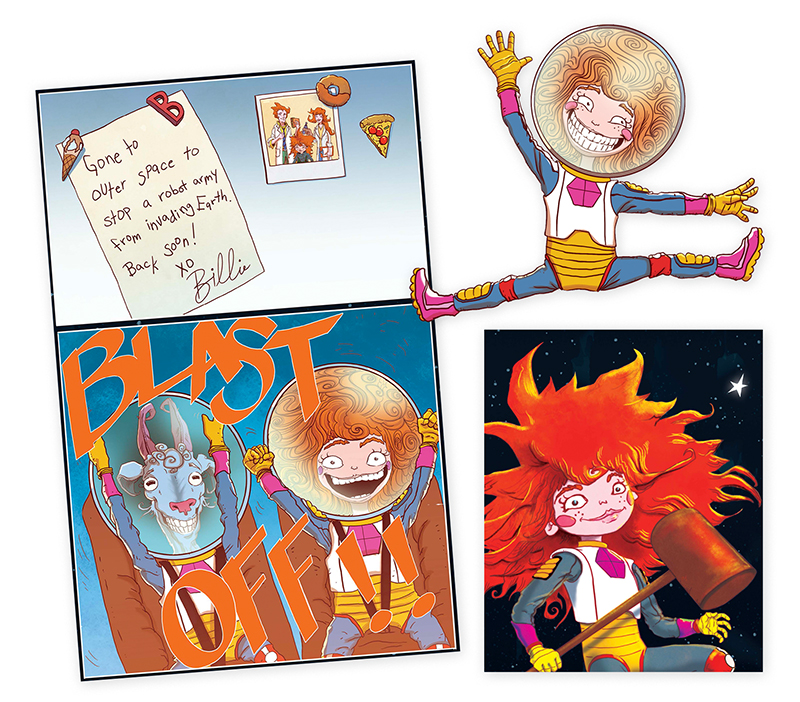 Billie Blaster interior artwork by Jim Di Bartolo.
JA: There are many instances of wonderfully executed visual humor that could only be done in a format like comics. For example, Lucy's facial reactions, which create a sense of sharing an inside joke with the reader. Are these planned out during the scripting stage, or do they tend to unfold during the art production?
JDB: Again, thank you for all of that! I'd have to say that some of that is absolutely Laini and the fact she is legit a funny person. Her novels are very literally my absolute favorite books ever. More accurately, the stories she has written are literally my absolute favorite pieces of entertainment ever, regardless of the medium. But one thing she doesn't get enough credit for—and I believe it's because people are floored by how impressive everything is, from her worldbuilding, to her character exploration, to her knock-out revelations and jaw-dropping emotional connections—there is undeniable laugh-out-loud humor in all of her books. She is just funny. Flat out. So yes, some of those scenes of Lucy sharing an "inside joke" with the reader, those are Laini. Some of the "comic strip" silent story beats in there, those are me. But so much of our senses of humor are similar, that both of us/our silliness is peppered throughout.
LT: Jumping in here to blushingly insist that Jim did write that above, I swear! It wasn't me pretending to be Jim…And it's very sweet! But what I have to say back is that Jim is the funny one. This is known. There is never a day that he doesn't make me laugh, and his ability to maximize the potential for humor in life absolutely carries over onto the page. He inserted jokes into the finished script, then coaxed out more humor potential in the thumbnail stage, and again at the drawing stage. He has such a knack for comedy in this cartoon style, and it comes so naturally to him!
JA: Growing up, did either of you ever participate in a science fair, and if so, could you share your favorite project?
LT: Yes, I dimly recall a lackadaisical showing in an elementary school science fair. A model of a volcano may have been involved? Reality is so disappointing, though. One of my favorite things in kids books, shows, and movies has always been when the imaginative wish fulfilment is dialed up to a million. Give me a secret lair or treehouse or neighborhood theatrical production far more fabulous than could ever exist in reality. I'm there for it every time. And here's the school science fair version of that, taken to extremes of both awesomeness and "oops"!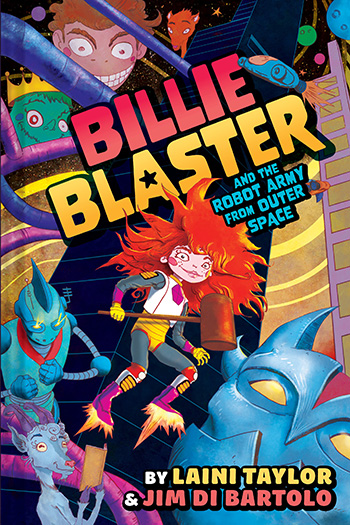 Cover for Billie Blaster and the Robot Army from Outer Space. Artwork by Jim Di Bartolo.
Billie Blaster and the Robot Army from Outer Space is out now and can be found in libraries and bookshelves everywhere.