Even in places without new and restrictive laws, classroom libraries and curricula are being impacted by censorship efforts.
It's not just Florida teachers facing disruptions to their classroom libraries and lessons due to censorship efforts. In states that don't have new laws restricting access to books and resources, district policies and individual decisions by administrators are having the same impact: Fewer books on the classroom shelves and fewer titles to teach.

[READ: Access Denied: Florida Teachers Discuss Life and Lessons in Classrooms Without Books on the Shelves]
Emily Clay, Houston, TX
Emily Clay has about 1,200 books in her fourth grade reading and language arts classroom in Houston—so many that she needed two extra bookshelves in her room. The vast collection, she says, is essential to how she teaches.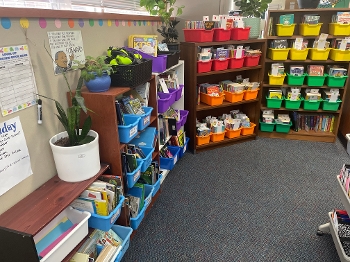 Emily Clay still has a wealth of books in her classroom, but her library is now missing approximately 60 titles

—

including many that were always in-demand

—

that she had to "swap out" with other books.
At the end of every week, Clay leads "First Chapter Friday" where she pulls a book from the shelf and reads the first chapter or two. Then she asks kids to raise their hands if they're interested in reading the rest. She writes down their names and pulls one at random to start. The rest mark down the title in their "book wish list" to read at a future date or see if they can check it out in the main school library.
The weekly ritual has been "wildly popular," Clay says, and has turned many non-readers into readers.
"Probably a third of my class comes in and already likes to read, but two-thirds of them don't," she says. "My thing is you just haven't found what you like to read yet."
But starting this school year, Clay's job got a little harder. In August, the Texas Education Authority released new standards on removing "obscene" content from school and classroom libraries. The Cypress-Fairbanks Independent School District, where Clay teaches, responded by asking teachers to catalog all of their books and remove any deemed age-inappropriate, as well as allowing parents to give permission for the more advanced books for their children.
Clay swapped out about 60 books—many of them high interest and in demand in past years, including the "Hunger Games," "Percy Jackson," and "Divergent" series, which she worried could be considered too mature for her students. She also removed Chomp and Squirm by Carl Hiaasen, because they contained a few curse words, even though they are meant for kids as young as 10.
First Chapter Fridays continue, and kids remain interested in the books she chooses. But Clay now has a more limited selection, especially in terms of graphic novels, which often have content—like an LGBTQIA+ character—that parents might object to. Clay says she can't introduce her students to every book they might need in light of the new policy.
And while her district hasn't asked her to cover up her books, like in Florida, and hasn't outright banned any, she's worried about what may happen down the line and thinks parents need to be more aware of what's going on.
"Your child is in school," she says. "You're entrusting them with teachers for a reason. If you don't trust us, and if you continue to take our power to do our job away from us, it's not going to make things better. You're really limiting your own children and frankly, it's worrisome for our future."

[READ: Florida Teacher Fired After Tweets About Book Removals Continues Fight Against Censorship]
Willie Carver, Montgomery County, KY
When Willie Carver was teaching English and French at Montgomery County High School in rural Kentucky, he had a classroom library. He doesn't remember anyone trying to take those books away, but he has seen and experienced many instances of censorship—some overt, some subtle. Those actions—combined with feeling "unsafe" in the classroom as an openly gay teacher in the state—ultimately drove him from the profession last year, just months after being named Kentucky's Teacher of the Year.
Carver, who now works at the University of Kentucky, says the censorship in his former district began with individual actions by administrators. Over time, it morphed into policy. Last year, the state legislature passed a bill giving superintendents the authority to determine curriculum, instead of a council that included parents.
When the English department wanted to teach The Absolutely True Diary of a Part-Time Indian by Sherman Alexie, the district took it away after a single day.
When Carver included a Dolly Parton quote—"It's a good thing I was born a girl, otherwise I'd be a drag queen"—at the end of a quiz for fun, he had to attend several meetings discussing why it was inappropriate.
When another teacher read a quote from Black poet Amanda Gorman, the first person to be named National Youth Poet Laureate, a parent wrote to complain.
Then an LGBTQ-affirming student group that Carver advised won a $10,000 grant, with several thousand available for the library to buy books they felt represented them. Carver, who had left his job by then, sent a list of possible titles to the librarian. The administration wouldn't accept any of the suggestions.
All of this has taken its toll on Carver, but he is more saddened by what it means for students.
"School is the first time students engage with any system in our society," he says. "It teaches them what society is and it teaches them what social systems are going to be. Students are not immune to seeing these injustices."