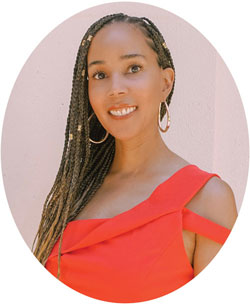 Heather Clarke
Heather Clarke's oldest son is in third grade at a public school she says is considered one of the best in New York City. While she praises the school in general, when it comes to teaching students about issues concerning race, she finds it lacking.
Last year, she says her son thought his teacher was mad at him when he asked a question about George Washington wearing the teeth of enslaved people. Rather than answer his question, she says, the teacher, who is white, stressed that Washington was a Founding Father. The response didn't satisfy her son.
"He's like, 'But all the Founding Fathers owned Black people.' And the teachers were in shock. My kid had a valid question, and they didn't know how to respond."
Clarke, who is Black, is an adjunct professor who teaches at several New York–area colleges and universities, including New York University. She is a former elementary school teacher who now teaches elementary and early childhood education along with special education. Through her work, Clarke is frequently in classrooms observing student teachers and working with schools.
She makes sure her son attends Black history classes outside of school to supplement his education, and that's where he learned about Washington as an enslaver. Eventually, she says, his teacher explained that the Founding Fathers did both "good things and bad things." But she feels like that response came too late.
"I think...that when they introduced this topic, they should have introduced that as part of it," says Clarke.
Teaching children about slavery and its impact on the founding of the United States continues to be a contentious topic. The subject makes many people uncomfortable. The fact that this country was built on the backs of slave labor in an economic and political system that treated Black men, women, and children as property no different than a plow, horse, or shed is a hard truth for anyone to digest. But experts say it's important that children acquire this information while they're young.

Kate Shuster is the director of the Hard History Project and was previously the project manager of Learning for Justice's Hard History initiative, which provides resources to help educators teach students about slavery. Shuster, who holds a PhD in education, says she understands the reluctance of parents and educators to broach such a difficult subject.
"But I also know, from my experience working with children, that they can handle the truth," says Shuster. "And in fact, the big danger, in my opinion, is that if we lie to them, then later when they find out, that greatly diminishes their trust in their teachers and caregivers. So I think we owe it to our young people to give them a clear-eyed accounting. But that doesn't mean that we need to start off the conversation with victimization and genocide."
Shuster recommends starting with basic facts such as understanding what it means to be free and what it means to have a job and be paid for your work. From there, she says, something most children can relate to is how they would feel if they were separated from their families and friends.
"You're not talking about slavery as a big economic, corporate, capitalist oppressive system; you're talking about you can't see your mom. So bringing that into a level that students can talk about, I think is really important and useful."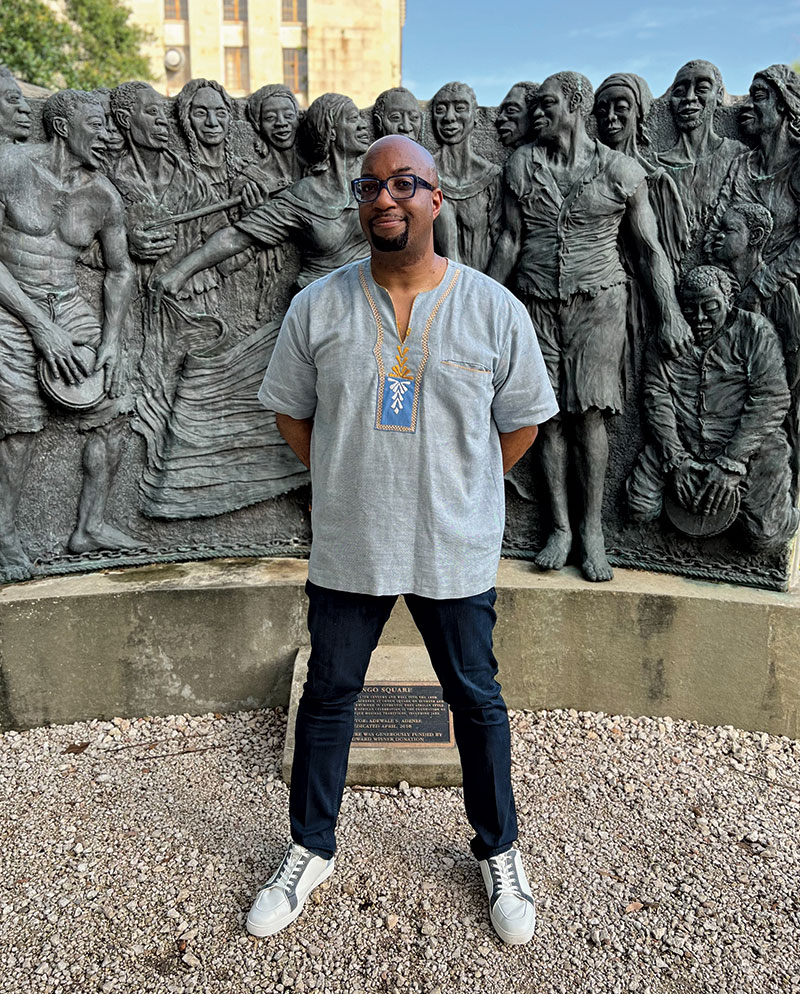 Kwame Alexander at Congo Square in Louis Armstrong Park, New Orleans
Photograph by Harlin Miller


Going beyond the slave narrative
Literature can help educators begin this conversation. Kwame Alexander's latest book, The Door of No Return, a middle grade historical novel in verse and the first in a trilogy, introduces young readers to 11-year-old Kofi Offin. Kofi lives in a village in what is now Ghana in the 19th century. He excels at school, loves to swim, has a crush on a girl, experiences sibling rivalry with his older brother, and has an older cousin who picks on him constantly.
"I wanted to center this story around these very relatable experiences of a young person who just happened to be living in 1860," says Alexander. "But he still has a crush. He's still dealing with the woes and wonders of homework and school. He's still into sports."
Older children and adults will eventually understand how Kofi's story relates to slavery, but that word is never used in the book.
The book's title comes from the name given to a doorway at Cape Coast Castle along the shores of Ghana that millions of Africans passed through on their way to slave ships.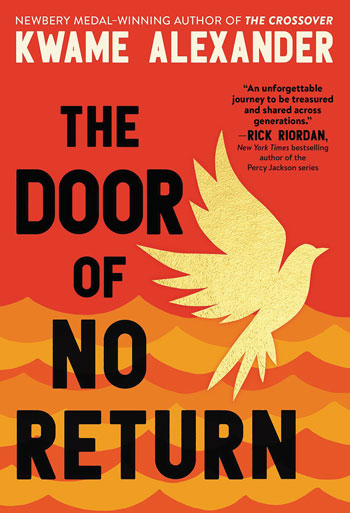 But Alexander, a New York Times best-selling author and Newbery Award winner, is careful to say that this book shouldn't be characterized as a novel about slavery.
"That was never my intention, nor my interest," says Alexander. "I've often felt like when we look at the history of Black people, we start with slavery. I've always been intrigued and interested in sharing the story before 1619. Who were these Africans who were brought to America? They didn't just start as slaves; they had lives, and so The Door of No Return is a story about those lives. [It] was important to me that we get beyond the narrative that the beginning of our story happened here in this New World, that in fact, that's the middle of our story. And so The Door of No Return is my attempt at writing a proper beginning."
Alexander, who has written more than 30 books, calls this the hardest one to write.
"It was tough to tell the story that I knew was gonna have some very hard parts for young people," says Alexander. "I wanted to be authentic. I wanted to be true. I wanted to be real with them, and at the same time, I traffic in joy and kindness and love. So how do you write a story and still have your readers come away feeling some sense of hope and being uplifted?"
Alexander credits using poetry to tell the story with making the process a little easier.
"Poetry has this way of allowing you to talk about these weighty topics, but it does it in a way that's palatable and digestible," says Alexander. "You have to really focus on the words and the lines and the metaphors and the images that are going to paint a picture in a very short amount of time. The beauty of poetry is that the metaphor and figurative language and simile allow you to be able to handle some of these big topics. I don't think I could have written this book and dealt with some of the harsher realities that Kofi faces with traditional prose."
Writing about "matter-of-fact Blackness"
Books about historical figures who were enslaved, such as Frederick Douglass and Harriet Tubman, are often used to explain slavery to young people. But Alexander's new novel focuses on a typical family whose history was affected by the slave trade. This aligns with his efforts to write about what he calls "matter-of-fact blackness," or just ordinary people.
"It's human beings moving through life, trying to try to find triumph in the middle of trouble, trying to find joy in the midst of pain, trying to find wonder in the midst of love," says Alexander. Addressing the racist notion that Black people are somehow fundamentally different from other people, he says, "I've always felt like Black people are normal human beings, and that sounds like a real strange thing to say. But very few people believe that. They wouldn't say it, but that's how they act. I fight against that, and I'm going to tell these stories to remind everybody of that."
Ebony Elizabeth Thomas, an associate professor of English at the University of Michigan, has written extensively about books for children about slavery. She praises several books that teach young people about well-known figures who were enslaved, such as Sojourner Truth, but cautions that books that only tell the stories of extraordinary people can be misleading.
"If that is our first introduction to enslavement, I believe that we set a foundation for misunderstanding what slavery truly was and is," says Thomas. "The purpose of those biographies is to honor and to teach about some of the greatest people who were once enslaved, some of the people who are notable for their extraordinary accomplishments during the slavery period; however, that was only the tip of the iceberg when it comes to what happened during slavery. If you begin with the lives of Harriet Tubman, Frederick Douglass, and others, the young reader may believe that people who didn't self-liberate, people who did not liberate others, were somehow not as resilient or not as worthy of being remembered."
But Thomas, who has a PhD in education and English, is critical of the way slavery is often presented to children.
"We typically bury it within the constraints of the American dream mythology, which is: There was once slavery. We were once this kind of nation. But we have transcended that time, and things are different now," says Thomas.
It will be more difficult now for educators to present an alternative view of slavery. Recently, several states passed laws that seek to limit what teachers can say about racism and its role in practices such as slavery. Many of them prohibit any instruction that implies that racism is built into American institutions.
Thomas finds these laws concerning and says that most Americans already receive an inadequate education about slavery since so much of the information about it is deemed inappropriate for children. This, in effect, means many people truly learn about it only as adults. She stresses that working to learn more about slavery is an important first step for any educator who plans to address the topic with students.
She recommends reading accounts by people who were formerly enslaved. During the Great Depression, the Works Progress Administration's Federal Writers' Project conducted interviews with formerly enslaved people about their time in bondage and their lives after emancipation.


Thomas says by reading more on the subject, educators will be able to tell the truth about common misconceptions, such as that slavery was practiced only in the South and that the enslaved were uneducated and unskilled workers. Thomas says studying slavery in greater depth will also help educators share inspiring information with children. She credits her early reading of historian Ira Berlin's work, including Many Thousands Gone: The First Two Centuries of Slavery in North America, with beginning her education about the extent of slave resistance.
"I just didn't know for all my education that enslaved people have been suing since colonial times, and that Black and Native folks pretty much were the architects of the shape of U.S. law through their plight for humanity," says Thomas. "[Slavery] was designed to strip away all their humanity and make them cattle, and it didn't work. Instead, they were incredible. Look at what we've done."
That message of resilience is one Clarke shares with her sons and one that she wishes would be a part of students' education about slavery.
"That's something that I always emphasize to my children," says Clarke. "Our ancestors survived this. We are so strong because of what our ancestors survived."
---
Marva Hinton hosts the ReadMore podcast.