SLJ and NCTE have revealed the 2023 round of "Refreshing the Canon" selections. These 6 multimedia recommendations will enhance readers' understanding of Gary Paulsen's Hatchet while offering them new stories of survival, both real and speculative.

Last month, SLJ asked librarians and educators to weigh in on which classics should remain on summer reading lists. Inspired by the most popular titles that emerged, SLJ editors and members of NCTE's Build Your Stack® Committee have curated this year's round of "Refreshing the Canon" selections.
Additionally, we've put together multimodal lists of recommendations—including nonfiction, graphic novels, documentaries, and more—that educators can feature in classrooms and libraries alongside the exemplar texts. Our aim is to inspire educators to breathe fresh life into lessons around these works by giving students new context to understand why these classics are still relevant today.
Be sure to check out the 2022 "Refreshing the Canon" lists for more read-alikes of longtime summer reading picks.
Originally published in 1986, Gary Paulsen's Newbery Honor-winning Hatchet endures as a survival story with the power to capture young readers' imaginations, putting them in the shoes of 13-year-old Brian Robeson as a plane taking him to stay with his father for the summer crash lands in the Canadian wilderness. The following 6 multimedia recommendations will enhance readers' understanding of the text while offering them new stories of survival, both real and speculative.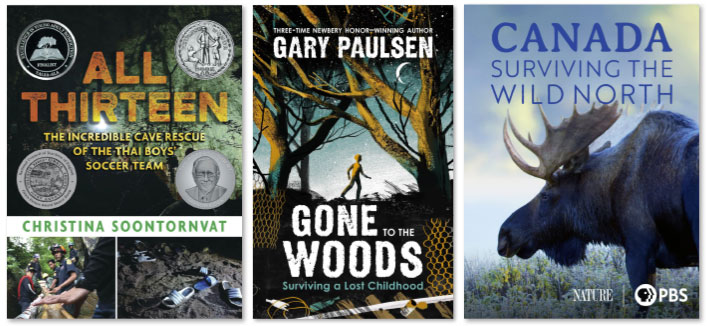 Narrative nonfiction
Soontornvat, Christina. All Thirteen: The Incredible Cave Rescue of the Thai Boys' Soccer Team. Candlewick. 2020. ISBN 9781536209457.
In this page-turning work of narrative nonfiction, three-time Newbery Honor recipient Soontornvat recounts the stunning 2018 rescue of 12 soccer players and their assistant coach who were trapped for 18 days by a flood while hiking in the caverns of Tham Luang Nang Non. For any Hatchet readers wondering what a real-life, present-day survival story might look like, this heart-pounding and extensively sourced account will be a welcome resource.

Memoir
Paulsen, Gary. Gone to the Woods: Surviving a Lost Childhood. Farrar. 2021. ISBN 9780374314156.
Paulsen's gripping memoir explores his early years and shows the author falling in love with the woods as a place of refuge from a harrowing home life, learning outdoor skills such as fishing, canoeing, and lighting a fire. Readers of Hatchet will recognize some of the many survival skills Brian utilizes in the story, inviting discussions on the connections between author and novel. Graphic depictions of Paulsen's time living in an armed conflict zone may make this more suitable for older readers of the novel.

Documentary film
Canada: Surviving the Wild North. PBS. 2022.
In this 2022 episode of PBS's "Nature" documentary series, viewers encounter the landscapes and animals of Northern Canada in the form of dramatic survival stories. Readers unfamiliar with Hatchet's Canadian setting will gain a fuller understanding of the place, as well as the high stakes facing Brian as he works to survive the summer.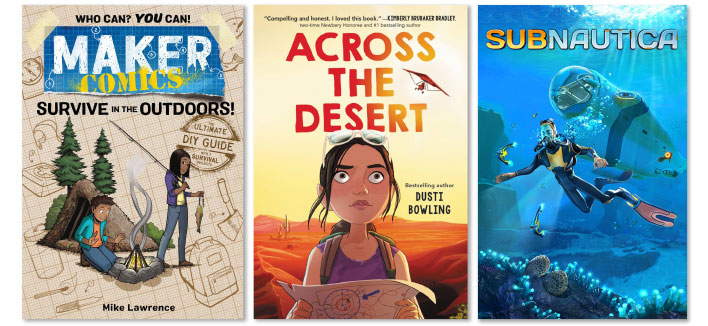 Graphic novel
Lawrence, Mike. Maker Comics: Survive in the Outdoors! First Second. 2021. ISBN 9781250620651.
Anchored in a story about two Latinx siblings who take an outdoor trip with their abuelo, this graphic novel imparts a wealth of wilderness survival skills, with detailed project ideas including fishing, fashioning a compass, and building a campfire. Readers will gain fresh perspective on both the practical issues as well as some of the philosophical ones facing Brian in Hatchet, while those eager to plan an outdoor trip of their own after reading the novel will appreciate this graphic novel's matter-of-fact advice.

Read-alike
Bowling, Dusti. Across the Desert. Little, Brown. 2021. ISBN 9780316494748.
In this high-stakes middle grade novel, 12-year-old Jolene, whose single mother is grappling with addiction, witnesses a livestream of a young pilot's plane crash landing in the Arizona desert, and embarks on a dangerous rescue mission to save her. Readers of Hatchet who can't get enough survival stories will find this a captivating read; educators can use the text to discuss the importance and impact of setting in these two survival stories.

Video game
Subnautica. Unknown Worlds Entertainment. 2014.
In this action-adventure video game, players control a character whose spaceship crash lands on a distant ocean planet, where they now must gather and manage resources, build shelter, and coexist with the planet's wildlife to survive. Educators can show a trailer for this game (which has an ESRB rating of E10+) to get students thinking about Character vs. Nature conflicts in a whole new way, while inviting young fans of speculative fiction to see how the concepts and themes in Hatchet have applications across genres as well.