SLJ reviews 3Doodler's new line of 3-D printing pen products designed for classroom use.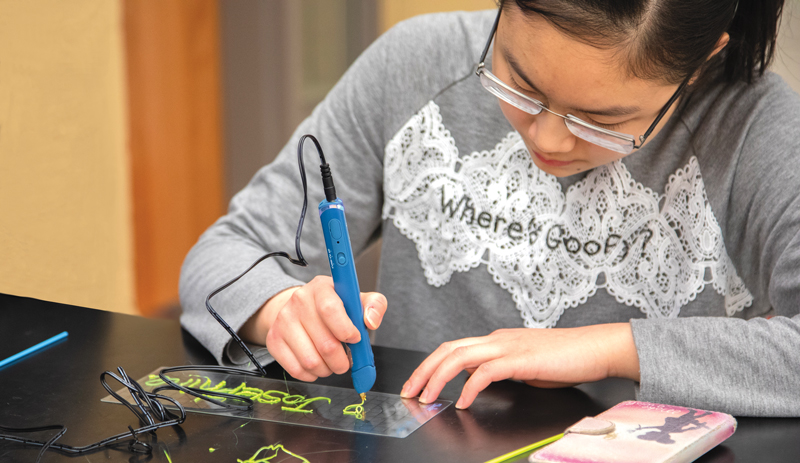 Students get right to creating with the 3-D pens.
3Doodler, created by WobbleWorks, Inc., has a new line of 3-D printing pen products designed specifically for classrooms. The EDU Learning Packs and Teacher Experience Kits make it easier and more practical to get 3-D printing pens into students' hands, allowing them to draw in plastic on paper or in the air.
The Learning Packs are available for the 3Doodler Start (age 6 and up) and the 3Doodler Create+ (age 14 and up). Each pack includes four Student Kits, a Teacher Kit, and a Plastics Kit.
In the final week of school, I put a Create+ Learning Pack of 12 pens to use with seventh and eighth grade students. My coteachers, students, and I gleaned some valuable insights.
First, almost every part of the Teacher Kit was used. The kit doesn't include a pen, but it's packed with valuable troubleshooting tips and lesson plans, along with a classroom poster, a care manual, and a booklet of templates to help jump-start student designs. More important, it holds two tool sets and a JetPack, a wireless battery pack that allows greater mobility.
How it works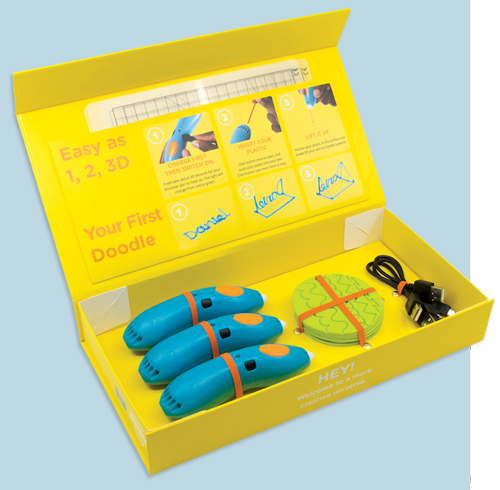 While the 3Doodler website optimistically claims the new and improved Create+ pens are "99% free of jamming issues," problems occurred regularly enough for me to keep a set of the tools in my pocket. The JetPack was also always in use, giving teachers the freedom to circulate and assist students.
The Create+ pens are intuitive, but there's a learning curve. Each student will need about 15 minutes to get a feel for the mechanics of the pen and how the plastic flows. However, truly grasping the strengths and weaknesses of each type of plastic and best practices for drawing in the air required more time. Student feedback was generally positive, but many said a practice period to get accustomed to the pens would have been helpful.
My students had the pens for only one class, so we didn't do anything too involved. They were challenged to build the tallest freestanding structure they could in 20 minutes. It was a competition with height as the goal. Attempting to get it as high as possible in limited time kept them from creating a solid base, making the creations pretty flimsy, but many students saw the potential, discussing ideas for times the pens would come in handy for making prototypes.
Create+ is recommended for students 14 and older for good reason—the pens are as safe as a tool that melts plastic can be, but the pen tip will burn skin when it comes in contact. Even with strict safety rules in place and constant reminders, many of my older students walked away with singed fingers. The other teachers and I got burned, too, mostly from being impatient and because we were responsible for unclogging pens, which can be done only while it's on and hot.
The only barrier to quickly implementing 3Doodler Learning Packs is that every pen must be plugged into a power source. While the 3Doodler Start pens can be charged and used cord-free, the Create+ pens cannot. Even the more mobile JetPack has a cord that connects it to the pen, so while it isn't tethered to an outlet, there is still a cord to deal with when using.
For my students, putting all 12 pens to use at once meant borrowing power strips and rearranging the classroom tables to be closer to outlets. The cords presented a challenge to inattentive students, who kept getting tangled in them.
Student Kits contain three 3Doodler pens, power cords, and plastic Doodle Pads. The 3Doodler Start also includes small plastic templates to help guide young hands, while the 3Doodler Create+ contains one nozzle set with a variety of nozzle shapes for the pens. The Plastics Kit in each Learning Pack offers plastic strips in a range of colors. The Create+ Plastics Kit contains strands of ABS, PLA, and FLEXY plastic, the three types of plastic that work in that pen.
The EDU Learning Packs are an investment, but not an unreasonable one. The 12-pen set prices for the 3Doodler Start ($599) and the 3Doodler Create+ ($1199) reflect a discount compared to purchasing a number of smaller sets. The Plastics Kit that comes with the Learning Pack holds 1,200 strands of plastic—enough for several projects.
Should educators need more materials, those with approved 3Doodler EDU accounts can purchase additional supplies at up to a 50 percent savings.
A teacher who has never picked up a 3Doodler pen can hit the ground running with the resources provided online and in the Teacher Kit. Those who are not sure if they want to invest in a full class set can order a Teacher Experience Kit (3Doodler Start, $29, 3Doodler Create+, $59) to give it a try. These kits include a pen, 50 plastic strands, and most of the materials in the complete Teacher Kits. The boxes that hold the supplies are designed for tidy storage.
VERDICT The 3Doodler Learning Packs are designed with busy teachers in mind and do precisely what they were designed to do: provide a class with everything necessary to begin making immediately.