Because of Florida legislators who support the "Don't Say Gay" law and book banning, some school librarians objected to the location. AASL president Kathy Lester says having the conference there means standing with local librarians.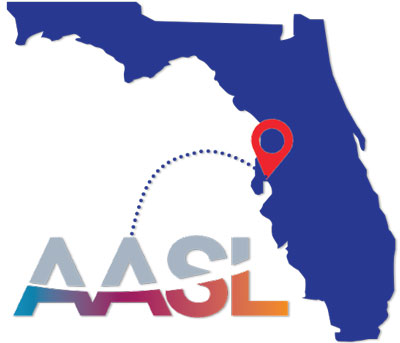 The American Association of School Librarians (AASL) will hold its National Conference October 19-21, 2023, in Tampa, FL. However, following the results of the November 8 election—which saw Governor Ron DeSantis reelected among other legislators who supported the "Don't Say Gay" law, whitewashed history, anti-inclusive K–12 curricula, and book banning efforts—some current and past school librarians publicly voiced concern and objection to the location.
AASL president Kathy Lester says the organization supports its Florida chapter—the Florida Association for Media and Education (FAME)—and having its conference there will mean standing with them in a very visible way.
"It's like we're shouting, 'We are here, like, you know we're here, and we're here not just to support our members, but to stand up for our students,'" Lester says. "Our members in Florida are feeling obviously under attack right now, and we need to be there and support them and speak up for them. We're trying to work closely with FAME and take their lead."
In practical terms, if the AASL avoided all states with concerted banning efforts and anti-LGBTQIA+ laws on the books, the choices would be limited. Lester believes moving the conference to another location would cause more damage than keeping it in Florida as planned.
"We want to make sure we're making a statement against censorship, against what's been going on and these types of laws," she says. "I think we'll have a bigger impact than if we were to pull out. I feel like if we were to [do that], the wrong groups might take that in the wrong way and say, 'Oh, look, we were even able to ban this conference.' And we don't want that to happen, either."
If FAME members told Lester that holding the AASL conference in Florida would hurt their efforts or create more issues for them, the organization might reconsider, says Lester. Currently, AASL plans to work with FAME to ensure the 2023 conference is supportive, safe, and a success.
The AASL Board of Directors summed it up in a statement:
"To answer a question posted by some—why would AASL go to Florida? We say, how could we not?! The AASL Board of Directors believe that we need to stand side-by-side with our colleagues in Florida as together we fight for the future of our learners. AASL, along with our partners, including ALA, PPA, OIF, FLA and the Human Rights Campaign, need to proactively speak out and show support for our Florida chapter (FAME), school librarians, and their learners. We are dedicated to lifelong learning. We are a voice for school librarians across the country as we support our learners' rights and provide safe spaces. WE stand up for the right of every learner to think, create, share and grow. WE ARE SCHOOL LIBRARIANS.
"AASL National Conferences are like no other. The AASL Board of Directors, AASL leaders, members, and staff will take this opportunity to work together with FAME to ­support our colleagues in Florida by speaking up, engaging in dialogue, and fighting for our learners' rights. Won't you join us?
"Let's stand together, school librarians on guard to ensure the opportunity to ­support our learners and to learn together in Tampa at the AASL National Conference in October 2023."—K.Y.