One in four kids tuned in to a podcast in 2020, drawn to stories and discussions about the coronavirus, money, activism, racial justice, and other topics.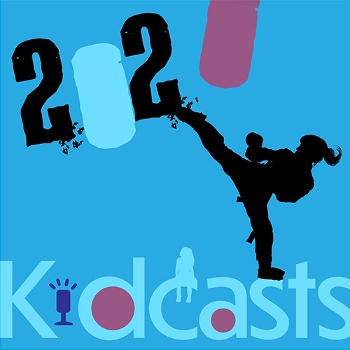 2020 has delivered a wallop of adversity, but we've also witnessed tremendous resilience. Children's podcasting responded to the pandemic with episodes speaking to the moments children and families are experiencing, fortifying them with valuable information, and providing great storytelling, messages of empowerment, and off-screen learning. While adult podcast listening is down, with fewer people tuning in while commuting, children's listening increased by 24 percent in March, and by August, one in four children were tuning in to podcasts.
This playlist provides an overview of how children's podcasters pivoted, responded, and engaged with their audiences in new and creative ways. We selected episodes that represent general trends, including growth of podcast programming into other children's media, empowerment of student podcasting, expansion of topics for kids, and activism and civic engagement.
Julie's Library "The Day You Begin"
Ages 5–8—When librarians brought story time online in 2020, celebrities joined them. Julie's Library features Julie Andrews, whose voice, conjuring her film role as Mary Poppins, comforts and shines as she reads from high-caliber picture book picks. Launched in April, this show is produced by the award-winning creators of American Public Media's Brains On! Start with the episode featuring the picture book The Day You Begin by Jacqueline Woodson and illustrated by Rafael Lopez, and young kids will surely ask to listen to more. The success of this show, along with the continuing success of Circle Round, which features celebrity readers voicing folk tales, and Netflix's Bookmarks, with luminaries reading aloud from picture books selected by the American Library Association's Black Caucus, signals a deeper valuing of read-alouds and literacy from children's media producers.
But Why? "Why Are Whales So Big?"
Ages 5–10—With the rise in coronavirus cases, a presidential election, racial justice activism, and disinformation circulating, it was no surprise to see an increase in news shows for kids such as Kid Nuz, Newsy Jacuzzi, and The Ten News. These, plus great science shows, including Tumble and Brains On! are dedicated to helping kids better understand the world and think critically, providing them trusted, digestible information. But Why?, the long-running show driven by kid's questions and produced by Vermont Public Radio, started broadcasting live in partnership with the Vermont Department of Education during the school shut-down. But Why?'s high-quality reporting and producing, combined with the Department of Education's resources, allowed them to cover topics ranging from civics and literacy to space exploration and race, with all content accessible regardless of internet access, by broadcasting live. Beginning in early 2021, both hosts will produce But Why? full-time. The recent episode "Why Are Whales So Big?" is a great example of how the hosts interview experts in order to answer kid's questions, such as, "Do whales have belly buttons?"
Kids Listen Activity Podcast "Reach: A Space Podcast for Kids Exoplanets"
Ages 5–14—This remarkable collaborative effort, launched March 15 and in its second season, is a great example of resilience-themed programming. Kids Listen, the grassroots organization advocating for high-quality audio for kids, quickly responded to parents' need to find activities at home for their kids with a new curated RSS feed providing a suggested activity to accompany each episode. In "Reach: A Space Podcast for Kids Exoplanets," from Soundsington Media, hosted by Brian Holden and Meredith Stepien, listeners learn about exoplanets—the planets that don't orbit our sun—and learn how they can make their own cool planetary system.
Other collaborative pivots by journalists and podcasters include Ping and Echo, an email list that provided a daily family-friendly podcast episode each day from March through June; the British Fun Kids Network's Activity Quest; and Pineapple Studios' The Kids Are All….Home. May support for collaboration and creativity continue into 2021.
Story Pirates "The Weird Sisters/The Secret of the Paintings feat. Stephanie Hsu"
Ages 7–11—Story Pirates began in 2004 by taking stories and ideas from kids and turning them into songs and improv comedy. The podcast launched in 2013 and, in 2017 Gimlet (now owned by Spotify), picked it up. What makes Story Pirates a trendsetter this year is its use of the podcast model to launch into other areas of children's media through Story Creation Zone. This member-based model offers kids and families livestream events, classes, and exclusive activities linked to podcast episodes. Members have access to writing prompts and digital downloads. "The Weird Sisters" episode, from October, includes stories about two sisters' homage to Billie Eilish and a talking Mona Lisa that foils an art heist. Now, kids can find related content beyond the podcast. It's a good response to families' need for diversified online content and creative skill-building ideas.
Hey Black Child "Poetry Floetry"
Ages 7–12—Launched in 2019 and now in its second season, Hey Black Child is hosted by 10-year-old Avery and seven-year-old Jackson, who noticed school wasn't covering a lot of Black history and took matters into their own hands. Their episodes are scripted by their mom, Nicole Ausmer, who works at the University of Cincinnati, and cover topics from Black professionals in medicine, sports, banking, and leadership, and civic engagement. The first episode shares a poem by Countee Cullen that inspired the show's name. Segments include the "term of the day," where the hosts share information about their topic—the Harlem Renaissance in this episode. They discuss how poetry gives people the ability to express themselves while also telling a story. Kids will love listening to these young hosts and learning about Black history outside of school.
At Your Level "Episode 7: Pandemic Birthdays"
Ages 7–12—Another fine example of engaging kid podcasters is the fun, kid-centric show At Your Level, hosted by Ari Kelly and produced by this mom. Ari features all-kids content, with recordings from kids, topics selected by kids, and jokes and riddles for kids. The show also provides a way for children to participate on the show through Zoom. The bombastic brass sound effects provide lighthearted, enjoyable transitions between segments, making for effortless listening. It's a dynamite model for kids wanting to make their own podcast. Begin with "Episode 7: Pandemic Birthdays," which shares ways young people adapt and celebrate when they can't have a traditional birthday. It offers hope and teaches kids relevant values such as resiliency and creativity.
Million Bazillion "Negotiation is a Super Important Skill"
Ages 10–14—Until recently, financial literacy hadn't been covered much by kidcasts, save for a few episodes or a show like the kid-hosted Money with Mak and G. The host of American Public Media's Marketplace, Jed Kim, began working on a new show for kids about money and the economy in 2019, but the recession, brought on by the pandemic, helped to shape the show's episodes as they launched the first season of five episodes in July 2020. Million Bazillion is sponsored by The Ranzetta Family Charitable Fund and the Next Gen Personal Finance, a non-profit dedicated to teaching kids financial literacy. Marketplace partnered with the producers of Brains On!, adopting their model of reporting for kids, thereby putting young people front and center in the discussions about money. Million Bazillion tackles tough subjects like starting a business, saving money, advertising, and more in an engaging way kids and parents will value. In "Negotiation is a Super Important Skill" they break down how and why negotiation skills can help create a win-win situation, sometimes, by using a real-world scenario, a tween's desire to have their parents buy them a new or upgraded smartphone. We hope to continue seeing more and more topic-focused podcast shows for kids, across a wide range of subjects into 2021.
Ages 10–14—Kids love book series, so it makes sense that some of the most popular podcasts for kids have been audio dramas. The largest producer of audio dramas for kids is Gen Z Media and PRX, along with their tween network, TRAX. This year, their show Timestorm, produced by Cocotazo Media, stands out for its focus on LatinX culture, specifically Puerto Rican history, and authentic storytelling. The show began out of a Google Podcast creator program in 2019; the May release of Season 2 follows the fictional Ventura twins as they time-travel to uncover Puerto Rico's true history. The diverse cast, great music, audio production, and adventure- based storytelling will draw kids in and teach a little history at the same time. There's room for many more adventure-based series, and we hope more will come from BIPOC writers and producers in 2021.
Student Podcast Challenge "The Winner of NPR's Podcast Challenge"
Ages 10-18—There has been a lot of focus from podcasters around two topics this year: coronavirus and race. For years, NPR, a trusted source for journalism, has been encouraging kids to learn and practice journalism by producing their work in podcast form. The network provides educators and students with resources and support through its Student Podcast Challenge, and this year's winners really show just how resilient kids can be in the face of adversity. "The Winner of NPR's Podcast Challenge" features the winning middle school and high school podcast episodes. Both tackle highly relevant topics related to racism, one pertaining to the coronavirus and the other, the environment and climate change. They prove just how powerful storytelling in this format can be, and how deeply kids think about important topics. These original stories will empower other kids to engage in meaningful topics of discussion, giving them an outlet and amplification for their creative work—namely, an airing on NPR. The make-up of the Student Podcast Challenge includes big names doing important work at NPR teaching mini-lessons about podcasting like the "Art of the Interview," " Finding Your Voice," and others. It feels like you are practically in the recording studio, getting an intimate look at how these high-level podcasters make their work shine. Kudos to NPR for supporting kids podcasting. It would be excellent to see more such challenges in the future years. College students are also allowed to enter in 2021.