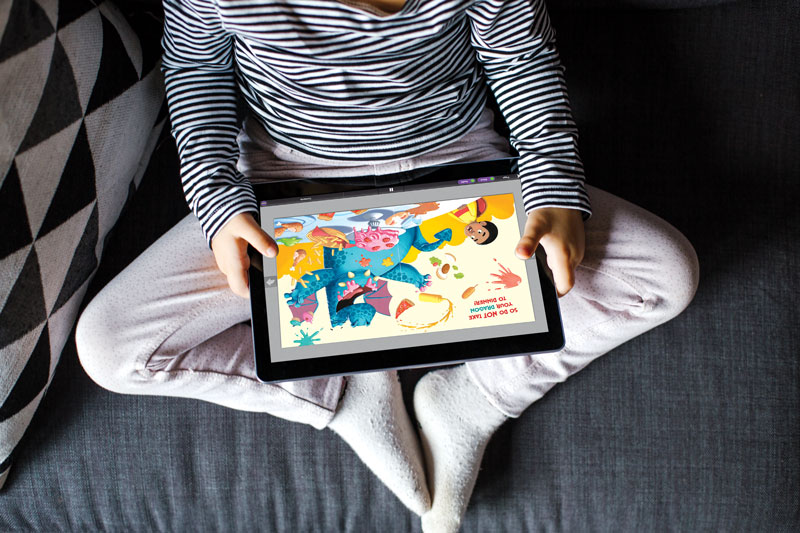 Photo by CokaPoka/Getty Images; inset screenshot courtesy of Capstone Interactive
For many librarians, the beginning of the academic year means new budget, new programming, and new library books. At Louise Arbour Secondary School in Caledon, Ontario, Canada, teacher librarian Jonelle St. Aubyn would typically funnel the majority of collection funds toward new print books. But this year, her budget plan looked a little different.
"I won't be buying any more print copies until there is a definitive protocol as to how the books will be checked in and returned," she tweeted in July in response to another librarian evaluating collection budgets. "It will be e-books only at least for the start of school."
Since school closures began in March, ebook checkouts and digital collection use have soared. OverDrive Education, one of the leading ebook distributors, reported that over 100 libraries had reached a million or more digital checkouts in 2020 as of July, while issuing more than 300,000 digital library cards from March to June. Libraries around the world quickly shifted resources toward ebooks in response to losing access to physical collections. It remains to be seen whether this is a short-term solution or the start of a change in collection development, but now librarians have found themselves in a difficult situation. Those who hadn't invested before the pandemic were suddenly asked to build and promote e-collections with little time and money—leading librarians like St. Aubyn to dip into their print budgets.
"Up until this year, I was probably spending an average of about $1,000 on my ebook collection because I was still buying a number of print novels," St. Aubyn says. "But when the pandemic hit, I ended up spending most of my print budget that I had left on ebooks."

[READ: Pandemic Reading: Follett Reveals the Top Ebook and Audiobook Checkouts at End of School Year]
With its noteworthy benefits and significant drawbacks, acquiring and distributing ebooks can be a flawed and complicated business. The learning curve can be steep and the barrier of entry high. However, librarians are seeing this moment as a time to learn about the market and shape a digital collection that meets the needs of communities that may otherwise go without learning materials.
To help meet the needs of librarians, educators, families, and students, many ebook publishers and distributors offered free collection bundles for a limited time. Follett offered its Pre-K–12 ebook platform Lightbox, ABDO educational publisher provided its digital products, Mackin Educational Resources made more than 1,500 ebooks available, while OverDrive Education was sharing its student reading app, Sora, to name a few examples. The plethora of free ebook options filled library digital collections in a pinch. But many free services have expired, despite the hundreds of schools still remote learning or limiting on-campus activity.
Now, librarians are left with a tough decision: Do they continue with a paid ebook service?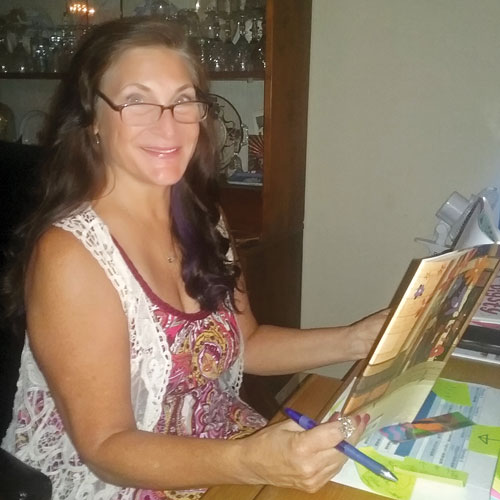 During a Zoom session with third graders, Stacey Zezza demonstrates how to search
for an ebook from the public library.
That's the dilemma library media technician Stacey Zezza is currently facing at East Avenue Elementary School in Hayward, CA—a year-round school that has been in session since mid-July. She was using TumbleBooks, which offered its online collection for free until August 31. A yearly TumbleBooks subscription starts at $799 for both school and public libraries. Zezza has previously held back on heavily investing in ebooks due to high costs and a limited budget, but is currently weighing her options.
"Right now, we're forced. If it was a choice, what would be our decision?" Zezza says. "It may be something I subscribe to right now, but I don't know that in the future I would renew that. I would really need to tap into my students and my staff and see what their thoughts were."
Before committing to an ebook collection, it's important to identify what you're investing in and if it will fit the needs of your community.
Crash course
The process of purchasing ebooks can be daunting to navigate—especially for a librarian who is just beginning to build a collection. To figure out what is best for your library (and steer you through a multifaceted system), here's a review of some ebook publishing terms.
"There's a variety of different business models that as libraries are learning about ebooks they'll want to become familiar with," says Randy Klinger, ebook product manager at Capstone Publishing.
To start, there are two basic components to the ebook business: ebook publishers and ebook distributor platforms. The interface that librarians, teachers, and students interact with is the distributor platform—Follett, Sora, and MackinVIA are three of the biggest e-distributors in education. Most ebook titles are available on platforms, but each system varies in usability, device compatibility, off-line use capability, interactive and accessibility features, and maintenance fees. However, signing up for a platform does not automatically grant you access to the ebooks: You need to purchase them individually or in collections curated by the platform. Those prices and access permissions are determined by ebook publishers.
"One of the things that I think is super hard for librarians to understand is that it's not the platform systems that are setting the terms of use—it's the individual publisher," says Amy Cox, associate vice president of marketing at Capstone. "You're still going to have to buy the individual content that you want. So if you want Diary of a Wimpy Kid in your system, you're still going to have to buy that. Just by signing up, you have not granted yourself access to content."
It's like having a membership to Blockbuster and still needing to pay for the videos you rent, or downloading iTunes and still having to buy the songs. But, unlike the MP3 files that you own and store on your computer, buying an ebook does not mean it belongs to you and your collection.
"  'Own' is kind of a funny little thing," says Cox, noting that what you purchase is "access to the ebook through a license."
The various levels of access (and how much and how often you pay) are determined by the type of license and business model set by the publisher. This could greatly influence what ebooks you buy, explains Klinger.
"Those are choices that when school libraries are determining what fits their needs best and their learning communities, they will want to evaluate and budget in," he says.
Licenses are blended with various business models. For instance, you might purchase an ebook that allows an unlimited number of patrons to use it at once, but access expires in two years—an unlimited simultaneous license paired with a timed subscription or metered access model. The prized ebook agreement for librarians is perpetual unlimited use, which Capstone currently offers, says Klinger. But by far the most common license on the market is the single user license. The reason? "Money," says Cox.
"It's a business, right?" she says. "A business can't jeopardize selling 30 print books to sell you one ebook."

Budget destroyers
The cost of licenses, like single user ebooks, can quickly eat up a budget if not planned carefully. Exorbitant prices and ongoing fees to maintain e-collections are a major block to getting it off the ground. It has restrained librarians, like district librarian Amy Stefanski at Dunlap (IL) High School, from adding more to collections. For example, when Stefanski was researching prices for Stamped from the Beginning by Ibram X. Kendi, one of the ebook platforms quoted $65 for a single user license that would expire 24 months after purchase.
"Do I have $65 to spend on one ebook that I can only use for two years? That's a lot of money when I can buy the paperback for $17.39," Stefanski says. "If you think about a teacher who wants to read this as a class, we'd have to buy 30 or so copies of it at $65 apiece. I think that's where the disconnect is."
Looking at long-term development, Stefanski has concerns about sustainability: "If I dropped $4,000 on this, can I redo it next year?" she asks. "I don't have a big robust collection because there's no money for it."
This year, Stefanski has a limited budget to dividebetween ebooks and print books. The ebook collection serves the entire K–12 district of about 4,400 students, who are expecting to partially return to campus on a hybrid schedule. The collection primarily draws upon Baker & Taylor's digital library Axis 360, which she purchases through Reaching Across Illinois Libraries, as well as the public library's e-resources.
To buy additional titles within her budget, Stefanski hunts for ebook bargains, using websites like BookBub to monitor prices and find discounts.
"There are books on there that I see for free that I haven't read yet, or the students told me are really good, and I should read it," she says. "If I can get it for free or if it's $0.99, then I'm going to throw it into my collection."
In addition to costs, usage numbers have also been too low to justify spending more on ebooks, says Stefanski.
"While we have it, our numbers are lower, because our teachers don't know how to use the programs, and therefore they're reluctant to remind kids that we have it, which comes with any kind of educational technology," says Stefanski, who plans to bulk up training for library staff and teachers this fall. "If the teachers aren't super familiar with it, they're less likely to promote it."
Access and awareness
One of the biggest barriers of e-collection use is accessibility and usability. Internet access and compatible devices are needed to get into the collection. Kim Mento, librarian at Boyertown Middle School East in Gilbertsville, PA, had run into compatibility issues with the mobile app on the ebook platform set up by the previous school librarian.
"I have a Galaxy 9—it's not a 100-year-old phone, and I'm pretty tech savvy. I couldn't get the books to open," Mento says. "This wasn't a solution for me, because my kids are tied to their phones."
Mobile compatibility was one of the important features Mento was looking for in a new ebook platform. She had been researching options, when some members of the Pennsylvania School Library Association recommended MackinVIA—which has an app supported by Android and iOS. As a member of the consortium and receiving recent grant funding, Mento can pay a set fee based on the number of students in the school to receive MackinVIA's ebook and audiobook collection. Now that she is setting up the collection, Mento is planning ways to educate students and staff about how to use the platform and other online library resources using a BitMoji, video, and photo-filled visual guidebook.
At H. H. Poole Middle School in Stafford, VA, school librarian Janice Raspen and her colleagues also responded quickly with catered video tutorials on the Sora app when kids began learning from home. The team made the video guides specifically for their students to help decrease log-in issues. They promoted them widely.
"Librarians were pushing into those Google Classrooms and sharing that information with students," Raspen says. "This school year, we're using Canvas as our learning management system, and so we have plans to do the same thing within that to get the information to the kids. We can do live screen sharing to show the kids how to do it if they're new, or they haven't done it yet and want to join in."
Raspen and fellow middle school librarians in the district wanted to create an ebook collection that would excite and attract students.
"We didn't want it to be such a small collection that they wouldn't really be interested, or that there would be long hold lines, or that would be hard to use," she says. By teaming up with eight middle schools in the district, the group was able to pool $4,000 to purchase new titles. Many of the ebook platforms offer metrics and usage insights to help steer collection development. Within Sora, Raspen can tell that her students enjoy manga, while Mento can see how often students are using the app and reading books in MackinVIA. The data can also be useful in advocating to administration for e-collection funding, says St. Aubyn.
Now, St. Aubyn can tell her principal, "'We've had X number of books go out in the collection, we've had so many books on hold, we had so many requests,'" she says. "Principals can then look at this and then share with their people, whether [they] be their superintendents or higher-ups in the board of directors."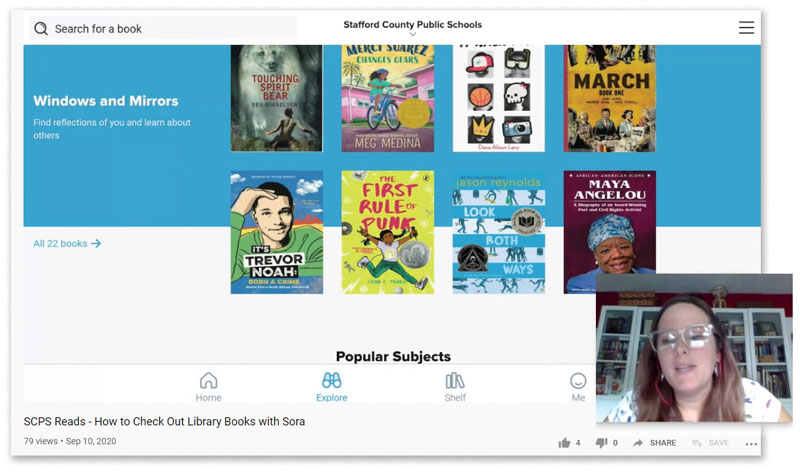 In a video featured on school district media platforms, Mary Oliver-Pruitt, librarian at Dixon-Smith Middle School in Fredericksburg, VA, shows how students can check out ebooks with Sora.
Better collections through partnerships
Working with other school and public libraries can provide that extra boost to kick-start or round out your ebook catalog. St. Aubyn, Stefanski, Zezza, Mento, and Raspen all turn to fellow librarians and other library e-resources in some capacity. Some public libraries are also directly connecting their collections to school libraries.
"We started the process of signing up for OverDrive Education's Public Library CONNECT, so any schools [in the area] that have Sora could directly link to our library's ebooks," says Joanna Goldfarb, youth services consultant at Ramapo Catskill (NY) Library System. In Sora, students can flip between school and public library e-collections, and check out digital materials on the app without having to have a public library card.
"If you have a consortium, share ebooks with those libraries in your community because those ebooks are so expensive," Goldfarb says.
Before buying new ebooks, she has to fill holes in the collection. The demand for the audiobook of The Ballad of Songbirds and Snakes, a prequel to "The Hunger Games" trilogy, was "out of control," she says. "The audiobook is $90, so to get holds down I purchased five copies of it, so I spent almost $500 on one book. Is it fair to the rest of the collection? No, but that's my responsibility to follow my collection development policy."
If you have partnerships with other libraries, on the other hand, Goldfarb notes, "You don't all have to buy The Ballad of Songbirds and Snakes, but if two of you buy it, that might do the trick."
During the pandemic, the Ramapo Catskill Library System saw a spike in ebook usage: more than 118,200 checkouts for children's and young adult digital materials between March and August—compared to almost 40,000 for the same time period in 2019. Goldfarb hopes that this information will help future usage.
"Now we know that kids and teens and parents know that these books are available digitally. So sometime in the future, if they can't make it to the library because there's a snow day or for whatever reason, they'll know they can still download a few ebooks."
The pandemic revealed just how helpful ebooks can be in providing continued service—another point of entry to collections. Just as there are benefits to having hardcover and softcover books, digital and print formats each have specific advantages that meet different needs and circumstances, says Cox. "There's always been this false narrative that you need print or ebooks—if kids prefer print, then we don't need the ebooks," Cox says. "But the reality is, it's not an either-or situation."
Having both can elevate the library's collection as a whole—increasing access and reaching more patrons in ways a physical collection cannot do alone.
In the future, St. Aubyn sees ebooks as being no longer optional, but a vital part of all library collections.
"It's not a perfect system," she says. "However, it does fill in some gaps, especially now during a pandemic, and going forward, it's something that people are going to need—that kids are going to need."
---
Lauren J. Young is a science journalist in New York City and a digital producer at NPR's Science Friday.