Bullies. We've gathered new books and old, in an attempt to equip children for a perennial troublemaker who, adults know, shows up outside of childhood as well.
Bullies, the bane of children everywhere. We've gathered new books and old, up to middle grade and including a couple of stunning graphic novels, in an attempt to equip children for a perennial troublemaking type who adults know shows up outside of childhood as well.
Picture Books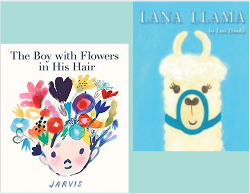 Lana Llama by Lori Doody, illus. by author. Running the Goat. 2022. ISBN 9781927917817.
PreS-Gr 2–The cute but conflicted title creature hates the ways she's unlike "her flock"—who happen to be sheep. Lana is aware of their similarities, but embarrassed by her differences, minimizing them by contortions. Absorbed in these efforts, she misses her friends' anxiety: they are being harassed by a bully.
Giant Giant by Dylan Hewitt, illus. by Dylan Hewitt. Milky Way. 2022. ISBN 9781990252082.
K-Gr 2–This quirky but straightforward story presents a playful, literal representation of what it means when a bully "steps all over" others, and the positive change a hand extended in friendship can inspire.
What If Bunny's NOT a Bully? by Lana Button, illus. by Christine Battuz. Kids Can. 2022. ISBN 9781525300554.
PreS-K–Gerti the Elephant and a group of her school friends gather in the schoolyard and watch as Bunny approaches. Elephant tells the others to stay away from Bunny since she is a bully. Kitty starts to question how one even comes to be called a bully. Her series of questions provide the catalyst for the group to consider that everyone makes mistakes.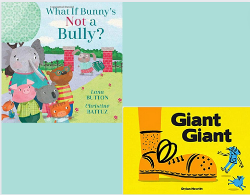 The Boy with Flowers in His Hair by Jarvis, illus. by author. Candlewick. 2022. ISBN 9781536225228.
PreS-Gr 2–As narrated by his best friend, who has dark hair and brown skin, the name of the boy with flowers in his hair is David, a white boy with long branches sticking directly out of his head in place of hair. Students, of many different ethnicities, don't think David is strange until the flowers start to fall out. David is left with bare branches and the other students start to avoid him until his best friend comes up with the idea of creating colorful paper flowers to hang on the empty limbs.
Boris the School Bully by Diana Love. (I Can Read 1). HarperCollins. 2022. ISBN 9780063204423.
Gr 1-3–Boris and his bully friends come to spoil a beautiful school day for Diana, Roma, Koko, and Dawn, but these super friends transform themselves into heroes to save the day from the school bullies. In the end, Diana is the real hero of the story because she comes to the rescue by inviting the bullies to join in the fun with her and her friends.
Lunch Every Day by Kathryn Otoshi, illus. by author. KO Kids. 2021. ISBN 9781734348200.
Gr 1-3–Otoshi uses her vibrant palette and probing storytelling to great effect as the story of a bullying victim actually sheds light on another victim—the bully himself. Readers will be immediately connected to the plight of the target during a painful opening scene in the cafeteria where a young boy is preyed upon and his lunch is stolen. But the story quickly deepens, and the bully's own victimization at the hands of his older brothers is portrayed.
Middle Grade
Chester Keene Cracks the Code by Kekla Magoon. Random/Wendy Lamb. 2022. ISBN 9781524715991.
Gr 3-7–Chester Keene doesn't mess around; he can clock what's happening around him faster than you can say "boo." He's a spy, because he believes his dad is one—and he embarks on a mission that he's convinced will bring him closer to his dad and help him fight back against a middle school bully, only to find his world changing faster than he can handle.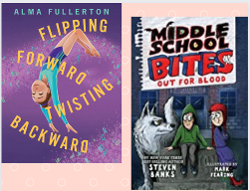 Flipping Forward Twisting Backward by Alma Fullerton. Peachtree/Freestone. 2022. ISBN 9781682633663
Gr 3-7–Fifth grader Claire is a successful competitive gymnast, but she is unable to find the same success in school. She compensates for her inability to read by getting her best friend Emma Lea to do her homework and by listening to audiobooks to complete book reports. Her embarrassment in class leads to conflict with her teacher, and classmates begin to bully Claire.
Witchlings by Claribel A. Ortega. Scholastic. 2022. ISBN 9781338745528.
Gr 3-7–Twelve-year-old Seven Salazar excitedly awaits the Black Moon ceremony where she and her best friend Poppy hope to be placed in the powerful coven, in this magic-filled quest of friendship and power sure to please lovers of the genre. To her dismay, Seven finds out that she's a Spare, which is looked down on and has less power. To make matters worse, also in her coven are Seven's bully, Valley Pepperhorn.
Out for Blood by Steven Banks, illus. by Mark Fearing. Holiday House. 2021. ISBN 9780823446162.
Gr 3-6–Tom Marks is not your average middle school student; he's a werewolf, vampire, and zombie! Having been bitten by all three, he's learning to cope with his new body and what it can do, like changing into a bat and flying around the room, becoming smoke, and, of course, the full body hair every time there's a full moon. He also has quite an interesting appetite!
In the Beautiful Country by Jane Kuo. HarperCollins/Quill Tree. 2022. ISBN 9780063118980.
Gr 5 Up–A beautifully written novel in verse about finding your way in the world. Set in 1980, Ai Shi/Anna, a Taiwanese girl, moves with her parents to California—or as they call it, the beautiful country. Anna is thrilled to be moving, until she arrives and learns that life in California isn't what she expected. She is the only Asian student at school, and the kids bully her for being different.
Middle Grade Graphic Novels
A-Okay by Jarad Greene, illus. by author. HarperAlley. 2021. ISBN 9780063032859.
Gr 5 Up–Greene chronicles the often bumpy road to self-discovery that's triggered by puberty. As Jay, a kind but anxious eighth grader, grows intensely aware of his appearance, specifically his acne, he decides to try Accutane, an intense, sustained oral treatment that requires him to take responsibility for his own health. At school, he watches friendships dissolve and builds new ones, encounters obnoxious bullies, and explores his artistic interests.
Booked by Kwame Alexander, illus. by Dawud Anyabwile. HarperCollins/Etch. 2022. ISBN 9780358161820.
Gr 5-8–After a stunning turn with the 2016 graphic novelization of The Crossover, Alexander and Anyabwile once again team up, this time for an adaptation of Alexander's 2016 novel in verse. Eighth grader Nick Hall lives and breathes soccer, but he's got plenty of other things on his mind. His best friend is on a rival team; his dad's expectations for him are astronomically high; and a couple of brutish bullies keep getting in his business.