Ready to take the next step? K–12 librarians serving high-need communities are eligible for a partial-tuition scholarship toward attending a fall leadership course in Future Ready librarianship.
Ready to take the next step? If you are a K–12 librarian serving a high-need community, you may be eligible to receive scholarship funding for a fall professional development course toward becoming "Future Ready."
Up to 150 partial-tuition awards will be offered to school librarians, courtesy of the International Society for Technology in Education (ISTE) and Follett.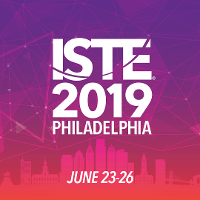 Announced at the ISTE conference in Philadelphia, the scholarships will cover 70 percent of the session cost for librarians who enroll in the course, "Exploring Future Ready Librarianship: Practices for the Emerging Leader," which will be held October 14 through December 8, 2019.
Applications for the scholarship will be available beginning July 15 on the ISTE Librarians page.
"ISTE believes that school librarians play a critical role within the school community," said Joseph South, chief learning officer at ISTE, in the announcement. "Many are already experts in the skills needed to be catalysts for the digital transformation of learning. Every day, they create and curate opportunities for educators and students to engage new technologies and resources that support their learning goals. We are thrilled with the first year of collaboration between ISTE, Follett, and Future Ready Librarians."
The 15-hour course promises to help librarians:
• Identify areas for professional inquiry and growth.
• Explore the Future Ready Librarians framework in depth and help librarians address several indicators in the ISTE Standards for Educators.
• Create and implement a personal action plan to lead from the library.
An early supporter of Future Ready Schools, educational content company Follett provided financial support for the scholarships.
To learn more, visit the ISTE U course page.