The survey showed school librarians using creative approaches to deliver superior library services, leading on tech innovation, collaborating with colleagues, and strengthening relationships with students.
Illustration by Errata Carmona
Following the widespread shutdown of schools in the spring, librarians quickly adapted their services to the ever-evolving academic conditions caused by the COVID-19 pandemic. Heading into this school year with tight budgets and large, open spaces being turned into classrooms in many buildings, school librarians were concerned that they would lose their jobs or be reassigned as classroom teachers en masse. But according to SLJ's Fall School COVID-19 Impact Survey, those fears weren't realized. School librarians are still on staff—and students and colleagues are likely to see them leading many more efforts. Librarians have added responsibilities, including temperature checks, electronic device distribution, classroom visitation, book delivery, curbside pickup, and more. They continue literacy and technology work, but in innovative ways.
Only seven percent of the 759 respondents said their employment was impacted by the pandemic. Of those seven percent, nearly half were reassigned as opposed to losing their jobs completely, according to the poll, which was fielded from September 11 to September 28.
The survey revealed school library staff using a variety of creative approaches to maintain their commitment to delivering the best library services possible, with a priority on getting books—print or digital—to kids however they can. They are also taking the lead on technology, collaborating more deeply with colleagues, and creating or strengthen their relationships with students during these challenging times.
Personal connections are particularly important during the pandemic, as 41 percent said that they have noticed "increased emotional issues, such as fear and anxiety," among students.
"Students are disconnected, we're still figuring out how to build community in the virtual school setting," said Patte Hegg of Denair (CA) Elementary Charter Academy. She describes students as seeming more depressed and less able to actively listen.
Respondents working with middle school students reported concern for emotional issues the most (52 percent). A lack of focus and evidence of fear and anxiety among students was most clearly observed in schools that are all remote.
"Everyone seems more tired and short tempered with short attention spans," noted a Nebraska school librarian.
In schools where in-person classes are taking place, librarians report that students are just happy to see their friends. Some observed a new appreciation for being at school.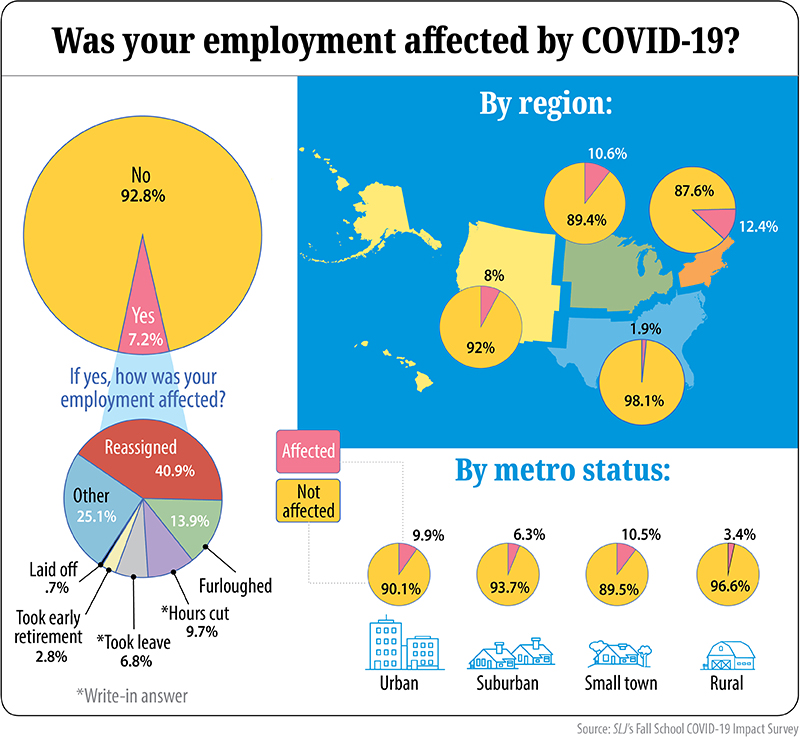 But whether school is remote, hybrid, or in-person and if a library is open (and 40 percent report theirs are), operating with restricted access, or shuttered, offering personalized service gives library staff the opportunity to remain engaged with their school community and keep students feeling seen and wanting to read.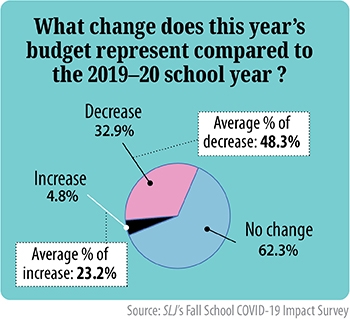 Solely reworking former services cannot be the new status quo, though. "I believe a willingness to go above and beyond to provide services is crucial right now," a North Carolina respondent said. "Taking requests, placing holds, ordering books when requested by teachers are all part of a concierge service mentality I'm embracing this year. One day, we'll return to structure and schedules, but at this time, accessibility is paramount."
A California school librarian is increasing connections by "recording and sending out read-alouds to teachers."
Books, books, books
Helping kids access titles they want is still the No. 1 priority for librarians able to circulate books, one way or another. They bring them on carts to classrooms and coordinate curbside pickup. And they are doing whatever they can to get students interested in ebooks.
"I have been doing a lot of ebook promotion via social media," said Erin Hughes of Rockingham County High School in Wentworth, NC. Hughes is also trying to plan some socially distanced events, such as a library "blind-date-with-a-book drive-thru day."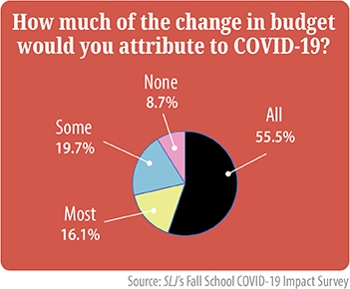 Librarians are sharing book recommendations and engaging in readers' advisory via interactive book displays hosted on a school's learning management systems, such as Schoology. "The usage of ebooks and the resource icons displayed on the library Schoology page are the only methods that have been effective to provide library services in my school," noted an Alabama high school librarian.
YouTube channels are another popular way to share educational information and enrichment programming. "[I'm posting] lots of tutorials on YouTube about how to use ebooks and Destiny Discover to place holds for delivery," said one survey respondent. Recorded read-alouds were frequently mentioned as a new way school librarians can share their love of books with students and a wider audience. Now, thanks to YouTube, "parents and children can access books being read when convenient for them," noted a respondent.
Kimberly Jo Mento, librarian at Boyertown (PA) Middle School East, created a multi-slide library guidebook, complete with sections introducing library staff, curated booklists, videos on how to use the library's Destiny catalog, and more (bit.ly/2F7apsh). Mento is also "communicating with kids through the library's Instagram account" and using Zoom for office hours and Library Lunches programming.
During in-person instruction in Florida, one librarian's duties now include fulfilling and delivering online book requests, filling carts with a selection of books, and taking library visits with story time, book checkout, and library skills directly to classrooms.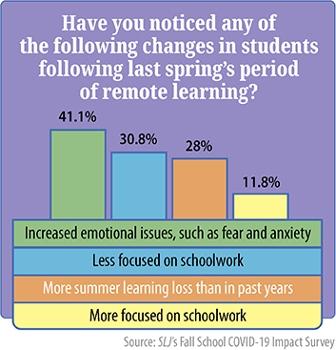 Many miss their library space, but Stephanie Byrne, librarian at Monticello (NY) High School, found a positive. "I am able to collaborate more with teachers instead of manage a library space with students," she wrote.
Many collaborations involve helping teachers with technology as school librarians are leveraging their tech skills to bring content and engagement. Librarians report using various apps and platforms to deliver services in a remote learning or socially distanced environment. Some of the favorites include Bitmoji, Canvas, Flipgrid, Google Classroom, Padlet, Socrative, Schoology, SeeSaw, Sora, and Zoom. They are finding new ways to use familiar tech and learning new applications to expand and enhance lessons and programs.
"Everyone is much more digitally ready," shared an Ohio high school librarian, who parlayed this fact into an increase in funding for digital resources.
But the learning curve for this new model of librarianship—and a lack of official training—can be overwhelming.
"[There is] WAY too much info and not enough time to really practice," wrote Lori Fole of Savanna Ridge Elementary in Port St. Lucie, FL. "We are learning along with the kids, and it can be frustrating if they know more than we do how the system works."
Of course, for others, that situation creates an opening for more relationship building and working in leadership and social skills. Through all her increased use of technology, Liz Goldfarb at Booker T. Washington Junior High School 54 in New York City is "asking for student help in managing technology—some kids love to be the expert. Other kids learn better from peers."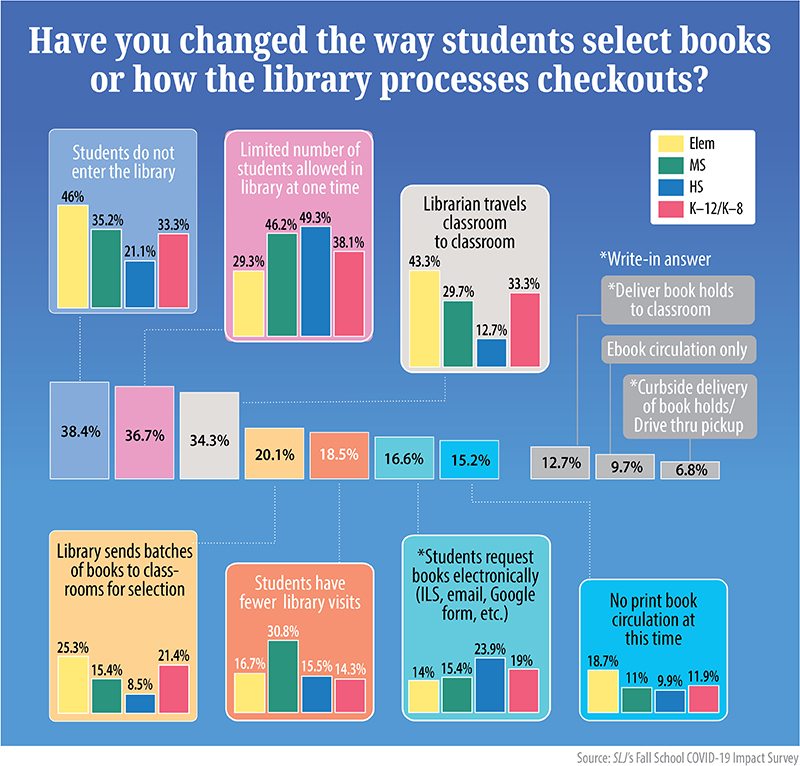 Increasing duties and decreasing budgets
While tech checkout and device upkeep may have been a regular part of pre-COVID-19 school library tasks, a Texas librarian shared that now her district's librarians are "almost exclusively tech support for parents and students having connectivity and/or device issues." Several other respondents corroborated this, listing some variation of "I do more technology support than ever before."
There are other duties, too, being assigned to librarians (and often other "specials" teachers), such as working at temperature check stations, assisting in lunchrooms, and supervising buses. Several respondents noted that library staff are frequently substituting for isolated, quarantined, or remote teachers.
A move to additional instruction can lead to very full plates, but can also bring opportunity. Diana O'Connor, librarian at Irma Lerma Rangel Young Women's Leadership School in Dallas, is now "working to provide social emotional learning and antiracist resources and professional development."
As library staff are called upon to perform duties outside the library, and libraries themselves see limited or reduced use, one-third of survey respondents said their budgets have been reduced. Elementary schools saw the highest budget cuts, and 22 percent of libraries with decreased budgets reported the cut was 100 percent. More than half (56 percent) whose budgets were cut attributed the reduction entirely to the impacts of COVID-19, and 16 percent said "most" of the change was due to the pandemic. A few libraries did get additional support: Six percent reported receiving special funds to cover costs associated with new operations or tasks, such as reconfiguring library spaces and additional sanitizing efforts.
There is no Magic 8-Ball for when libraries, and the rest of society, will return to pre-COVID life. In the meantime, school librarians continue to work as creatively and flexibly as possible, learning new skills and serving in new roles. Finding ways to maximize personal connection with students and school staff will help keep library services relevant, and the innovative approaches developed during this time will help inform the next evolution of librarianship.
---
April Witteveen is director of the Crook County (OR) Library.