With so many schools still immersed in ­distance learning, the ability to stream films has become more important than ever. Educators will appreciate this resource from Swank, a ­streaming library.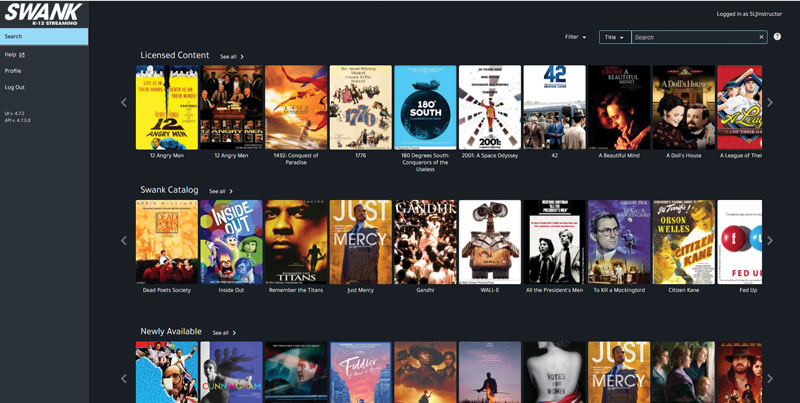 Grade Level K Up
Cost Pricing is tiered based on total enrollment of either the school or the district. Pricing averages just over $1 per student at the district level. Schools may reach out to Swank Motion Pictures with enrollment numbers to confirm exact annual cost.
Overview The desire for high-quality streaming content and access to real-world films to supplement made-for-education video content continues to grow. With so many schools still immersed in ­distance learning, the ability to legally and easily stream popular films for classroom use and to provide links for asynchronous viewing for students learning from home is key. Swank, which has previously ­offered educational site licenses for noneducational video use, has stepped up with a ­streaming library of more than 20,000 films, ­accessible via subscription to one of their three collections. Each curated ­collection (elementary school, middle and high school, and district) includes about 200 of the most requested titles. ­Educators can add a baseline number of films from the full Swank library, upon request and at no additional charge, based on total school enrollment.
Content Swank's library includes popular movies, documentaries, foreign language offerings, animated films, and classics. The three curated collections contain about 200 films each, updated yearly and selected from Swank's top title request statistics and anticipated relevance to the target audience. While one could argue about the appropriateness of some choices in the elementary collection (Citizen Kane; A Doll's House), overall content is rich and diverse, supplemented by the feature ­allowing educators to request titles, with a 24–48 hour turnaround. Schools can elect to approve/deny individual requests, or set their ­account to auto-approve.
Films include distinctly curricular fare such as Great Expectations (1934), The Great Gatsby (the 1974 and 2013 versions), and The Color Purple, along with animated films for elementary viewers and about 25 titles (Last Tango in Paris; American ­Gangster; Body Heat) that seem more geared to college or adult viewers. Occasionally, television shows surface (­ Scooby-Doo; Welcome Back, Kotter).
Educator Ease of Use/Visual Appeal The homepage provides a search box for title or person (director, actor, etc.). It also lists several carousels, including "Swank Catalog," which includes all films in the collection; "licensed content," which limits movies to only those that the school has access to; "newly available"; and "content spotlight." Educators can also use filters to narrow choices, for example searching for animated films, for movies rated G or PG, or for those released since 2010. For most accurate results, users should clear filters between searches. Filters operate with an "or" function, meaning one can find animated films or history-related (yielding a larger number of results) but not both. The ability to print out title spreadsheets will be helpful for some power searchers. In most cases, film trailers are available, along with short descriptions, rating, run time, availability of closed captioning, additional language options, and director.
Subscriber schools can bulk import educators at the "user" level, to limit searches to licensed content, or at the "administrator" level, adding the ability to find and request films not included in the school's license. Students are always at the "basic" level, allowing them to watch via a link but not search or request. Single-sign on authentication can be set by the school, and users can be locked and deleted ­individually or in bulk. Films are cloud-hosted and stream from the Swank server.
Student Ease of Use/Visual Appeal ­ Educators provide their students a direct link (for use via email) or an LMS link (for use with learning management systems, including Canvas, Schoology, and Google Classroom). Once a student has the ­correct URL, no further authentication is needed, and the link opens directly to the film. The option to send only a selected portion of a film is not currently available, but ­educators can provide brief instruction on using keyboard shortcuts to advance to a specific area.
Educator Resources A keyboard menu shows shortcuts when viewing, making it possible to navigate relatively quickly to a specific point in a film. Closed caption and alternative language options are available on some films and easy to find where offered. Swank provides two-minute video tutorials on basic operations, along with a printable educator user guide.
Verdict With more than 20,000 films ­available, there is something here for most educator needs. Although about a quarter of the content is rated NC-17, R, or TV-MA, that still leaves 15,000 films that can be shown in classrooms or shared out to homes. While the full library skews toward older middle school and up, elementary schools can easily find at least 100 possible titles for in-class and at-home curricular use. Schools seeking "grab and go" video content should give this resource serious consideration.
---
Maggie Knapp, Trinity Valley Sch., Fort Worth, TX