Summer means slowing down, unless you're a baby! These bilingual board books will ensure that the youngest pre-literate children learn to fall in love with books, by turning the pages, seeing what's next, and finding faces like theirs in the pages.
Summer means slowing down, unless you're a baby! These bilingual board books will ensure that the youngest pre-literate children learn to fall in love with books, by turning the pages, seeing what's next, and finding faces like theirs in the pages.
Early concepts

No board book roundup could be complete without selections exploring concepts books, with an added bonus—animals!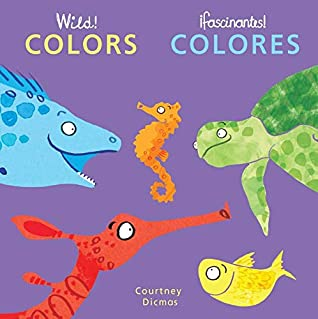 Dicmas, Courtney. Wild! Colors/¡Fascinantes! colores. ISBN 9781786283931.
—. Wild! Numbers/¡Fascinantes! numeros. ISBN 9781786283955.
—. Wild! Opposites/¡Fascinantes! opuestos. ISBN 9781786283948.
—. Wild! Shapes/¡Fascinantes! formas. ISBN 9781786283962.
ea vol: illus. by author. tr. by Teresa Mlawer. Child's Play. 2019. BL.
Toddler–A lively and bilingual exploration of early concepts featuring critters interacting in their natural environments. Dicmas uses bold colors to add verve to these tried-and-true subjects. Sea creatures help children identify primary colors; birds aid in highlighting counting; a variety of animals illustrate shapes and opposites. The loose lines give the volumes a fluid and joyous feel and build momentum with each page turn. A fun addition to bilingual shelves.
Nonfiction

From biographies to travelogues, these titles offer little ones bite-size bits of information.
Engel, Margarita. Bravo! Poems About Amazing Hispanics/Poemas sobre hispanos extraordinarios. illus. by Rafael López. Holt. 2020. ISBN 9781250230812. BL.
PreS-K–This adaptation combines the text from the two different picture book editions—Spanish and English—originally published in 2017. Engel profiles 14 Latinx subjects from a range of professions, including authors, scientists, athletes, and musicians. López's vibrant art is the perfect complement to the spare poems. Each short verse gives a small glimpse of the amazing things these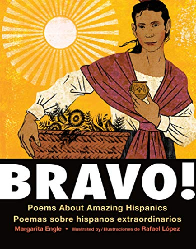 extraordinary people accomplished. Sure to empower little ones.

[Read: Diverse Books for Preschoolers]
Rodriguez, Patty & Ariana Stein. El Chapulín Colorado: Sounds/Sonidos. ISBN 9781947971417.
—. The Life of/La vida de Pelé. ISBN 9781947971530.
—. The Life of/La vida de Walter. ISBN 9781947971547.
—. The Solar System with/El sistema solar con Ellen. ISBN 9781947971400.
ea vol: illus. by Citali Reyes. Lil' Libros. 2020. BL
Birth-Toddler–Grown-ups will be filled with nostalgia and little ones will want to grab at the bright and funny images in these bite-size biographies of beloved Latinx luminaries. Like many of the trio's previous volumes, these entries aren't only biographical—they also explore early concepts. El Chapulín Colorado features giggle-inducing onomatopoeic words like "Knock knock!/ ¡Toc toc!" and El sistema solar con Ellen give tots a chance to learn about the solar system. Great vocabulary builders and lots of fun!
Rodriguez, Patty & Ariana Stein.

Vámonos: Havana.
ISBN 9781947971431.
—. Vámonos: San Salvador. ISBN 9781947971424.
ea vol: illus. by Ana Godinez. Lil' Libros. 2020. BL
Toddler-PreS–For slighty older readers (and potential world travelers), a new line of books about Latin American capitals. With bright, candy-colored art, young readers will learn about the sites found in each of these bustling cities. The diversity of each locale and its people is on display, and children will see what makes these communities different from their own and the many things that they have in common. Landmarks such as the Cuba's Gran Teatro (Havana) and El Salvador's Boquerón volcano (San Salvador) will leave kids in awe and pique an interest in the world around them. In the fall, this series will grow with new entries about Lima, Peru; Oaxaca City, Oaxaca; and San Juan, Puerto Rico. Globally inspired gems.
Wolfe, Steven & Susie Jaramillo. Mexico. illus. by Susie Jaramillo, Mei Li, & Magali Reyes McDonald. 2019. ISBN 9781945635236.
—. Puerto Rico. illus. by Susie Jaramillo, Meiyee Tan, Abigail Gross & Magali Reyes McDonald. 2020. ISBN 9781945635304.
ea vol: Encantos. BL
PreS-Gr 1–A new travelogue series that introduces young readers to different locales. Two of the first entries present journeys through the different countries in Latin America. Each volume highlights towns within the featured location. The "Search and Find" element adds an interactive experience. Spanish words and their translations are bolded, and celebrated monuments and places of interest are highlighted—Yaxchilán (Mayan ruins) and Viejo San Juan (Old San Juan). The cherubic, childlike characters will grab kids' attention and the vibrant colors bring the art to vivid life.
These offerings feature traditional soothing songs perfect for bedtime of baby and toddler storytimes.
Ada, Alma Flor & F. Isabel Campoy. Mamá Goose. illus. by Maribel Suárez. Disney-Hyperion. 2019. ISBN 9781368045414. BL
Baby-Toddler–A tender offering of traditional Latin American lullabies. Adapted from the trio's 2004 compendium, this smaller edition presents four selections, accompanied by Suárez's warm illustrations. She often depicts nanas wearing rebozolike clothing in most of the spreads. Included is the popular "Esta niña linda," along with some not-so-familiar songs. The English translations are poetic and spare. A wonderful choice for bilingual story times and lapsits.
Wolff, Ashley. Los pollitos dicen/Baby Chicks Are Singing. illus. by author. Little, Brown. 2020. ISBN 978031649432. BL
Baby-Toddler–The traditional song is given a board book treatment in this refresh of Wolff's 2005 edition. A mother hen tends to her curious and fluffy chicks as they wander around their farm, meeting other animal friends. Warm yellows and browns give the scenes a radiance, and the mother's love for her little ones glows on every page. The English translation flows easily and can also be sung to the same tune as the original Spanish. A sweet addition.
Photorealistic

There aren't enough photo-filled board books, especially considering how much your youngest patrons love them. Here are two series that fit the bill.
Cole, Barry & Santiago Ochoa. Elephants/Elefantes. Rourke. 2019. ISBN 9781731613240. BL
Baby–Adorable pachyderms play, bathe, and hug in this coo-inducing, lap-friendly volume. In two- to four-word sentences, the authors present the large mammals doing activities that little ones will relate to; kids will totally identify with the rambunctious animals. The clear and focused photos lend an added sense of proximity to the lush scenes—readers will feel as if they're wading in the water with large creatures. This series also includes entries about lions, monkeys, bears, and giraffes.
COLE, Barry & Santiago Ochoa. Surprised/Sorprendida. Rourke. ISBN 9781731613295. BL
Baby–A precious little one is presented on each spread—with expressions that range from shocked to amazed. Every one of these expressions can be interpreted as "I am surprised!/!Estoy sorprendido!" a refrain throughout. There is plenty of white space, and the white text on teal background adds to the readability. Asian, Black, white, and Latinx babies are featured equally. Other feelings that are explored in other series volumes include scared, happy, sad, and angry. It will not be a surprise that kids will want to stare at their peers for quite a while.
Tell Me a Story

For more narrative-based tales, check out Spanish translations of the beloved Sandra Boynton's books. Plus, a Nubeocho author-illustrator pair create board books and an accompanying song.
Boynton, Sandra. Cachorro cariñoso: Un cantito de amor (Snuggle Puppy!). ISBN 9781523507764.
—. ¡Danza del corral! (Barnyard Dance). ISBN 978152350777.
—. ¡El Libro del ombligo! (Belly Button Book). ISBN 9781523508006.
ea vol: illus. by author. tr. by Sandra Boynton with John McMullan & Lourdes Cuellar. Workman. 2019.
Toddler–These bouncy and tender translations of Boynton's delightful board books are perfect for Spanish-language collections. The die cut covers give a sneak peek at the silliness inside. In Cachorro cariñoso, a canine mom cuddles her pup as they bake cookies and she repeats, "¡Oooooo, mi cachorro cariñoso! Todo sobre ti es muy fabuloso!" In ¡Danza del corral!, the rollicking barnyard dance and giggle-inducing facial expressions will have little ones dosey-doeing in no time. In El libro del ombligo, a hippopotamus nonchalantly explains the animals' love of belly buttons. Toddlers and grownups alike will never look at their tummies the same way again. Here's hoping to see more translations of Boynton's work soon.
Caracolino. Carteras y carteros. ISBN 9788417673468.
—. La jirafa Rafa. ISBN 9788417673444.
ea vol: illus. by Canizales. Spanish Ed. (Nube de Cartón). Nubeocho. 2020.
Toddler-PreS—These colorful offerings by the duo will engage toddlers with their rhythmic text and eye-catching illustrations. The narratives double as lyrics to charming and catchy and original songs played on a guitar that families can access via a QR code. In Carteras y carteros, mail carriers deliver packages from grandmothers and loving missives from Portugal and Senegal. In La jirafa Rafa, an eyeglasses-wearing giraffe tends its apple trees in the middle of the savannah, but uses bottled water for drinking because of the well water's yucky taste. The deceptively simple entries can be great conversation starters and be used to build vocabularies. Fanciful selections with multiple layers.
Hernández, Mili. Federico y sus familias. Spanish ed. ISBN 9788417673482.
—. Federico and All His Families. tr. by Céline Siret. ISBN 9788417673567.
ea vol: illus. by Gómez. Nubeocho. 2020.
Toddler-PreS–A lucky cat belongs to all of the neighborhood's diverse families, spending part of his day with each one. Federico breakfasts with Ana and Nacho and their two moms, accompanies Sara and her dad as she waits for the school bus, and plays with Tadeo's grandmother's ball of yarn. The different households include interracial couples, grandparent caregivers, and adoptive families. Jewel tone hues pop and add to the playful renderings. Interestingly, the English translation includes more Anglicized names, such as Sam instead of Nacho and Lizzie instead of Henar, which seems an oddly missed opportunity for another layer of cultural understanding. Still, a welcome addition.
Featured illustration: Havana by Patty Rodriguez and Ariana Stein, illustrated by Ana Godinez.