Back to school selections, including picture books and middle grade graphic novels and realistic fiction, with related activities from "The Classroom Bookshelf."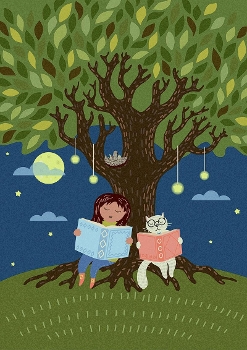 Before the first day of school, countless decisions have already been made to welcome students into a community of readers, writers, and creators. At "The Classroom Bookshelf" blog, we believe that of all the back-to-school decisions to be made, one of the most important is which books will let all students know that they belong. That their ideas are worth sharing. That they are seen, heard, and valued. Books are our greatest tools as teachers to communicate intentional, community-building messages.
Here are four titles published in the past year that can help set the tone that school is a place where everyone belongs. Included are teaching ideas for each book that invite dialogue, introspection, and community building. While every title has the potential to ignite connection, it also has the potential to create disconnection. There is no universal reading experience. However, these titles can electrify students to learn and challenge them to think in new ways. Whether using these texts or others in your library, start the school year with purpose and joy, with books that build a sense of belonging.
Picture books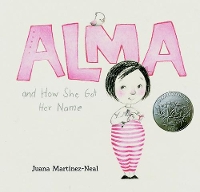 Alma and How She Got Her Name. Juana Martinez-Neal. Illus. by author. Candlewick. 2018.
PreS-Gr 3–"Alma Sofia Esperanza José Pura Candela had a long name—too long, if you asked her." Alma complains to her father, saying, "It never fits," showing him the paper she has had to tape an extension onto in order to write out her full name. Her father proceeds to tell her stories of the five relatives after whom she is named, instructing her: "Then you decide if it fits." Alma and her dad sit in an armchair, looking at family photographs. As each relative is described, images related to their story appear in the illustrations. The book concludes with Daddy's discussion of her first name: "You are the first and the only Alma. You will make your own story." This 2019 Caldecott Honor book offers a sweet reflection on family bonds, affinities, and remembrances.
Ask students: What do you want to be known for? Invite them to consider how they might be introduced to someone through a story similar to the ones told by Alma's dad. Ask them to think about their interests, talents, and accomplishments. Taking inspiration from Martinez-Neal's illustrations, students can draw a picture of themselves surrounded by objects that represent them. Extend the activity by having students compose the story of who they are and who they want to be. Display these portraits in your classroom.
Names: A Text Set. Read Alma and How She Got Her Name as part of a text set that focuses on names. Include titles such as Kevin Henkes's classic Chrysanthemum, Helen Recorvits's My Name Is Yoon, Karen Lynn Williams's My Name Is Sangoel, and Lesléa Newman's My Name Is Aviva. Discuss which aspect of names is addressed in the story (for example; naming practices, character's feelings about their name, family connections). Being mindful of the varied backgrounds of students in your class, particularly of students who belong to foster and adoptive families, open a discussion of names and identity. Allow space for students to explore all aspects of names, including circumstances in which people might choose to use nicknames or change their names in order to affirm aspects of their identity (such as gender).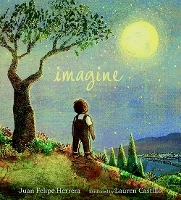 Imagine. Juan Felipe Herrera. Illus. by Lauren Castillo. Candlewick. 2018.
PreS-Gr 4–"If I grabbed a handful/of words/I had never heard and/sprinkled them over a paragraph/so I could write/a magnificent story,/imagine." These lines are just a sample of the stirring verse penned by former U.S. Poet Laureate Felipe Herrera in his picture book. Herrera reminisces about his childhood as the son of farm workers, his move to the city with "a new concrete school/I had never seen," and his growing sense of the power of words and music. For each memory, he provides a short, strikingly evocative poem on a spread, punctuated by the refrain "Imagine," and invites readers to do just that. Lauren Castillo's pen and foam monoprint illustrations support a sense of nostalgia, blending hazy landscapes with clearly outlined people and objects to mimic a child's memory of past events.
Just imagine. Play the song "Imagine" by John Lennon. Set aside some time for students to engage in imagining. You might want to encourage them to take note of what they think about during times and places ripe for imagining: at recess, on the playground, at bedtime, etc. Ask them to represent what they dream up in the modality that best showcases their strengths, such as art, writing, music, or technology. Host a party at which students share their ideas with peers, family, and community members.
Pivotal life moments. In the stanzas that comprise his poems, Herrera describes moments in his youth that were pivotal for imagining new possibilities, such as the time he "let tadpoles/swim across my hands/in the wavy creek," and the time he "opened/my classroom's wooden door/not knowing how to read/or/speak in English." Have students brainstorm similar moments in their lives that could have led to different possibilities. Using Imagine as a mentor text, have students weave these moments into a poem about imagining.
Middle Grade Graphic Novel
New Kid. Jerry Craft. HarperCollins. 2019.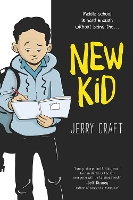 Gr 5-8–Meet 12-year-old Jordan Banks, an African American boy from New York City's Washington Heights and new kid at the über-privileged prep school Riverdale Academy. Craft has taken the daily dramas of middle school life (cafeteria hierarchy, social anxieties, and tween hallway banter) to an arresting and devastatingly accurate new level. Episodic in nature, New Kid portrays Jordan's school year from beginning to end. The graphic novel format deepens the experience for middle grade readers to interpret the words, actions, and facial expressions of the engaging characters, providing an additional layer of context for complex race and class dynamics. Offering hope for a more socially conscious, kinder tomorrow, New Kid should be required reading for every middle schooler (and middle school teacher).
Self literacy. New Kid is a story about the challenges of middle school life and Jordan's continuously evolving identities. Questions such as "Who am I?" "Why am I me?" "What is important to me?" and "Who will I be?" are unstated but can be inferred. Discuss the ways that Jordan is many things and that his identity is not static, despite the social pressures that make it feel that way. Open up the discussion for students to make connections to events in the story, the characters, and the ways in which their own identities are multiple and evolving.
Understanding microaggressions. One of the most notable patterns in the story is the way in which white teachers mistake characters of color for other characters by calling them by the wrong name. Define the term microaggression using a source such as Merriam-Webster. Support students with language they can use to address microaggressions openly, such as: "When you said _____, it made me feel _____" and "You may not be aware of what you just said/did. You _____. In the future, _____."
Middle Grade Realistic Fiction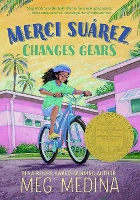 Merci Suárez Changes Gears. Meg Medina. Candlewick. 2018.
Gr 4-7–Newbery Medal winner Merci Suárez Changes Gears offers a story filled with reflective moments for tweens as they learn to navigate their own difficult rides. During the fall of sixth grade, Merci Suárez faces a range of challenges. Instead of trying out for the school soccer team now that she is eligible, she must spend the autumn watching her twin cousins after school. Instead of feeling more comfortable with her friends in her second year at Seaward Pines Academy, she feels more pushed to the margins. Merci and her extended family live in Las Casitas ("the little houses"), three interconnected homes in a coastal city in South Florida. The changes that impact Las Casitas, and all who reside there, worry Merci the most. Merci learns to live with life's expected and unexpected changes.
Shared hobbies. Throughout the novel, we watch Merci enjoying hobbies and rituals with her family. What hobbies do your students enjoy, and what role does an older family member or neighbor play in fostering them? What hobbies do they have in common? Host a family–community maker festival in your classroom, organizing families by hobby or skill, or simply invite a family member in once a week to share a hobby. When possible, make connections to your ongoing classroom work.
Power in tween social groups. Throughout the novel, classmate Edna Santos seems to be in charge of the girls in Merci's classes. Edna drives discussions in class and sets the tone for the other girls' behavior in the hallways, in the cafeteria, and outside. How did she get that power? Who gave it to her? Why are the other kids so happy when she is finally punished for destroying Michael's mask, made by Merci's grandmother? As you read the novel together, have your students explore the intersection of power and popularity. When they finish the book, have them create a set of guiding principles for sharing power in your classroom, on the playground, and in the cafeteria.
---
Katie Egan Cunningham is the author of Start with Joy: Designing Literacy Learning for Student Happiness. She blogs at "The Classroom Bookshelf."