A platform with more than 6,000 ebooks, Rosen's LightSail effectivley offers students titles within their reading level, along with assessments to let educators track student progress.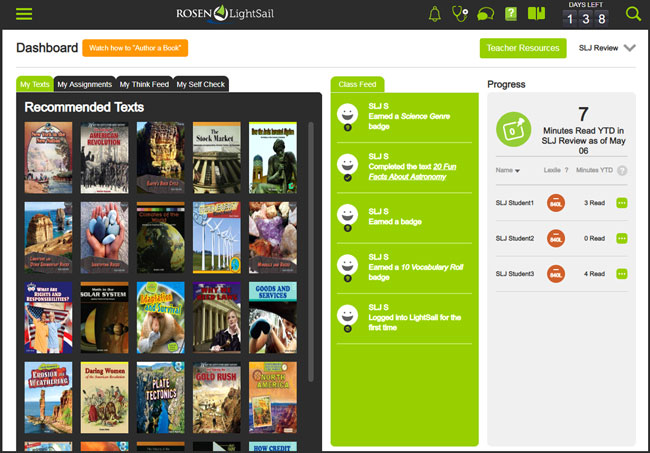 Cost For a price quote, please contact 800-237-9932.
Grade Level Gr 3-8
Overview Leveraging educational opportunities for students reading ebooks can be challenging, especially when remote learning means educators don't have physical eyes on classrooms to keep students on task or offer title suggestions. Rosen's LightSail suggests ebooks within a "just right" Lexile band, featuring them prominently (or exclusively) in students' individualized dashboards. LightSail presents books at grade level interest and alternates the requirement of a "power text" (within 200 points above or below their Lexile level) with a book of the student's choice to strengthen reading skills and engagement.
Mandatory assessments, most graded by LightSail, are embedded every few pages for reader and educator feedback. Educators can also schedule assignments, give feedback, and suggest, require, or hide texts when desired. Parents can use a portal to see minutes read, badges earned, and more. Abundant online training options support new users and encourage creative exploration including book clubs, themed units, and whole class novels. LightSail requires internet access, and provides a "speedcheck" so users can quickly determine if they can successfully run LightSail.
Content LightSail contains approximately 6,000 ebooks, about 80 percent of which are nonfiction, searchable by title, keyword, topic, and genre, with filters for grade and Lexile levels. A majority are Rosen offerings, supplemented by about 1,500 selections from other sources. Schools can purchase additional titles, students can write their own books and have them published to their classroom, and educators can import PDFs, EPUB, Word documents, and more.
Every LightSail title contains a variety of assessments, primarily cloze (fill in the missing word) vocabulary assessments, along with multiple choice and short answer questions. Upper elementary and middle school students will likely find the greatest number of just right texts, with informational books for older readers including high-interest topics such as movie monsters and cutting-edge technology. Some texts, particularly informational texts, are available in Spanish.
Booklists, Lexile information, and student-friendly explanatory videos are available on the LightSail Learning Community website. Educators have abundant resources for tracking reading, including minutes spent reading, titles checked out, titles completed, and performance on assessments.
Educator Ease of Use/Visual Appeal LightSail's educator view opens to a dashboard packed with abundant features. The admin login offers access to a district dashboard for statistical feedback. Under the teacher login, users gain access to a dashboard including classes, library, content builder, fluency builder, homework, rubric builder, reports, and trends.
A class can, with teacher guidance, self-register and be reading books at Lexile level in 10–15 minutes, as the Power Challenge, which assesses individual Lexile levels, has been made optional to accommodate the switch to remote instruction. However, when possible, educators are encouraged to have students take the approximately 45-minute Power Challenge, allowing for more personalized book suggestions. The teacher dashboard contains detailed student data and a class feed to scroll and look over students' progress. For any LightSail title, educators can create and add assessments and annotations. The annotations, in the form of a "think feed," can be typed or recorded; students can respond in either format. The teacher dashboard contains direct access to excellent help videos and live chat during the school day.
Student Ease of Use/Visual Appeal At the top of the student dashboard are colorful book covers of the titles currently checked out, and suggestions for future reading. ­Nearby, students see personalized statistics for progress toward teacher-defined goals, including minutes read, as well as personal stats for assessment scores, "my thoughts" annotations, and assigned homework. Further student options link to the library for access to power texts and free reading choices, vocabulary review, badges earned, and the "author a book" option. By design, readers must take each assessment before advancing in their ­reading. LightSail supports single sign-on ­options such as Clever and Google Classroom. Adaptive options include the ability to change font size and background ­colors, as well as to have text read aloud and translated into other languages.
Verdict Rosen's LightSail provides a tool many schools can embrace in the physical classroom, where internet connectivity is assured, with equally strong potential in the current online learning environment. The easy-to-follow tutorials for educators, students, and families allow for quick ­access to abundant informational texts along with fiction. The robust support and enhancements for remote reading make this a particularly apt choice for building, maintaining, and assessing a reading ­culture for connected students learning from home.
---
Maggie Knapp, Trinity Valley Sch., Fort Worth, TX