Acclaimed creator Guojing talks with SLJ about her creative process, the cover image for SLJ's 2022 Best Books issue, and the timely and timeless themes in her stunning chapter book graphic novel The Flamingo.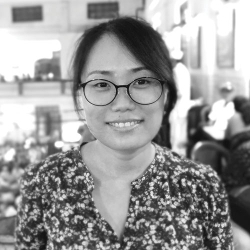 For SLJ's December Best Books issue this year, we are fortunate to have our cover graced with art by acclaimed creator Guojing, inspired by her stunning chapter book graphic novel The Flamingo. In this nearly wordless book, a young girl travels by plane to stay with her Lao Lao, who shares a story during the visit that takes on a vibrant life of its own—one that unites grandmother and granddaughter in surprising ways even after the girl returns home.
The book captures the power of stories to excite our imaginations and to bring people together, and it brilliantly uses imagery—and color in particular—to make big ideas and emotions accessible to all ages of readers.
In addition to our breathtaking cover, we are honored to have this chance to interview Guojing about her work.

Andrew Eliopulos: Thank you so much for speaking with us, Guojing. First, could you share the steps in your artistic process, from sketch stage to final art?
Thank you. It's a pleasure talking to you, too. Creating The Flamingo was a challenging, exciting, and long journey. I started by sketching a storyboard, and because the book is nearly wordless, it was imperative to make sure the story was crystal clear at every turn and in every panel. It's so easy to lose a reader when there aren't words to rely on. At this stage, I went back and forth many times with my editor and art director, and this process took over two years. Once we felt that the story was working, I embarked on final character development and art style exploration. Once the sketches were set and the characters were resolved, I was able to start the final drawings. That was the most exciting part for me! I enjoyed every moment and was constantly reminded of how lucky I am to be able to pursue my passion and interests through my career.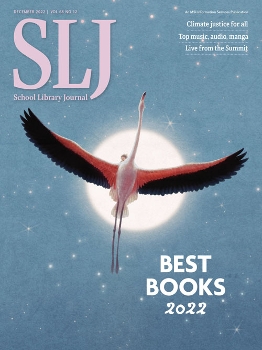 AE: It's remarkable how you use scale, movement, and contrasts throughout The Flamingo to create a sense of wonder, and you've managed that achievement again with our starry December cover. Could you talk about what inspired the unique visual language of The Flamingo?
There are contrasts in this story that I wanted to explore. There is the immediate contrast of living near a beach and living in a big city. Also, there are the feelings the girl and grandmother have when they are together, contrasted with the way they feel when they are apart. The distance presents both characters opportunities to find ways to stay close even when they are apart. I've always been intrigued by how color, composition, and light can indicate emotion, and I worked hard to push those techniques to tell this story. And then adding symbolic elements throughout—like drawing the plane to look like a pink flamingo—helped tie the story together visually.
AE: I don't want to spoil any of the story's delightful surprises, but suffice it to say, there are page turns in the book that made me gasp. Did any of the story's turns surprise you while you were working on it?
Yes, some still surprise me when I see them. One of my favorite pages is the one of the three characters watching the sunset, which inspired the interior artwork that I did for this issue of SLJ. And another are the scenes when the flamingo is flying through the city.
AE: Finally, in depicting a relationship between a girl and her Lao Lao who ordinarily live a great distance apart, The Flamingo touches on themes of separation and missing a loved one in a way that is both timeless and very timely, in light of the COVID-19 pandemic. Could you speak to how our present moment may or may not have influenced the story?
I started making this book before the pandemic, but COVID and its difficulties affected my thoughts directly and indirectly and influenced this story deeply. During the pandemic, I lost my grandmother and was unable to visit her before she passed. And I gave birth to my son while no one in my family could visit me. It was an emotional time with real highs and lows. I had a very special relationship with my grandmother, and my love for her has been present in my previous books, but I was happy to give her a starring role in this one.