Moving poetry, thought-provoking nonfiction, and an adorable Valentine's title are among this month's 25 starred reviews, spanning picture books, chapter books, middle grade, YA, and more.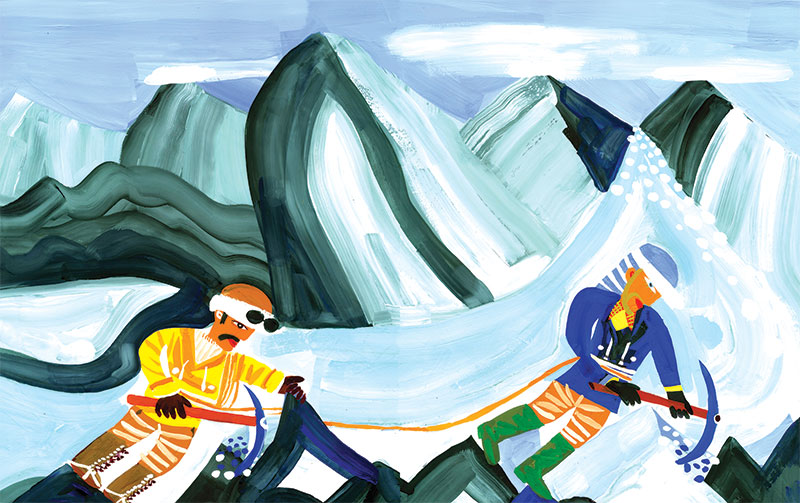 Two at the Top (Krishnaswami) ©2021 by Christopher Corr

Holidays
Keller, Joy. Valenslime. illus. by Ashley Belote. Feiwel & Friends.
Stein, Joel Edward. Raquela's Seder. illus. by Sara Ugolotti. ­­Kar-Ben.
Picture Books
Brown, Meredith Crandall. Milk and Juice: A Recycling Romance. HarperCollins/Harper.
Diggs, Taye. Why?: A Conversation About Race. illus. by Shane W. Evans. Feiwel & Friends.
Gehl, Laura. Apple and Magnolia. illus. by Patricia Metola. Flyaway.
Holt, Hannah. A History of Underwear with Professor Chicken. illus. by Korwin Briggs. Roaring Brook.
Lloyd-Jones, Sally. Tiny Cedric. illus. by Rowboat Watkins. Random/Anne Schwartz.
Sellers, Bakari. Who Are Your People? illus. by Reggie Brown. HarperCollins/Quill Tree.
Chapter Books
Hale, Shannon & Dean Hale. The Princess in Black and the Mermaid Princess. illus. by LeUyen Pham. Candlewick.
Middle Grade
Bryant, Megan E. Abby in Between. Penguin Workshop.
Bury, Katryn. Drew Leclair Gets a Clue. Clarion.
Cisneros, Ernesto. Falling Short. HarperCollins/Quill Tree.
Saeed, Aisha. Omar Rising. Penguin/Nancy Paulsen.
YA
Burton, Jessie. Medusa. illus. by Olivia Lomenech Gill. Bloomsbury.
Hutchinson, Shaun David. Before We Disappear. HarperTeen.
Len, Vanessa. Only a Monster. HarperTeen.
Rhodes, Morgan. Echoes and Empires. Penguin/Razorbill.
Vedder, Leslie. The Bone Spindle. Penguin/Razorbill.
Velez, Angela. Lulu and Milagro's Search for Clarity. HarperCollins/Balzer + Bray.
Graphic Novels
Castellanos, Alexis. Isla to Island. S. & S./Atheneum.
Fairbairn, Nathan. PAWS: Gabby Gets It Together. illus. by Michele Assarasakorn. Penguin/Razorbill.
Nonfiction
Debbink, Andrea. Creatures. illus. by Asia Orlando. Quirk.
Krishnaswami, Uma. Two at the Top: A Shared Dream of Everest. illus. by Christopher Corr. Groundwood.
MARTIN, Jetta Grace, Joshua Bloom, & Waldo E. Martin. Freedom! The Story of the Black Panther Party. Levine Querido.

Poetry
Martin, Erica. And We Rise. Viking.