This month's star-studded list is filled with a healthy serving of graphic novels, a couple of recommended DVDs, and books by David Levithan, Kyle Lukoff, Anastasia Higginbotham, Emily X.R. Pan, and more.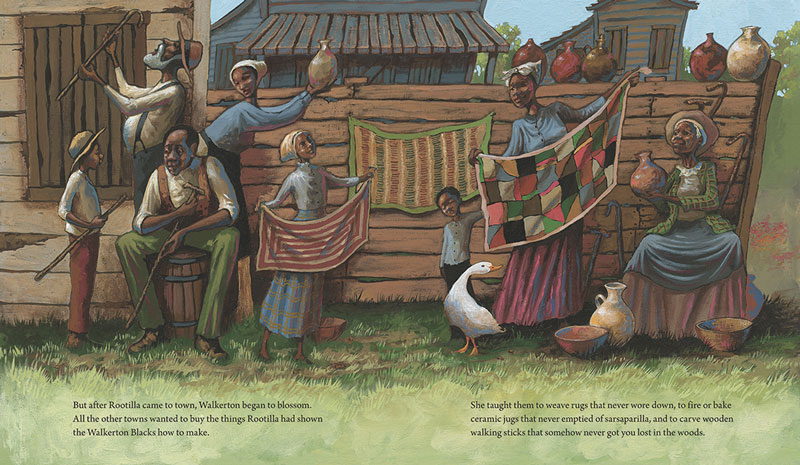 My Life at the Bottom: The Story of a Lonesome Axolotl. (Bondestam) tr. from Swedish by A.A. Prime © illus by Linda Bondestam
Picture Books
Bondestam, Linda. My Life at the Bottom: The Story of a Lonesome Axolotl. tr. from Swedish by A.A. Prime. Restless/Yonder. p. 59.
Gianferrari, Maria. Being a Dog: A Tail of Mindfulness. illus. by Pete Oswald. HarperCollins. p. 61.
Harrison, Hannah E. Poopsie Gets Lost. Dial. p. 62.
Isadora, Rachel& Robie Rogge. After the Buzz Comes the Bee: Lift-the-Flap Animal Sounds. illus. by Rachel Isadora. Holiday House.
p. 59.
Kim, Jihyun. The Depth of the Lake and the Height of the Sky. Floris. p. 63.
McAnulty, Stacy. Our Planet! There's No Place Like Earth. illus. by David Litchfield. Holt. p. 64.
Moore, David Barclay. Carrimebac, the Town that Walked. illus. by John Holyfield. Candlewick. p. 64.
Schwartz, Howard. All You Need. illus. by Jasu Hu. Holiday House/Neal Porter. p. 64.
Snyder, Laurel. Endlessly Ever After: Pick Your Path to Countless Fairy Tale Endings! illus. by Dan Santat. Chronicle. p. 64.
Wu, Helen H. Tofu Takes Time. illus. by ­Julie Jarema. Beaming. p. 65.
Chapter Books
Walters, Eric. Bear in the Family. illus. by Olga Barinova.Orca. p. 69.
Middle Grade
Broaddus, Maurice. Unfadeable. HarperCollins/Katherine Tegen. p. 73.
Earle, Phil. When the Sky Falls. Bloomsbury. p. 74.
Kagawa, Julie. Shinji Takahashi and the Mark of the Coatl. Disney-Hyperion. p. 74.
Levithan, David. Answers in the Pages. Knopf. p. 76.
Lockington, Mariama J. In the Key of Us. Farrar. p. 76.
Lukoff, Kyle. Different Kinds of Fruit. Dial. p. 76.
Melleby, Nicole. The Science of Being Angry. Algonquin. p. 77.
Soontornvat, Christina. The Last Mapmaker. Candlewick. p. 78.
YA
Albert, Melissa. Our Crooked Hearts. Flatiron. p. 80.
Forna, Namina. The Merciless Ones. Delacorte. p. 82.
Lee, Kristen R. Required Reading for the Disenfranchised Freshman. Crown. p. 82.
McWilliams, Kelly. Mirror Girls. Little, Brown. p. 80.
Pan, Emily X.R. An Arrow to the Moon. Little, Brown. p. 86.
Roasek, Rachel. Love Somebody. Farrar. p. 80.
Graphic Novels
Abdo, Dan & Jason Patterson. Barb and the Ghost Blade. S. & S. p. 70.
Barnett, Mac. The First Cat in Space Ate Pizza. illus. by Shawn Harris. HarperCollins/Katherine Tegen. p. 78.
Bongiovanni, Archie. The Stonewall Riots: Making a Stand for LGBTQ Rights. illus. by A. Andrews. First Second. p. 94.
Deas, Mike & Nancy Deas. Hermit Hill. Orca. p. 70.
Fajardo, Kat. Miss Quinces. Scholastic/Graphix. p. 79.
Gómez. Tekis. NubeOcho. p. 67.
Henry, Will. Are We Lost Yet?: Another Wallace the Brave Collection. Andrews McMeel. p. 70.
Knetzger, Laura. Bug Boys: Adventures and Daydreams. Random. p. 72.
Knisley, Lucy. Apple Crush. Random. p. 72.
Koch, Falynn. The National Parks: Preserving America's Wild Places. First Second. p. 95.
Trondheim, Lewis. Ralph Azham #1: Black Are The Stars. Papercutz/Super Genius. p. 87.
Nonfiction
Dyson, Michael Eric & Marc Favreau. Unequal: A Story of America. Little, Brown. p. 92.
Fleming, Candace. Murder Among Friends: How Leopold and Loeb Tried to Commit the Perfect Crime. Random/Anne Schwartz. p. 92.
Higginbotham, Anastasia. You Ruined It. Dottir. p. 93.
Hopgood, Tim. My Big Book of Outdoors. Candlewick Studio. p. 89.
Matas, Carol. Who's Looking?: How Animals See the World. illus. by Cornelia Li. Orca. p. 91.
Pincus, Meeg. Make Way for Animals! ­illus. by Bao Luu. Millbrook. p. 91.
Turke, Rosemarie Lengsfeld & Garrett L. Turke. American Shoes: A Refugee's Story. Atria/Beyond Words. p. 94.
DVD
The Emoji Story. Bullfrog Films. p. 56.
Kindred Spirits: Artists Hilda Wilkinson Brown and Lilian Thomas Burwell. dist. by Cintia Cabib. p. 56.