October's stars include two titles by Rex Ogle, the latest from Kelly Yang, and several great audio selections.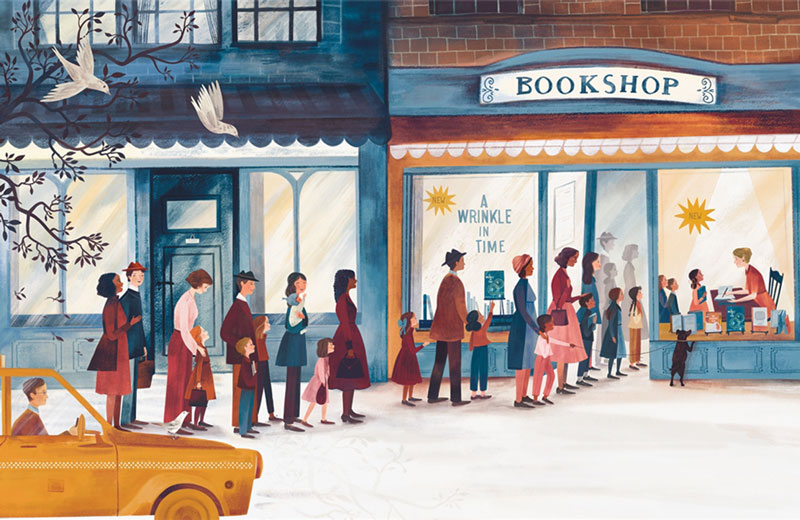 A Book, Too, Can Be a Star: The Story of Madeleine L'Engle and the Making of "A Wrinkle in Time." (Voiklis) ©2022 illus. by Adelina Lirius

Board Books
Alexander, Lori. You Are Getting Sleepy. illus. by Monica Mikai. Scholastic/Cartwheel.
Ishida, Sanae. Sumo Colors. Little Bigfoot..
Matsushita-Beal, Amy. 123 Who Comes Next? Star Bright.
Micklos, John Jr. One Leaf, Two Leaves, Count With Me! illus. by Clive McFarland. Penguin/Nancy Paulsen.
Mühle, Jörg. Let's Play, Little Rabbit. Gecko Pr.
Ordóñez, Miguel. Eat Together. Penguin Workshop/Rise X.
Picture Books
Bernstrom, Daniel. Song in the City. illus. by Jenin Mohammed. HarperCollins.
Bonilla, Rocio. In the Neighborhood. Charlesbridge.
Frost, Robert. Stopping by Woods on a Snowy Evening. illus. by P.J. Lynch. Candlewick.
Jeffers, Oliver. Meanwhile Back on Earth:Finding Our Place Through Time and Space. Philomel.
MacLachlan, Patricia. My Poet. illus. by Jen Hill. HarperCollins/Katherine Tegen.
Weatherford, Carole Boston. Standing in the Need of Prayer: A Modern Retelling of the Classic Spiritual. illus. by Frank Morrison. Crown.
Wood, Douglas. I Love You Little, I Love You Lots. illus. by G. Brian Karas. Scholastic.
Chapter Books
Lyons, Kelly Starling. Miles Lewis: Matchmaker. illus. by Wayne Spencer. Penguin Workshop.
Middle Grade
Bowman, Akemi Dawn. Where the Lost Ones Go. Farrar.
Faulkner, Matt. My Nest of Silence. S. & S./Atheneum.
Horne, Maggie. Hazel Hill Is Gonna Win This One. HarperCollins/Clarion.
Oppel, Kenneth. Ghostlight. Knopf.
Oshiro, Mark. You Only Live Once, David Bravo. HarperCollins.
YA
Giles, Lamar. The Getaway. Scholastic.
Ireland, Justina. Rust in the Root. HarperCollins/Balzer + Bray.
Min, Lio. Beating Heart Baby. Flatiron.
Thomas, Aiden. The Sunbearer Trials. Feiwel & Friends.
Graphic Novels
Galligan, Gale. Freestyle. Scholastic/Graphix.
Nonfiction
Chin, Jason. The Universe in You: A Microscopic Journey. Holiday House/Neal Porter.
Edelman, Claudia Romo & William Alexander. Hispanic Star: Celia Cruz. illus. by Alexandra Beguez. Roaring Brook.
Foster, Craig & Ross Frylinck. A Journey Under the Sea. Clarion.
Friddell, Claudia. Road Trip! Camping with the Four Vagabonds: Thomas Edison, Henry Ford, Harvey Firestone, and John Burroughs. illus. by Jeremy Holmes. Astra/Calkins Creek.
Hoose, Phillip. Duet: Our Journey in Song with the Northern Mockingbird. Farrar.
Latta, Sara. I Could Not Do Otherwise: The Remarkable Life of Dr. Mary Edwards Walker. Zest.
Poliquin, Rachel. The Museum of Odd Body Leftovers: A Tour of Your Useless Parts, Flaws, and Other Weird Bits. illus. by Clayton Hanmer. Greystone.
Smith, Emma Bland. Mr. McCloskey's Marvelous Mallards: The Making of "Make Way for Ducklings." illus. by Becca Stadtlander. Astra/Calkins Creek.
Staaf, Danna. The Lady and the Octopus: How Jeanne Villepreux-Power Invented Aquariums and Revolutionized Marine Biology. Carolrhoda.
Theule, Larissa. Concrete: From the Ground Up. illus. by Steve Light. Candlewick.
Voiklis, Charlotte Jones & Jennifer Adams. A Book, Too, Can Be a Star: The Story of Madeleine L'Engle and the Making of "A Wrinkle in Time." illus. by Adelina Lirius. Farrar.
Watson, Renée. Maya's Song. illus. by Bryan Collier. HarperCollins.
Poetry
Ogle, Rex. Abuela, Don't Forget Me. Norton.
Audio
Alsaid, Adi. Before Takeoff. Listening Library.
Ferguson, Jen. The Summer of Bitter and Sweet. HarperAudio.
Gauld, Tom. The Little Wooden Robot and the Log Princess. Recorded Bks.
Jackson, Tiffany D. The Weight of Blood. HarperAudio.
Ogle, Rex. The Supernatural Society. Harlequin Audio.
Tomlinson, Rachel. A Blue Kind of Day. Listening Library.
Yang, Kelly. New from Here. S. & S. Audio.
Young, Alora. Walking Gentry Home: A Memoir of My Foremothers in Verse. Books on Tape.