The kid lit world remembers award-winning illustrator Floyd Cooper.
Award-winning children's illustrator Floyd Cooper has died. He was 65.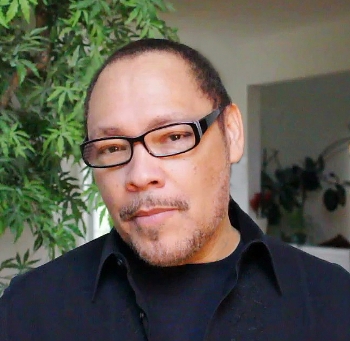 The Highlights Foundation confirmed the news in a tweet on Friday, "We were tremendously sad to learn this morning that our dear friend and faculty member Floyd Cooper has passed away. Thank you, Floyd, for your many gifts to us."
Cooper wrote children's books, including Jump! From the Life of Michael Jordan, The Ring Bearer, and Juneteenth for Mazie, but he made his biggest impact in children's publishing as an illustrator. He won the Coretta Scott King Illustrator Award in 2009 for The Blacker the Berry, written by Joyce Carol Thomas. He earned multiple Coretta Scott King Illustrator Award Honors. This spring two books he illustrated were released: A Day for Rememberin': Inspired by the True Events of the First Memorial Day by Leah Henderson and Unspeakable: The Tulsa Race Massacre, which was written by Carol Boston Weatherford and named a Boston Globe-Horn Book Award honor title.
"While drafting Unspeakable, I asked Floyd to illustrate," Weatherford said in a statement to SLJ. "Because he was a Tulsa native, I knew he would bring passion to the project. I did not know then that his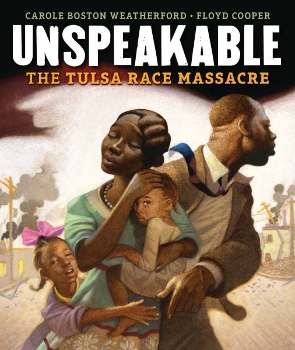 grandfather survived the massacre. As a student of his many fine works, I consider Unspeakable to be his masterpiece—the book he was born to create. Surely, Grandpa Williams greeted Floyd today and said, 'Well done.' I will miss my collaborator and friend. Floyd was one of the finest."
The entire children's publishing community seemed stunned and saddened in a year that has already seen the loss of Eric Carle, Beverly Cleary, Lois Ehlert, Patricia Reilly Giff, Norton Juster, and Kathleen Krull.
"We are shocked and devastated to hear of Floyd Cooper's passing," Adam Lerner, publisher and CEO of Lerner Publishing Group, said. "Floyd was an amazing talent, gone too soon. The emotions flowed off the pages with Floyd's artwork and we are honored to have had his talent on books such as Unspeakable, Ruth and the Green Book, Something to Prove, and A Spy Called James. We send our love and thoughts to Floyd's wife, Velma; his children Dayton and Kai; and Floyd's grandchildren. Floyd's amazing artwork will always hold a special place in our hearts."

[Read:  An Unspeakable Interview: Talking with Carole Boston Weatherford About the Tulsa Race Massacre | A Fuse #8 Production ]
Floyd illustrated Nikki Grimes's 1994 title Meet Danitra Brown.
"I will be weeping off and on all day, without apology," Grimes tweeted. "Floyd Cooper has passed away. His depth of talent was greater than he knew. I feel so blessed to have worked with him, and to have called him friend. It's impossible to calculate how much he will be missed. RIP, Floyd."
Other members of the children's book community took to Twitter, most recounting an act of kindness at a publishing event, the impact of his art, and the void left by his death.
"If you didn't have the great good fortune of knowing Floyd Cooper@floydcooper4, this email shows what he was like," author Linda Sue Park tweeted with the image of an email Cooper wrote to her in July 2020. "Hello Linda, Just a note to let you know how terrific it was to see your smile again!" he wrote. "I connected with everything you had to say on the panel discussion. Stay safe and sound in these perilous times.... Best, Floyd"
Park included the covers of two of her favorite books (The Blacker the Berry and A Day for Rememberin') and added, "Please join me in buying/gifting/sharing Floyd's books in celebration of his life. ... Peace to you, dear friend."