Rich and intuitively designed, clearly written, and abundantly illustrated, Rosen's Spotlight on Global Issues, a collection of ebooks on pressing social or scientific challenges, is a useful resource for young citizen activists.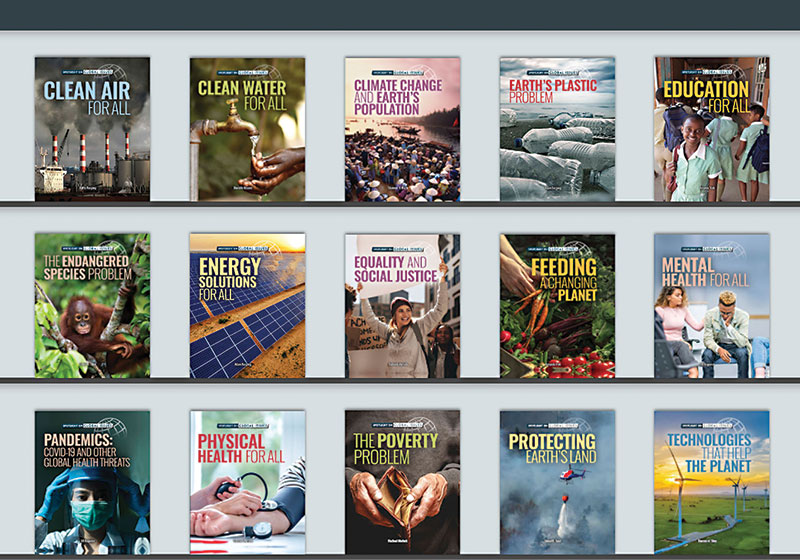 Spotlight on Global Issues (Rosen)
Grade Level Gr 6-10
Cost The 15 Interactive eBooks are $1,124.25 (school & library price). Individual Interactive eBook titles are $74.95 (school & library price) and can be purchased "à la carte."
Content Rosen's Spotlight on Global Issues presents ebooks on pressing social or scientific challenges, with supplementary material. A virtual bookshelf displays covers of the texts, currently numbering 15, includingEarth's Plastic Problem, Education for All, and Mental Health for All.
Clicking on a cover and then a start button opens the book. Two pages are displayed at a time. Layout is colorful and clear, and longer text blocks are broken up with illustrations or section headings. Photos and other visual components are plentiful.
Each book includes a time line. In Pandemics: COVID-19 and Other Global Health Threats, the time line displays red dots that represent world events (the world population reaching one billion in 1800) and blue dots for disease-related events (the eradication of smallpox in 1976).
Books also include either a map, an illustration, or an interactive quiz. Pandemics features an expandable map of China showing Wuhan, where the COVID-19 virus was first identified, and Beijing.
On the left side of each spread, an "Explore This Page" column offers vocabulary definitions, brief video clips, and more. An "Instructional Support" section includes printable lesson plans, graphic organizers, assessments, and activities.
Hovering the cursor over a partially hidden navigation bar at the bottom of each page brings up a menu with buttons for accessing the index, the table of contents, and a guide to primary sources highlighted in the text. Users also have the option to flip through the book via a pop-up window.
Users can switch between desktop and mobile versions of the site or allow the browser to use default settings. Book pages appear within the desktop version as images, which can be opened separately and downloaded but not copied and pasted from. Text is not searchable within books, only on other page elements. Photos cannot be resized.
Viewed on an iPhone 12 running Safari 14, the index bookshelf appears narrower, with only two books per shelf, but is otherwise the same as the desktop version. When a book is opened, however, the view is condensed, the book appearing as a single-column web page and divided into files by chapter. In this ­version, the text may be copied and pasted and images are embedded. A collapsed menu icon allows for navigation between chapters. The additional material, such as read-aloud, vocabulary definitions, and primary source material, may be accessed through buttons at the top of the page. All of the content, including citations and a credits page, appears to be available in the mobile version, differing only in structure.
The mobile site could not be viewed in Firefox version 31 for iOS, but functioned fully in Chrome 87.
Viewing a book in mobile mode on a ­laptop or desktop allows for copying and pasting text or downloading of individual images.
Student and teacher resources "Instant log in" is available for a number of learning management systems including Schoology, Canvas, Blackboard Learn, and Classroom.
Citation information is available for MLA or APA. A button opens a pop-up window with a copyright statement and photo and video credits.
Additional controls guide navigation and layout, including next page and previous page, exit full screen, and view book only. These tools are useful with full-screen mode for projecting book pages to a class or group, either in-person or virtually. A locator displays the numbers of pages in view and the total page count.
A "listen" button on each page opens up a scroll bar with play and stop icons.
Back matter for each book includes a glossary and a hot-linked index. Though images are given standard credits, it's ­disappointing that there are no source references, bibliography, or suggestions for further study. An author is listed for each title, but no ­biographical information is included.
There is a lengthy instructional primer by professional development consultant Mary Boyd Ratzer, a former teacher and librarian, available as a PDF.
Verdict The price may appear high for individual titles but is competitive for a one-time subscription ebook with unlimited simultaneous sign-ins, particularly considering the extensive supplementary material. There are some shortcomings in documentation and source citation. On balance, however, the series is rich and intuitively designed, clearly written, and abundantly illustrated, thus proving a useful resource for young citizen activists. Recommended for middle and high school libraries.
---
Bob Hassett, Luther Jackson M.S., Falls Church, VA