Young sports fans will have a field day exploring 100-plus biographies of popular athletes compiled here.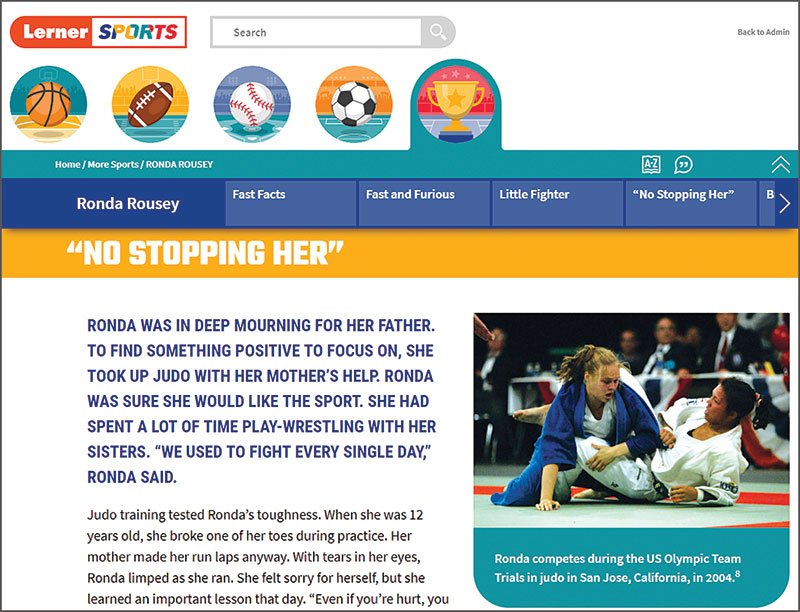 Grade Level Gr 2-6
Cost A yearly subscription costs $199, with a price of $149 for schools and libraries.
Overview Young sports fans will have a field day exploring 100-plus biographies of popular athletes. Football, basketball, baseball, and soccer dominate, with gymnastics, swimming, tennis, boxing, golf, alpine skiing, NASCAR, track and field, hockey, and other sports represented by at least one entry. American Pharoah (horse racing) receives a nod as the only four-footed entry. Beginning readers can stick with the photos, fast facts, highlights, and stats, while older readers can take in more comprehensive content.
Content Lerner Sports' leveled text is designed for readability and comprehension at a stated reading level of grade three, and the interest level will appeal to students through about grade six. The biographies include primarily American athletes with accomplishments in the last five to 10 years, with new content added regularly. Biographies skew male, but the basketball section includes Women's National Basketball Association players, and women are well represented in gymnastics, soccer, and tennis.
Each biography opens with a large, action-oriented photo followed by fast facts including birth date, position, and league. Personal and professional highlights and career history follow. The biography continues with five chapters of meaningful content, with age-appropriate coverage of early years, career highs, and, occasionally, career stumbles or personal challenges. For example, Michael Vick's biography states, "In 2007, Michael got into trouble with the law. Police discovered that he had been running an illegal dogfighting ring.... Often two dogs fight until one of them is dead. People bet on the fights."
Mixed martial arts (MMA) fighter Ronda Rousey's biography states that "her father took his own life" and notes the effect of his death on her childhood and her choice to take up judo, enter Olympic competition, and train to fight in MMA.
Educators may choose to assign research projects using the database; both teachers and students will appreciate the citation button and the links to sources. This resource, however, is more likely to be used by sports-minded students exploring on their own. Lerner sets a good example by including photo credits at the end of each article.
Ease of Use/Visual Appeal Students access the resource with a dedicated, authenticated URL, without a password. The responsive display is attractive across platforms, from desktops to tablets. The opening screen spotlights a featured athlete and displays icons for basketball, football, baseball, soccer, and "more sports." Clicking on an icon brings up a grid with the photos and names of various athletes.
A search box at the top of each screen lets users type in the names of athletes, and a carousel of athletes from all sports categories is located at the bottom of the page. Detailed articles with frequent photographs focus primarily on sports achievements, although Tom Brady's marriage to model Gisele Bündchen is noted and accompanied by a photo, and personal details related to sports struggles and triumphs are often included.
Navigation is intuitive. If a student ventures outside the database parameters, the usual "Page 404 not found" page amusingly shows as "Swing and a miss!" and directs the student back to the homepage. Hovering over boldfaced words offers a definition, which can also be accessed via the glossary icon. Though Lerner Sports doesn't provide a read-aloud function, the database is compatible with text-to-speech and enhanced text visibility programs available via browser or plug-in.
No student information is collected, and none of the articles link to the Internet.
Educator Resources In the admin section, educators can search by date range to see which biographies were accessed and get a count of logins and dates the database was used. The database does not track student-specific usage. The FAQ page for admins provides a link to a list of included biographies, along with information on submitting suggestions for future bios.
Verdict Younger elementary students will enjoy the ample photos and bullet-pointed information about sports heroes, while older elementary and early middle school students will gain honest insight into the lives of sports figures in the news. Educators will appreciate the self-contained nature of the database, which allows exploration without embedded links to the Internet at large. This is a great choice for sports-minded students, whether for a school assignment or for fun.
---
Maggie Knapp, Trinity Valley School, Fort Worth, TX