An interative, dystopian-themed program lets middle schoolers have fun while developing their knowledge of rhetoric, style, language, and more.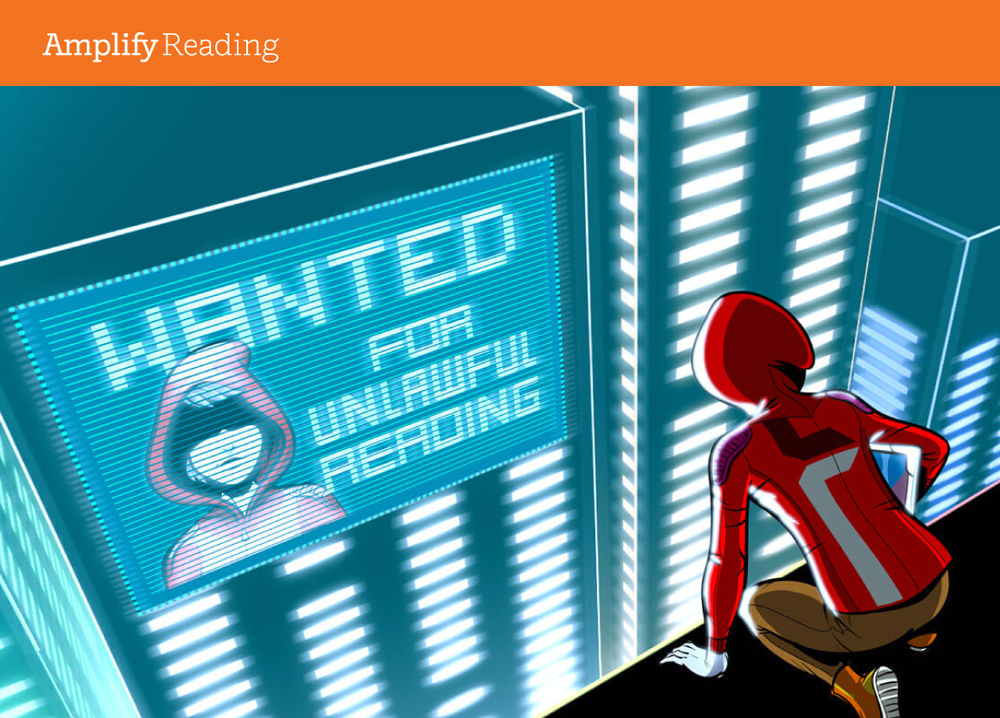 Grade Level 6-8
Overview More of a supplemental literacy program than a database, Amplify Reading: 6–8 Edition invites students to join a team of readers in a futuristic, dystopian society where access to books and information is restricted by the Machines. As a result, a resistance group dubbed "The Last Readers" has sprung up, with students in the role of new recruits. As trainees, students read and respond to a variety of informative and literary texts, while practicing writing skills and close reading strategies.
Content The program is divided into three books, consisting of short chapters, or lessons. The chapters alternate between informational and literary texts, allowing students to conduct both close analysis of arguments and literary analysis. Texts are diverse with respect to genre, format, and authorship, and users are also exposed to other types of media such as film clips, speeches, and political cartoons. Each chapter or lesson follows a pattern, beginning with interactive instruction, guided close reading, and creative application of learned knowledge. Students demonstrate learning in a variety of ways, such as answering true/false and text-dependent questions, highlighting words in texts, and formulating written responses to open-ended prompts.
The web-based program is designed to be used independently by students and addresses topics including setting and mood, pathos, word choice and tone, logos, figurative language, style, and rhetoric. While certainly no replacement for teacher-facilitated learning, the resource covers a wide range of relevant curricular concepts and offers a solid variety of interactive activities.
Ease of Use/Visual Appeal Students log in and join a class with a class code provided by their teacher, similar to web applications like Kahoot! Students need only their names, the class code, and a username to create an account and join the class; no contact or other personal information is collected. The program is framed as an interactive graphic novel adventure, and students begin by customizing an avatar. Performance on each lesson module unlocks additional customization options, which may be motivating for some users. Lesson modules are highly visual and include animated graphics and comic panels, interactive activities, recorded audio of selected texts, and voiceover narration. Animated graphic novel sequences open and close each chapter to move the overall story arc forward. Users can also adjust sounds and change the background ­music. Overall, the interface is appealing and easy to navigate.
Resources For students, the program offers a built-in dictionary. Potentially challenging vocabulary is underlined, and hovering with the mouse provides a quick synonym or definition. When students answer a question or practice activity incorrectly, feedback guides them to the correct answer; in addition, affirmative responses to correct answers often include additional explanatory information.
A detailed reporting feature allows ­educators to view student responses and to score student writing. Teachers can also ­filter scores and responses and view each student's overall progress. In addition, educators can compare student percentages, both as individual users as well as by class, and compare average performance between classes and see how students stack up next to a national average. Student performance data may be exported to a spreadsheet.
Initially, all ­students are assigned to a "core level" of instruction, but teachers may change this level to "extra support," which covers the same material but offers modified questions, additional guided practice, greater opportunity for review, and, sometimes, alternate text selections. This level of support is intended for "students who are reading below middle school level or with limited English proficiency." An advanced level is in development. Teachers can also "unlock" chapters later in the program and allow students to work through the lessons out of sequential order, though this may interfere with the narrative arc of the program.
A teacher guide provides an overview of the program, with summaries of lesson modules, information on how they fit into the larger narrative arc, and a detailed examination of each lesson, including learning objectives, alignments to Common Core literacy standards, key concepts, selected texts, and the student-created product. Within the guide, teachers can view the animated video segments that introduce and conclude each chapter, as well as a few screen caps. The guide offers suggestions for facilitating collaboration students during the review chapters.
Cost Pricing depends on several factors including number of students enrolled. It begins at $3,250.
Verdict This is a fresh and inviting approach to close-reading instruction that may engage learners where a supplemental instructional program is needed.
---
Lauren Strohecker, McKinley Elementary School, Elkins Park, PA