Aimed at teachers who work with students from fifth through 12th grades, this platform draws from other In Context databases to offer educators valuable material such as articles, videos, book excerpts, pictures, and more.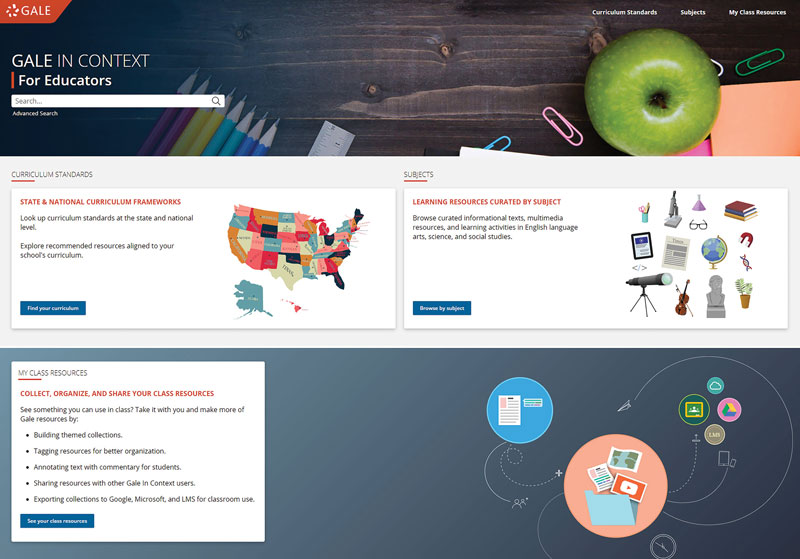 Gale In Context: For Educators

Cost This resource is subscription based; cost is based on full-time enrollment. Pricing varies depending on the number of In Context products currently available through the state or district. Institutions wishing to purchase multiple In Context products with In Context: For Educators will receive special pricing. A free trial of the product can be requested at bit.ly/ContactGale.

Overview Gale's In Context databases are aimed at teachers who work with students from fifth through 12th grades. This platform draws from other In Context databases geared to students; these subject-specific collections of nonfiction materials include articles, videos, book excerpts, pictures, and more. Users can search by keyword, subject, or curriculum standards, maximizing their ability to find and work with Gale's robust collections of resources, which can then be stored in folders, marked up and sent to students, and shared with colleagues. Educators can access In Context databases that their schools subscribe to, along with lesson plans and activities that are not available on the individual databases.

Content This platform draws from the content of the underlying subscription databases, with some custom content, primarily lesson plans. Other enhancements include searchable paths for curriculum standards and courses with curated resources, folders, tagging, and the ability to work in tandem with colleagues to make the underlying content more accessible and useful for students.
In addition to searching, users can click on "curriculum standards" or "subjects." Under curriculum standards, they'll find all state standards, as well as national authorities such as Next Generation Science Standards and C3 Framework for the Social Studies. Choosing the Oklahoma curriculum standards, for example, allows an educator to drill down to academic standards, then personal financial literacy in grades seven through 12. The returned resources include articles on income tax, a photo of President Obama signing a payroll tax cut extension, news clips on the benefits of filing taxes early, statistics, and links to third-party websites that open in new windows.
Under subjects, users will find curated content organized by subject area, including British literature, chemistry, social studies for middle school, and world history. Further choices are offered under each broad heading. Social studies for middle school includes ancient civilizations, world religions, and "our colonial heritage." Clicking on the narrower topics completes the search, returning results separated into content type (articles, biographies, videos) that can be filtered further (Lexile level, publication date, search within) as needed.
The lesson plans and activities include debating whether the Electoral College should be abolished, conducting a mock interview with Copernicus, and creating a poster on an order of reptilia. Gale lists time needed, supplies, suggestions for modifying the activities, and standards met.
The ability to annotate, clip, highlight, and add introductory notes means articles can be customized to class needs before sharing with students. The ability to toggle to student view is a bonus.
A strength of this platform is a link called "my class resources," which lets educators create thematic units for a class, share content within a department or district, assign material to students, and save anything they like. Within a saved folder, listed items can be rearranged and identified with preset or custom tags.

Ease of Use/Visual Appeal The homepage is uncluttered and attractive, with a prominent search box and advanced search options that echo In Context homepages.
Keyword searching is intuitive, with advanced search options (document title, author) available. A stable top menu bar, which contains links to "curriculum standards," "subjects," "my class resources," and the search bar, results in easy navigation among areas. There's a bit of a learning curve when it comes to accessing this resource; users who give themselves some time to familiarize themselves with In Context: For Educators will get the most out of it. A help menu offers basic guidance. Font size can be quickly changed, and articles can be machine-read in 40 ­languages. Citations are easy to find and export.

Verdict This platform leverages the vast amount of material in Gale's In Context resources. With the ability to export and embed items and collections in a learning management system, in Google, and in Microsoft, educators can supplement a textbook or create units that meet classroom needs. For schools already subscribed to In Context databases, In Context: For Educators is sure to boost usage and allow teachers to deliver targeted search results.
---
Maggie Knapp, Trinity Valley School, Fort Worth, TX