Exploring everything from allergies to COVID-19, Capstone's database devoted to health is accessible, kid-friendly, and, above all, informative.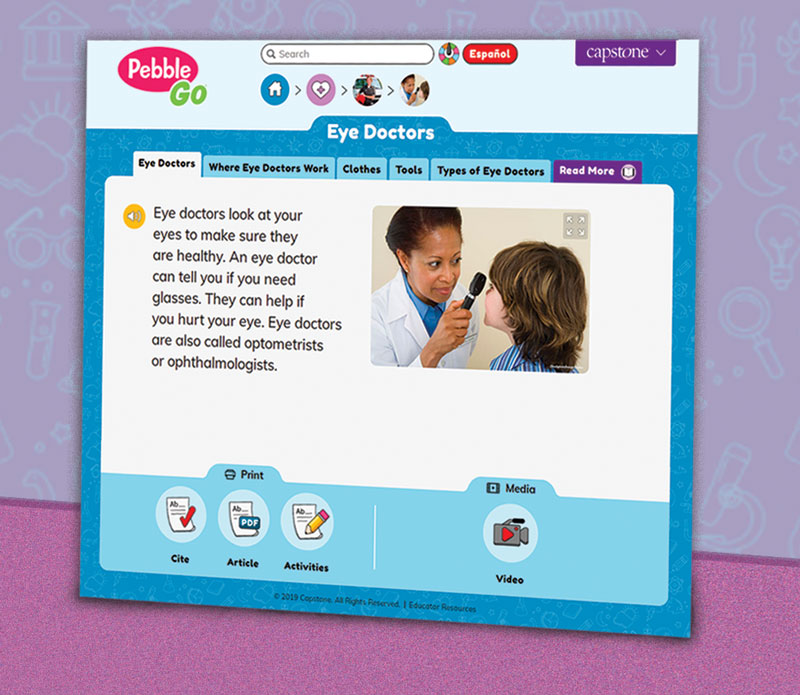 URL pebblego.com
Grade Level K-Gr 3
Cost PebbleGo (all five modules) pricing starts at $1,299 per school, with multisite discounts available. For more information, please contact your Capstone sales representative or customer service at support@capstonepub.com.
Overview A bright red apple encircled by a blue stethoscope welcomes young users to this kid-friendly health database, accessible in English and Spanish. Content is necessarily simplified for the audience and speaks to both basic and more complex facets of children's lives. The writing is straightforward and supportive, especially when it comes to explaining challenging topics (getting a shot, COVID-19, abuse) at an early elementary level. Subscriber schools can provide students with a link directly to the home screen, eliminating the need for individual passwords. A new tool launching in September, Capstone Connect, will allow educators to send students links to specific articles without them having to log in; schools will need to expand subscriptions to include Capstone Connect.
Content Twelve modules ("safety," "the human body," "health care workers," "illnesses and conditions," etc.) on the homepage lead directly to articles or to subtopics that then narrow to articles.
The modules "feelings and emotions," "self-awareness," and "relationships and friendships" offer support for social emotional learning (SEL) curricula. Entries under "feelings and emotions" use photos and text to clarify how we express various emotions: "When someone feels angry, they may frown and scrunch up their eyebrows."
Content is well chosen for the early elementary level, with some topics occasionally trending older in an age-appropriate way (the endocrine system, an activity that asks how edited photos might affect body image).
Articles consist of five slides that each deliver information in a few short sentences. Selecting words in red provides a definition. A "read more" tab links to two related database articles. A reinforcing video (a person sneezes after sniffing a flower to demonstrate allergies) supports each entry. Some videos have captions; few include sound.
Individual articles have "cite" and "print" buttons. Students can print a citation, a slide, the entire article, and PDFs of activities that allow for responses at varying levels, from drawing to responding to short questions to completing short projects (filling out a chart of different types of foods, creating a cold pack that can treat headaches). These activities could be done in class or assigned as homework and generally require minimal supplies: usually pencil and paper, occasionally markers, and rarely more elaborate materials (dish soap, glitter). Most activities can be done solo and then turned in and shared face to face or electronically.
Student Ease of Use/Visual Appeal The eye-catching red apple beckons users at the portal entry, landing on a page with a palette of blues and plenty of white space for the 12 initial modules. Photos of smiling children and helpful adults encourage interaction. Images are well chosen, depicting with sensitivity even potentially disturbing topics such as verbal abuse or feelings of anger. They portray people of a variety of skin tones and show men and women equally in positions of authority.
Students can enter a term in the easy-to-spot search box, select one of the 12 modules, or spin a wheel for a random article. Article titles and subtitles are always read aloud. Students can choose the read-along option for any text to have each word highlighted and read. Narrators speak clearly and naturally in English and Spanish.
At the bottom of the homepage, users will discover links to games and a "question of the day" ("What healthy habit can you focus on today?" leads to articles on "exercise," "being organized," "sleep habits," and "posture.").
Educator Ease of Use/Resources Educators will find the database easy to navigate. The search feature is likely robust enough for students, but educators might be surprised that searching for "urine" yields no results, although the article on the bladder includes information about urine. Under "educator resources," teachers and librarians will find lesson plans, video tutorials, standards correlations, and a printable list of all included articles. The administrator login lets educators access statistics: total number of article views, most popular articles, and number of views by month or by year. Administrators can disable individual articles or full sections and manage subscriptions to other Capstone products.
Verdict Equally useful from school or home, this well-thought-out and effectively executed database offers access to a variety of health topics at an early elementary level, from body systems to SEL to health care helpers a child may encounter. Curious students can complete class assignments or explore on their own. The ability to integrate with other Capstone products makes this resource especially valuable for classrooms where PebbleGo is already in place.
---
Maggie Knapp, Trinity Valley Sch., Fort Worth, TX