One of several ebook subscription packages available within Weigl Publishers' AV2 imprint, World Languages provides digital access to more than 100 nonfiction early reader texts, each offered in 12 languages.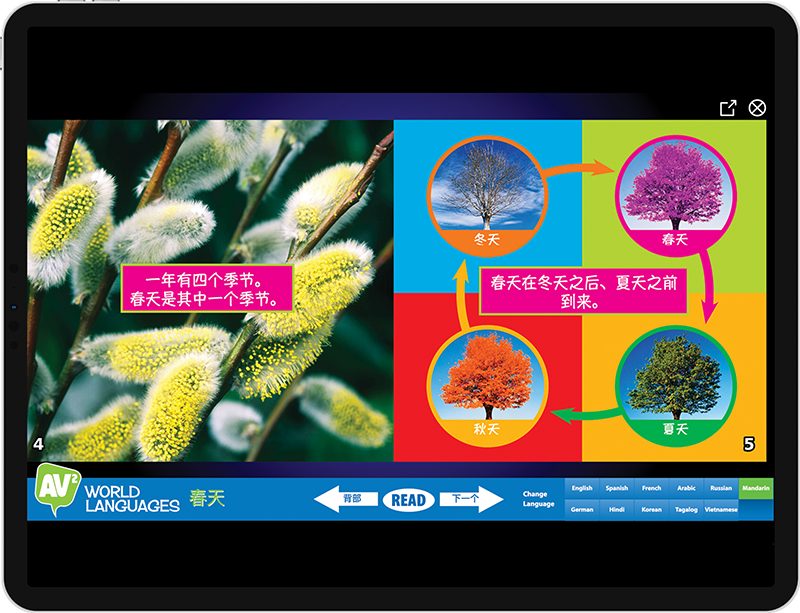 Weigls's World Lanuages
URL av2languages.com
Grade Level K-Gr 2
Cost A digital subscription includes access to 1,320 audio ebook titles (110 titles in 12 languages) for $399 per year or $999 for three years. Individual hardcover titles are also available, which includes access to ­audio ­ebooks in multiple languages through a code on the second page.
Hardcover titles retail for $24.99 school library price. A 13th language, Portuguese, will be added in September 2021.
Content One of several ebook subscription packages available within Weigl Publishers' AV2 imprint, World Languages provides digital access to more than 100 nonfiction early reader texts, each offered in 12 languages.
The home screen is divided between a book preview pane above and a menu at the bottom of the page. The book preview defaults to the first title listed in the menu and includes a large photo from the book, a brief summary, the name of the series, and information on the reading and interest levels. The preview changes as users browse the resource, and displays the last title that readers have hovered over.
Digital books open with a click and pages are advanced by the reader. A read-aloud in the target language is available by clicking on individual pages. The audio may be paused and restarted, but there are no other controls. The read-aloud function must be started manually for each page.
Aimed at beginning readers, the text is very simple and clearly displayed in bordered boxes. A typical page in the Humpback Whale depicts two whales swimming together, a single image that spans both leaves, and the text "I am as big as a school bus."
Books are divided into series such as "Animals," "Continents," "My Community," "Musical Instruments," and "Dinosaurs."
Each page is dominated by a vivid, colorful image. Where necessary, titles include illustrations rather than photos. In Planets, for example, images appear to be created from photos, but show the planets grouped together for heuristic purposes or with orbit lines indicated.
Images tend to be illustrative but often nonspecific to particular people or places; they reflect racial and gender diversity. However, at least one title, Drums, includes a problematic image: General Robert E. Lee addressing troops during the Civil War in front of a Confederate battle flag. ­Acknowledgment statements credit Getty Images, ­Wikimedia Commons, Shutterstock, and other image repositories.
Clicking a magnifying glass icon at the top of the homepage opens up a search function. There are no filters or advanced search features, and basic search is somewhat limited—a search for "whales" returned no results, although the collection includes Humpback Whale.
The platform is marketed as working with "all tablets and Smart Boards." As viewed on an iPad Air 2, running a legacy OS version and Chrome browser, the site functioned as well as or better than on a laptop.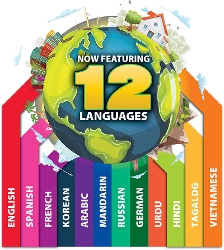 Student and teacher resources Each title is available in English, Spanish, French, Arabic, Russian, Mandarin, German, Hindi, Korean, Tagalog, Vietnamese, and Urdu. A "language toggle bar" at the bottom of the screen allows users to switch quickly between translations without leaving the page.
When a new language is chosen, the "back" and "next" buttons for navigating through the book are presented in that language, though the "read" button inexplicably remains in English.
Many books include a table of contents, but it is not navigable, and though the books are short, generally 24 pages, there is no way to directly open to a specific page or chapter.
None of the texts viewed included source notes or citations. Some books list an author, but most do not. There are no indexes or glossaries.
Back matter, which appears to be aimed at educators, includes two pages of subject-related facts arranged as notes correlated to particular pages of the book. A "key words" page includes page numbers for the first appearance of sight words and content words, but is not available for languages other than English.
Some of the titles end with a simple comprehension quiz: an array of photos ­asking readers to identify which images do not ­include the subject of the book. There is no functionality for coordinating with learning management systems such as Canvas or Classroom, or with other tools such as quiz generators. However, the books do open with stable URLs that could be posted for students to view.
Verdict Though World Languages lacks many commonly available database control functions and the ability to be integrated with other online learning platforms, the wide range of languages, the ability to easily switch languages mid-text, and available read-aloud in all languages are helpful. This could be a useful resource for reading instruction or content area literacy in early elementary classrooms with linguistic diversity, as well as for vocabulary assistance for older language learners.
Bob Hassett, Luther Jackson M.S., Falls Church, VA