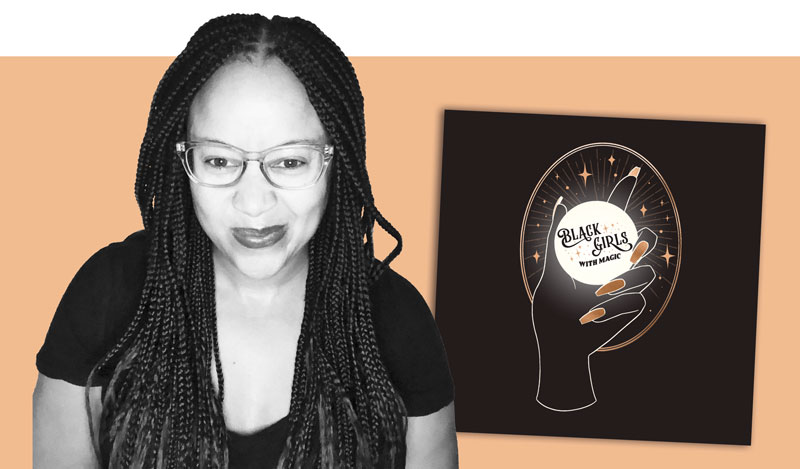 Dhonielle Clayton
Courtesy of Dhonielle Clayton

Dhonielle Clayton started her book club, Black Girls with Magic and Books, last year for two reasons: She thought reading with others would be a way to help counter the stress of living through the pandemic, and she wanted to see the books she enjoyed reading most get more shine.
"I felt like books that were fantasy or speculative were overlooked by other book clubs, and I just really felt upset about it," says Clayton, the chief operating officer of We Need Diverse Books and the author of the New York Times bestseller The Belles. "I wanted a space where we could talk about the intersections of Blackness and magic and genre, and I was frustrated that I couldn't find the space for that. So I started the book club."
Today, Clayton's club has nearly 2,900 followers on Instagram. Many of its members are writers or aspiring writers.
"It's really exciting to be in a book club with a lot of readers who are also writers or who want to be writers because they look at the book very differently, with a twofold approach, which I love," says Clayton. "I've learned something for my own craft toolbox with every single book that we've done."
Each month the club asks members to read a speculative, science fiction, or fantasy novel written by a Black woman or nonbinary person. Most of the selections are middle grade or YA. Once a month, the members come together on Instagram Live for a book discussion with the author.
During the pandemic, many book clubs shifted to meeting online. Those willing to make the jump to virtual found community during a time of isolation. These groups have provided vibrant company for readers, authors, bloggers, and others.
Latesha Dejean is a book blogger based in New York. She says during the early days of the pandemic she struggled to read, but as it wore on she found herself reading more than usual.
"Last year, I read somewhere like 120-some-odd books," says Dejean. "It was 40 more books than I had [read] the previous year."
She started a book club of her own last year, the Magical Black Kids Book Club, and has been participating in Clayton's club from the start. The titles chosen for Black Girls with Magic and Books appeal to Dejean, who enjoys reading fantasy novels for young people.
"I'm a lot more drawn to the middle grade and YA genre because, for me, reading is a healing sort of practice, because these are books that I didn't get to see growing up," says Dejean. "I'm not just reading for my adult self. I'm also reading for my younger self and giving my younger self the stories that I would have loved to have read at that age."
Dejean, who is 35, says she enjoyed reading books like the "Harry Potter" series as a child, but she also longed to read stories that featured characters who looked like her. So now she is making up for that.
"I'm a big proponent of representation in publishing," says Dejean. "I only read books by authors of color and especially love to read books by Black authors."


Members of the Brown Bookshelf
Courtesy of Kelly Starling Lyons

Connection amid loss
Last year was a difficult one for many authors. Book tours were either canceled or forced to go virtual. Promotional campaigns got lost amid one of the biggest news stories of the century. Job losses and economic uncertainty kept some people from buying as many books as usual.
Against this backdrop, Clayton says, she was glad to do something to help writers promote their work.
"It means a lot to me that we get to highlight and give love to these creators and their books and their worlds," says Clayton. "My greatest dream is that [for] more than one of these books we create fandom out of it, because there are so few fandoms that are created by Black women and nonbinary folk. They have the material. [Their] worlds are rich and interesting and exciting. Yet because of racism and all of those things, it doesn't tend to develop. So I want to do my part, in making sure that if I can just keep shouting out and reading these books, somebody will love them."
The creators of the Brown Bookshelf, an online resource designed to showcase the work of Black children's book authors and illustrators, started a book club last summer for similar reasons.
"We knew with the pandemic people were home feeling disconnected and isolated, and part of the beauty of reading is it brings all of us together," says Kelly Starling Lyons, one of the cofounders of the Brown Bookshelf and the author of several children's books, including the "Jada Jones" series.
The group announces picks for the Generations Book Club on its website and Facebook page, which is followed by more than 33,000 people.
Each month the club promotes four books with a central theme, "which is a way to recommend titles for the whole family, from the youngest readers all the way through adults," says Lyons.
In April, the theme was belonging. The books for children included Big Poppa and the Time Machine, a picture book by Daniel Bernstrom, and The Laura Line, a middle grade novel by Crystal Allen, a member of the Brown Bookshelf. The pick for teens and adults was Kindred by Octavia Butler, and strictly for adults, Parent Like It Matters: How to Raise Joyful Change-Making Girls by Janice Johnson Dias.
A community of change
Prior to creating the book club, the Brown Bookshelf had never recommended titles for adults.
"We hope this is a way to get our books into children's and parents' hands," says Lyons. "It's something that we're hoping that the whole family will do together. When kids see their parents reading, it's just something natural and something celebratory."
When the books are posted, the group also shares reviews, interviews with the authors, and sometimes links to videos of readings or book launch events, all in an effort to help writers connect with readers.
"They are so grateful," says Lyons. "It's really difficult when there's not a pandemic, and when we have this additional obstacle where you have people that are home and really struggling financially, [it] makes it all the more difficult."
Last year was also difficult for many people because of the heightened awareness of the deaths of several Black men and women at the hands of the police. The murder of George Floyd in May 2020 sparked massive protests throughout the country and beyond that caused many industries, including publishing, to vow to do a better job promoting racial equity and dismantling systemic racism.
In June, the Brown Bookshelf hosted the #KidLit Rally for Black Lives at the invitation of author Kwame Alexander, who was one of the organizers of the event along with fellow writers Jacqueline Woodson and Jason Reynolds.
"We've been around for over 12 years, but it increased our profile," says Paula Chase, one of the group's cofounders and the author of several middle grade and young adult novels, including the "Del Rio Bay" series. "We realized that it was important that we use that increased exposure to really talk directly to publishing about the things that need to change in order to properly amplify Black creatives."
In August, the group issued a call to action to the industry. "The call to action was talking to the entire publishing industry, not just publishers, but booksellers and influencers," says Chase. She adds that the group wanted to address the systemic issues that prevented Black artists from receiving the same level of marketing and promotion as white artists.
That resulted in an initiative called Amplify Black Voices in partnership with the Highlights Foundation, which began in April. The program features two tracks: one for storytellers and another for those working in publishing. It's set to run for six months.
"It's something that we're hoping will really move the needle when it comes to making sure that our stories are amplified at the same level as other storytellers," says Chase.
Writers were invited to apply for the program, which will provide opportunities for networking, mentorship, and learning more about marketing. Participants on the publishing side will include marketing and design staff from publishing houses along with editors and executives. They will learn about the history of Black creatives in publishing, how to build relationships with Black writers, illustrators, and influencers as well as Black booksellers and distributors, and what practices help to ensure the industry has a diverse workforce.
"Essentially what we want, and what we're gaining by bringing these publishers to the table, is we want them to be [present and] talking openly about the challenges and outlining not only what can be done differently, but how it can be done differently," says Chase. "It has to change with them."
Clayton would like to see her efforts change the industry as well, although she began her club with a more modest goal.
"I wanted a place to be a Black nerd and to celebrate Black women," says Clayton. "That's the heart of what I'm trying to do."
---
Marva Hinton is a freelance journalist and a contributing editor at Edutopia. She also hosts the ReadMore podcast.