The author of Honey, I Love died last week, leaving a lasting impact on generations of readers and Black authors.
In the days since Eloise Greenfield died, the remembrances and stories of her impact on individuals and children's publishing have been pouring in for the poet and author, who passed August 5 at age 92.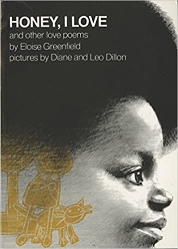 Greenfield, whose first book, Bubbles, was published in 1972, wrote more than 40 books for children, including poetry, biography, picture books, and chapter books. Her most famous work was Honey, I Love, which was published in 1978.
She received the 2018 Coretta Scott King-Virginia Hamilton Lifetime Achievement Award, along with the 1997 NCTE Award for Excellence in Poetry for Children, given for a body of work to a living American poet. In 2016, Greenfield received the Teaching for Change Education for Liberation Award.
"Not only did she revolutionize children's literature, she also (in big and small ways) supported generations of African American children's books authors who followed her," a post on Teaching for Change's website said about Greenfield.
It went on to quote Greenfield from that ceremony for the 2016 honor: "Our work is far from over," Greenfield said. "All of us—authors, illustrators, educators, and many others—will continue our commitment to this work so that children can see themselves in books, see their beauty and intelligence, see the strengths they have inherited from a long line of predecessors, see their ability to overcome difficulties, challenges, pain, and find deep joy and laughter in books, in characters they recognize as themselves."
The Ezra Jack Keats Foundation tweeted, "Eloise Greenfield brought joy and enlightenment into the world with the many wonderful books she wrote for children. At the same time she broadened the path toward a more diverse American literature for children. We will miss her but her books will stand the test of time."
Deborah Taylor was chair of the 2018 Coretta Scott King-Virginia Hamilton Award committee that chose Greenfield for her lifetime of work.
In a Facebook post, Taylor wrote, "That time of talking to her and conferring the award was so amazing. One of my most endearing memories is watching Jason Reynolds kneel down next to her chair and tell her what she meant to him. She demonstrated the best in literature and the best in humanity. Literature for young people is better because of her work."
As part of the 50th anniversary celebration of the Coretta Scott King Awards in 2019, a Maryland library hosted a discussion with Reynolds and Greenfield about the impact of the awards. The entire conversation can be watched below.
Reynolds was just one of many Black creators influenced by Greenfield's work.
"Love Love Love her lyrics," Carole Boston Weatherford wrote on Twitter. "I learned so much from Eloise Greenfield. Rest in poetry, beautiful Black bard."