Photographs and poems can help students explore perspective and specific moments in time.
Presenting engaging photographs to students to inspire—if not a thousand words, then certainly a haiku's worth—is one of my favorite activities.
A novel or short story allows a reader to spend a day, week, or even years with the characters. Poems often represent a smaller snippet of time in which the speaker makes observations about the natural world, the human condition, or an emotional experience. Having this conversation with students is significant when discussing poetry because it serves to remind our young people that poetry is just another way humans record their interactions with the world; another way to express feelings that are provoked by a sight, sound, or feeling; another way to share the inner self with the audience.
The same is true of a photograph that captures a moment from the photographer's point of view. When we look at pictures together, we talk about where the photographer was standing, what we can tell about the time of day or year when the photograph was taken, as well as what about the scene may have inspired the photographer to record it.
One Moment in a Poem and Image
In the third stanza of Robert Frost's poem "Stopping by Woods on a Snowy Evening," the speaker says: "He gives his harness bells a shake /T o ask if there is some mistake. / The only other sound's the sweep / Of easy wind and downy flake." The speaker describes the moment in which he hears the bells and the sound of wind and snow. The exciting part of poetry comes when readers move into their own minds to consider why the sounds are what the speaker shares in the third stanza. Reading poetry helps students to see something from someone else's point of view and to consider the ways they might record moments in their own lives.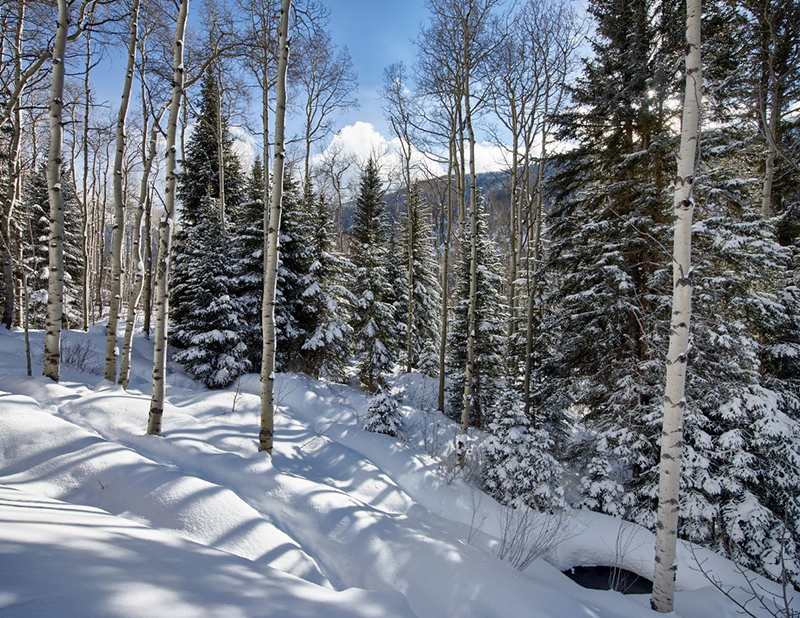 Snow clings to woodsy branches just east of Aspen, Colorado. Carol M. Highsmith, 1946.
Gates Frontiers Fund Colorado Collection/Carol M. Highsmith Archive, Library of Congress
This image shows one moment of the photographer's experience in the snowy wood, just as is done in the third stanza of the poem. Discuss Frost's poem with students then share the image. Ask students to think about why the photographer stopped in this place at this moment to capture the scene. Consider how the experience of the photographer differs from that of the observer. What does the scene make them think about? What might they have done differently if they had taken the photograph? Consider asking: What do the two means of expression have in common? In what ways do they differ?
Finding Images
When the time comes to ask students to look at fresh photographs as an entry point to writing about what they observe, think, and have questions about, I often choose images from the Prints and Photographs collections of the Library of Congress. Some favorites in the Library's vast offerings include the National Child Labor Committee Collection, which includes photographs of child laborers from all parts of the United States, or the Carol M. Highsmith Archive, which contains vivid, full-color photographs depicting life around the nation. The primary source sets on the Teachers Page also offer easily accessible and engaging photographs.
Engaging Students with Images and Poetry
Think about teaming with a classroom teacher to bring students into the library where it is advantageous to arrange the learning environment to foster engagement, curiosity, and creativity. This activity's intersection between promoting critical thinking and placing oneself in the shoes of another makes it well suited for collaboration.
Using primary source images to inspire original poetry allows students to move from the role of observer to creator. Their immersion in images and the experiences of others leads to the creation of their own primary source, in the form of a poem. Students learn they can interact with the work of others to inspire their own creativity.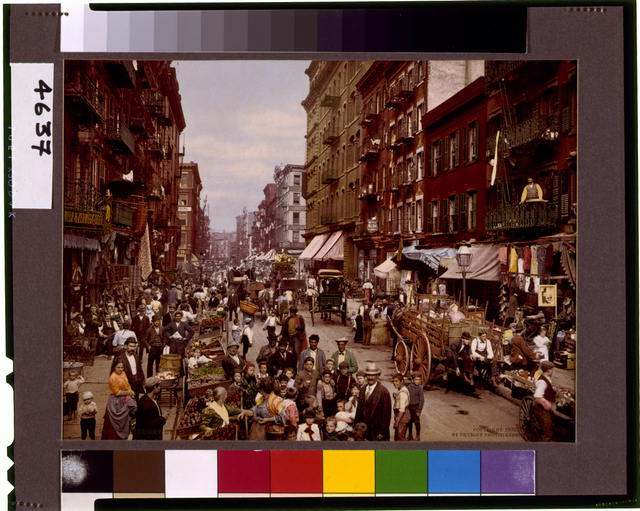 Mulberry Street, New York City circa 1900.
Photo: Library of Congress
Consider choosing five to seven related visual images to connect to a historical event, location (a nearby city or natural area), or revolving around a concept such as "freedom" or "adventure." Find a way to present them to students so they can publicly react. This can be done digitally with an interactive document that allows for comments, or by sticking the images to a large piece of paper with white space for interaction. Split the students evenly between the pictures with the understanding that they will have the opportunity to spend time with each image. It works best to have enough images so a maximum of four students is visiting at a time. But these logistics will depend on and your classroom or library situation.
Ask students to:
Take a few minutes to look at each photograph and then write words or phrases, prompted by what they observe, in the space around the picture. They should move to every photograph to add reactions. These may be a direct reaction to what they see or a response to another student's comment.
Move around to each image again and either stand in a different place—closer or farther away, or to the side—or squint at it to see something different and record a new word. (In a digital lesson they may zoom in on one or more segments of the image.)
Visit each photo a third time and pick a place within the photograph to imagine themselves standing. This time the words should relate to sights, sounds, or smells they might experience from their chosen place inside the photograph.
Return to the photograph they found most compelling. Each image will now have a variety of words or phrases students may choose to use in their original work.
Write a poem of any format or length about their experience with the image. This experience may be emotional or concrete.
Share their work with others in small groups, as a whole class, or on a digital bulletin board.
Offer students an opportunity for reflection by asking: How did the experience of immersing yourself in the primary source photographs influence your own writing? How might you approach other primary sources and/or read poetry differently now that we have explored them as ways to understand the experiences of others?
While the lesson I describe here is primarily a writing experience, it can and often does include a discussion of the ways primary sources and poetry take us into the experiences of others. This is connected to the way we speak in libraries about Dr. Rudine Sims Bishop's famous concept of readers benefiting from stories that serve as windows into the experiences of others as well as stories that mirror and validate their lives.
---
Rebecca Newland is a high school librarian in northern Virginia. She served two years as Teacher-in-Residence at the Library of Congress and currently writes for the Poetry and Literature Center at the Library of Congress presenting ways to engage students of all ages with poetry.