SLJ Collaboration Awards finalists Emma Romero and Andre von Twistern connect students with nature at Desert Wind School, El Paso, TX.
SLJ 'S INAUGURAL LIBRARIAN/TEACHER COLLABORATION AWARD FINALIST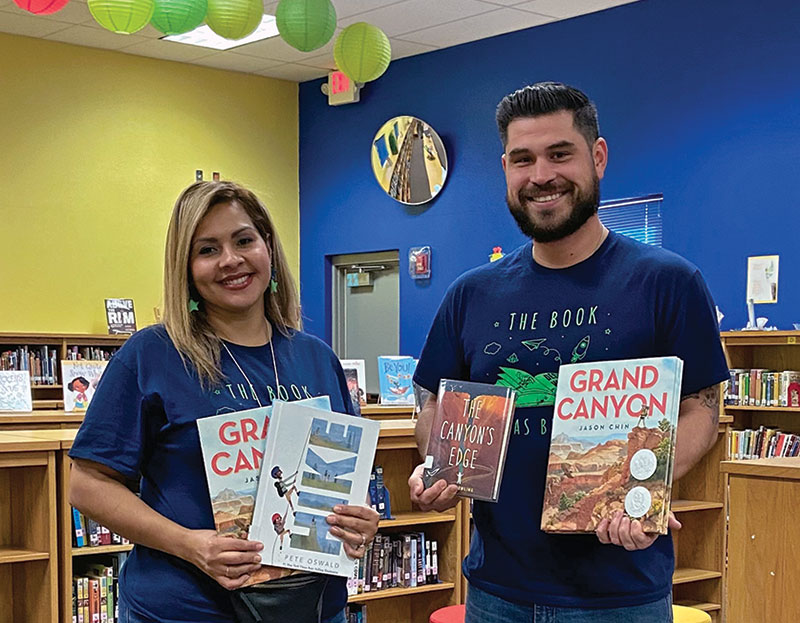 Emma Romero (left), librarian, and Andre von Twistern, fourth grade teacher, Desert Wind School, El Paso, TX.
Display books related to outdoor exploration.
Photo courtesy of Desert Wind School
Four years ago, when librarian Emma Romero and fourth grade teacher Andre von Twistern both started at Desert Wind School in El Paso, TX, the pre-K–8 school did not have a solid reading tradition in place. They wanted to create a culture of literacy in the 900-student school, where half of the children are English language learners and 85 percent are economically disadvantaged. The library budget was $200, and circulation numbers were low.
Romero started a literacy committee in collaboration with von Twistern and other teachers. By creating book clubs, engaging with parents, and offering teachers research guides to help bolster readers, Romero—the school's first certified librarian—built a foundation. She worked to raise the library budget to $14,000 to buy books the first year and to $8,000 in subsequent years. Collaborating with teachers, she bought tech equipment and successfully sought grants to buy hotspots for students to take home. She ended the use of leveling in the library, allowing children more freedom of choice to find books that interest them.
In an ambitious, long-term project, von Twistern and Romero launched a three-year partnership with the National Park Service to give all fourth graders an "Every Kid in the Park" pass. "What they know is what they see on a daily basis," says von Twistern; some were not aware of the nearby Rio Grande and the mountain ranges that encompass it.
Romero and von Twistern brought students on several field trips to national parks or national memorials within 100 miles, one of several initatives that earned then a finalist spot in the inaugural SLJ Librarian/Teacher Collaboration awards (launched by SLJ with support from TLC)
After the pandemic forced remote schooling, Desert Wind set up an in-person summer program for students in 2021. The first half of the day was set aside for tutoring; the second half was targeted for enrichment, according to von Twistern. He and Romero curated resources on a LibGuide and included technologies such as Google Earth, Flipgrid, and AR goggles to take students on virtual trips.
Using Title I funds, they also brought in a park ranger to talk with the students and found books that could connect to the topic. One of the books the pair used was The Canyon's Edge by Dusti Bowling, a novel that highlights a girl's struggle for survival after a climbing accident. Students were tasked with creating replicas of various parks, such as the Grand Canyon, with clay, cardboard, and markers. Another project was to create animal prints in clay. Students researched a certain animal paw and used a variety of tools, including paper clips, to carve the proper shape into their clay. Students loved the hands-on activity and produced highly detailed work, von Twistern says.
During remote education, Romero and von Twistern shared books with students on Flipgrid, where they created dialogues about poetry, research, and other topics. Romero created "First Chapter Friday," a program where teachers would read aloud the first chapter of various books to introduce students to different titles, and von Twistern enthusiastically participated. They modeled enthusiasm for books with "Now Reading" notices by classrooms and on email signatures. "It can be hard to get excited about reading during virtual learning," says Romero, but the efforts helped. Von Twistern showcased a graphic novel he was reading, which got kids interested in exploring the library's ComicsPlus digital resource. After reading The Giver with kids in graphic format, the duo had students use Book Creator to create their own stories and journals.
Literacy progress at Desert Wind wasn't always a straight line, but Romero persisted. Her early attempts at story time hours sometimes only drew one or two families. Other initiatives at the school, including Comic Book Night, Harry Potter Fandom Night, and game nights have seen a lot of interest.
Now there's a "positive energy" throughout the school, says von Twistern, helped by administrators who trust teachers to use freedom to create dynamic projects for students. "Kids light up when they come to the library," Romero says. "It's nice to have teachers who want to work and collaborate with you."
---
Wayne D'Orio is a journalist who writes about education.