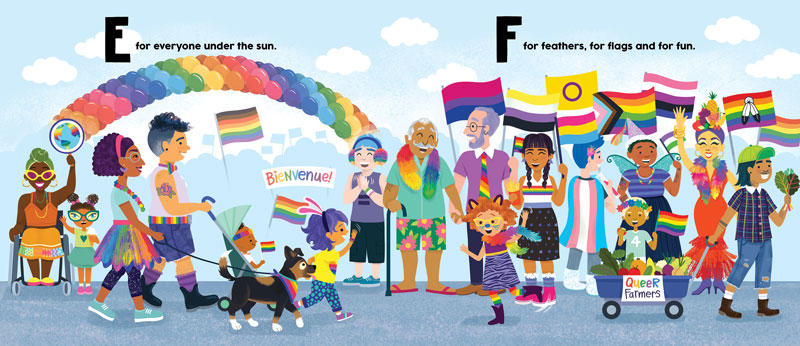 From Pride Puppy! by Robin Stevenson, illustrated by Julie McLaughlin
©2021 Orca Book Publishers. Used by permission.
To help them reach their full potential in a world full of constant change and uncertainty, all children—regardless of gender or identity—should feel equal, accepted, and safe. Youth of all ages should also possess a sense of empowerment as they navigate various social and emotional challenges.
The following titles help combat stereotypes and advocate for a community that may not always feel heard or accepted. These stories also provide educators, families, and the children themselves with a beginner's toolbox for learning and understanding gender expression. They feature brave and relatable characters for young children and highlight body positivity, inclusion, and diversity. While this collection will certainly provide comfort and guidance to anyone still trying to express their identity, it will also broaden the horizons of those around them and, hopefully, help the world become a more positive and inclusive place where there is room for everyone to feel valued.

Alphabet Rockers. You Are Not Alone. illus. by Ashley Evans. Sourcebooks/eXplore. 2022. ISBN 9781728240282.
Gr 2-5–A book that tackles many subjects with grace and encouragement—from self-love to racial and gender inclusivity—this title shows readers a myriad of young children and teenage characters from different backgrounds with varying abilities and identities who all share the same desire to feel accepted in a complicated world. The message that "your story matters" is echoed throughout as vibrant illustrations accompany the text beautifully. Grammy-nominated hip-hop children's group the Alphabet Rockers have created a wonderful read-aloud that will elevate any classroom or library book collection with its thought-provoking words and conversation-starting topics.
BONGIOVANNI, Archie & Tristan Jimerson. A Quick & Easy Guide to They/Them Pronouns. illus. by Archie Bongiovanni. Limerence Pr. 2018. ISBN 9781620104996.
Gr 6-9–This graphic novel opens with two narrators—authors Archie and Tristan—who use and identify with different pronouns but team up to help explain their importance. Weaving in sarcasm and humor, Archie and Tristan keep the narrative moving while teaching readers that one cannot label someone with a pronoun simply "based on what a person looks like!" Black-and-white pictures accompany the text, adding an element of simplicity so the focus can remain on the main message of the book: it's important to avoid misgendering, and readers should use they/them pronouns appropriately in social and professional settings.
CORRIGAN, Cassandra Jules. The Pronoun Book. illus. by Jem Milton. Jessica Kingsley. 2021. ISBN 9781787759572.
Gr 2-5–Narrated by Ellie and Casey, this work directly explains what a pronoun is and why it is vital to use pronouns correctly when referring to other people. Each page offers colorful pictures and speech bubbles full of supportive dialogue that illustrate diversity and different identities, such as transgender, nonbinary, and intersex. "Just like everyone has different names, different people use different pronouns to refer to themselves." This is an encouraging introduction to pronoun etiquette through the eyes of two relatable narrators and would serve well in a library or personal book collection shared with loved ones and friends.
DALE, Laura Kate. Me & My Dysphoria Monster. illus. by Ang Hui Qing. Jessica Kingsley. 2022. ISBN 9781839970924.
K-Gr 4–Nisha's monster follows her everywhere: the beach, the bathroom, and school, to name a few places. When she is mistakenly called a boy, her monster—which represents gender anxiety—"grows larger and larger." As the story continues, Nisha struggles to ignore the monster as it takes over each page with its deep, dark hues of sapphire and jet black while keeping her from enjoying the activities she loves. Just when Nisha begins to feel hopeless, she meets one of her dad's transgender friends, Jack. Jack offers comfort with a simple explanation of gender dysphoria and proper pronoun use, as well as guidance for seeking help from others. Dale's text and Qing's pictures harmonize beautifully, offering young readers exposure to an important topic with gentle sensitivity. Perhaps the most important lesson in Me & My Dysphoria Monster is to never give up believing in who you really are—for which Nisha serves as the perfect role model.

ESTRELA, Joana & Jay Hulme. My Own Way: Celebrating Gender Freedom for Kids. illus. by Joana Estrela. Quarto. 2022. ISBN 9780711265851.
PreS-Gr 2–Bright colors and thick brushstrokes catch the eyes of readers early on in this primary picture book that shatters stereotypes, because gender is not a choice but a feeling deep inside. With just a sentence or two on every page, this is the perfect introduction to treating one another with kindness and encouraging one another to do what "brings you joy" while remaining true to oneself. My Own Way also promotes inner beauty as what matters most—a fine lesson for even the youngest readers as they navigate getting to know themselves as well as their ever-evolving personal expressions and unique identities.
EVANS, Dominic (Dom&Ink). Queer Power!: Icons, Activists, & Game Changers from Across the Rainbow. illus. by author. Penguin Workshop. 2023. ISBN 9780593521359.
Gr 8 Up–A celebratory and empowering anthology for the LGBTQIA+ community, Queer Power is an artistic breath of fresh air. The first chapter highlights important pop culture icons who have proudly paved the way for others while remaining true to themselves. These include Blair Imani—a queer activist and historian who has used her platform to smash Muslim stereotypes—and Ariana DeBose, the first queer actor of color to win an Academy Award. In the chapters that follow, the trans and nonbinary communities are celebrated as are more recognizable heroes from social media, film, music, and modeling that provide readers with an array of fabulous role models to look up to. At the end of each chapter are helpful tips for coming out, how to be an amazing ally, and so much more worth diving into. Also included is a personal backstory by the author, which sheds light on the struggles they have faced with under-representation and having a voice that is heard, as well as a "love letter" to the LGBTQIA+ community.
FEDER, Tyler. Bodies Are Cool. illus. by author. Penguin/Rocky Pond. 2021. ISBN 9780593112625.
PreS-Gr 2–Vibrant colors flow from page to page as Feder showcases a wide variety of magnificent bodies from innumerable walks of life. All over the world in many different settings—movie theaters, parks, and the beach, to name a few—bodies are "cool!" Skin color, eye shape, and scars are all celebrated with pleasure and pride. An essential guide, Bodies Are Cool is a wonderful introduction to body positivity and teaches readers the importance of accepting everyone, regardless of appearance or gender identity.
FORD, JR & Vanessa Ford. Calvin. illus. by Kayla Harren. Putnam. 2021. ISBN 9780593108680.
PreS-Gr 3–Transgender child Calvin has always known deep down he was a boy but is nervous to confide in his family. As he receives support from loved ones with reverence and tenderness, the story's narrator bravely prepares for his new identity at school. Though he is wrapped in fear, Calvin conquers the first day of school with deep breaths and a smile. A beautiful representation of how others can embrace a transgender child, Calvin provides insight into the mind of a strong, biracial character who longs to be seen as the person he has always known himself to be.

GRAVEL, Elise with Mykaell Blais. Pink, Blue, and You! Questions for Kids About Gender Stereotypes. illus. by author. Random/Anne Schwartz. 2022. ISBN 9780593178645.
K-Gr 3–A simple picture book full of gender empowerment, this teaches children how traditional gender stereotypes can often make people feel bad for simply being human. Is it okay for boys to cry? Can they be the caregivers of their families? Can girls be strong and work in politics if they want? Among the many fine life lessons that are provided here, perhaps the most important is for people of all genders and backgrounds to stay true to themselves no matter what. Additionally, the book's last few pages equip readers with some fun facts—past and present—about gender and clothing in various cultures.
HERTHEL, Jessica & Jazz Jennings. I Am Jazz. illus. by Shelagh McNicholas. Penguin. 2014. ISBN 9780698176737.
K-Gr 3–LGBTQIA+ rights activist and transgender YouTube personality Jazz Jennings shares her real-life experiences growing up with a "girl brain and a boy body." Even though it was often challenging and confusing for those around her—adults and peers—Jazz was always determined to embrace her true identity. It took time and plenty of help from her family and friends, but Jazz was able to transition into a beautiful little girl whose brain could finally match her body. As she evolved, she was able to freely enjoy her favorite hobbies—soccer, dancing, and cheerleading—with confidence and conviction. This work encourages readers to never give up believing in themselves.
HOFFMAN, Sarah & Ian Hoffman. Jacob's New Dress. illus. by Chris Case. Albert Whitman. 2014. ISBN 9780807563731.
PreS-Gr 2–Jacob loves playing dress-up with his friends, but classmate Christopher insists that, even though Jacob wants to be a princess, he should dress up more like a boy. With the support of his parents—though it comes gradually from his mother—Jacob gains confidence in the way he chooses to not to conform to society's definition of being a boy. With bright pictures and easy-to-understand language, this title is an excellent choice to help any child facing challenges regarding stereotypes and conventional gender roles.

LOVE, Jessia. Julián Is a Mermaid. illus. by author. Candlewick. 2018. ISBN 9780763690458.
Gr 1-3–Delicate watercolor illustrations guide the simple text beautifully as main character Julián navigates his love of mermaids from the very beginning of this touching story. Julián's abuela leaves Julián to his imagination while taking a bath and, as she rejoins him, notices a change in his appearance: he has used a window curtain as a mermaid tail and a house plant as a headdress. How will she react? Abuela escorts Julián to a special place at the conclusion of the book, and Love captures the gender-nonconforming message with ease. This would make a wonderful addition to any primary picture book collection, especially for readers seeking inclusive, relatable characters.
LYONS, Maddox & Jessica Verdi. I'm Not a Girl. illus. by Dana Simpson. Roaring Brook. 2020. ISBN 9781250792914.
PreS-Gr 2–Hannah grows frustrated with activities that should be fun for kids—like picture day and picking out a Halloween costume—as well as communicating with his parents on a daily basis. Because he knows deep inside that he is really a boy, he is determined to fight for that true identity. "I am a boy. No one believes me though." After mustering up the courage and practicing what to say, he finally confronts his parents in this relatable picture book based on a true story. Colorful pictures illustrate the main character's emotions through his big, green eyes as he navigates authentic gender expression and compassion from others. This would also serve cis children in understanding and loving their trans peers even more.
NEAL, Trinity & DeShanna Neal. My Rainbow. illus. by Art Twink. Penguin/Kokila. 2020. ISBN 9781984814616.
K-Gr 3–A heartwarming picture book based on the authors' real-life experiences as mother and daughter, this is an exquisite story of a young Black girl with autism and a strong desire for long hair just like the dolls she plays with. Young Trinity proclaims, "People don't care if cisgender girls like you have short hair. But it's different for transgender girls. I need long hair!" With the support of her family and Mom's creative weaving skills, Trinity wakes up to a dazzling rainbow wig made just for her.
PATTERSON, Jodie. Born Ready: The True Story of a Boy Named Penelope. illus. by Charnelle Pinkney Barlow. Crown. 2021. ISBN 9780593123638.
K-Gr 3–Readers will cheer for karate-loving Penelope, Patterson's real son, whose experiences as a Black transgender child are heartwarming and inspirational. His story begins with significant annoyance as he just wants his family to hear and see his struggles with identity. However, when his parents finally listen and lovingly embrace his true gender, so does his grandfather all the way from Ghana as well as his principal at school. This offers powerful guidance for caregivers who may be new to gender expression or transgender identities. Penelope is an inspiration to all children, regardless of gender.

PESSIN-WHEDBEE, Brook. Who Are You? The Kid's Guide to Gender Identity. illus. by Naomi Bardoff. Jessica Kingsley. 2017. ISBN 9781785927287.
K-Gr 3–From the very beginning, the author's message is clear: "You are who you say you are because YOU know you best." Who Are You? provides easy-to-understand explanations of identity, [cis]gender, sex, gender spectrum, and everything in between. Readers will appreciate the encouragement to find joy in different hobbies on any given day, as these can be fluid just like gender expression. Bardoff's colorful illustrations accompany the text perfectly to help children celebrate all the ways they can be uniquely themselves.
STEVENSON, Robin. Pride Puppy! illus. by Julie McLaughlin. Orca. 2021. ISBN 9781459824843.
PreS-Gr 2–This colorful alphabet story begins with a family waking up, preparing for the day, and dressing in their pride best: head to toe in rainbow colors! As the alphabet advances, each letter represents everything from intersectional flags to a "queen in a beautiful dress" as a joyful parade glides through town. Parade-goers gleefully display signs with messages of gender equality, peace, love, and respect. At the center of each vibrant illustration, is, of course, a very happy puppy proudly wearing its pride scarf. Children of all ages will love reading this with family members as all different abilities, body types, cultures, and ages are represented in this modern and inclusive picture book.
THORN, Theresa. It Feels Good to Be Yourself: A Book About Gender Identity. illus. by Noah Grigni. Holt. 2019. ISBN 9781250263056.
K-Gr 3–This marvelous, delicately worded picture book gives children the space to not only understand gender definitions but also feel comfortable expressing their own identity, even if it is ever-changing. "No matter what your gender identity is…you are loved." Whimsical watercolors splash each page and guide the text beautifully as this important topic is explored with grace and sensitivity. The back of the book also features a helpful glossary of terms and resources for readers inspired to expand their knowledge of gender identity.
WALTON, Jessica. Introducing Teddy: A Gentle Story About Gender and Friendship. illus. by Dougal MacPherson. Bloomsbury. 2016. ISBN 9781681192109.
PreS-Gr 2–Little boy Errol has a best friend: his teddy bear named Thomas. Errol and Thomas do everything together—from tea parties to gardening—but one day, Errol notices that Thomas is very sad and wonders why. Though hesitant at first, Thomas pointedly explains that deep down, he is a girl teddy and would prefer Tilly as a name. Upon learning this, Errol offers a valuable lesson to readers: "I don't care if you're a girl teddy or a boy teddy! What matters is that you are my friend." Walton gracefully exemplifies the best ways to treat others, regardless of gender: with love, acceptance, and encouragement.
---
Kerra Mazzariello is an elementary school librarian, writer, and lover of fashion and travel. She resides in New York with her husband and French bulldogs.